Best
Blog Writing Services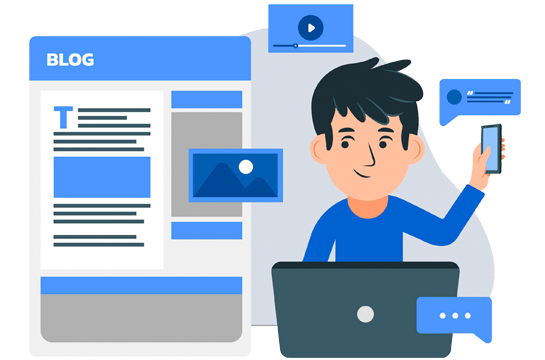 Premium Blog Services to Spike Website Traffic
Blogs are the best tool in digital marketing. Engaging blogs can create solid readerships and pull regular visitors to your website. Besides entertaining, if your blogs could turn those readers into prospective customers, there is business. At PWS, we have highly experienced wordsmiths to offer impactful blog writing services. Over the last one decade of our existence, we have created a dedicated wing for premium as well as affordable blog writing services. We can deliver top-notch blogs to you on any given topic on a short notice, that too on regular basis.
For hiring writers for your blog or for any queries related to writing, get in touch with us by filling in the contact form below.
What Makes Our Blog Post Writing Service Reliable?
PWS is trusted by a growing number of businesses, and people from all walks of life, say freelance website designers, artists, and personal trainers. What endears us to them is the minimum guarantee they can expect from our blog content writing services.
We write blog posts that have the power to maintain website traffic consistency and bring in new visitors and convert them into new customers. A well-written blog by us would also help in establishing loyalty with your existing customers. If you want to make your brand a leader in its present market space, the best workaround is to invest in effective blog content writing services. Delegate your any SEO blog write for us type of tasks and we will take care of it. With us, enjoy following advantages.
PWS has dedicated team to guide you, process your order for blog services, validate it for quality and ensure timely delivery. From content ideation to making it ready for delivery, everything works in a transparent way. Find out the step-by-step processes involved in hiring writers for your blog from us.
PWS delivers content quickly and does not compromise on the quality. I went through the blogs carefully to see if it contained any mistake - none.
PWS is not only great for the quality of services but also for the customer support. I have had a very good association with them. We have decided to hire them for all the recurring requirements of blog writing services.
I thank the writer for writing an excellent blog for my personal website. Your blog writing services gave a great break in my career and I am getting more responses from my clients on social media.
Amazing blog services from PWS. I have no words to describe how excellent the customer support desk was in assisting me to reach the right person for help. Happy to have found you.
I have always found PWS to be a reliable service for contents. Their blog writing team is as good as their other content departments. Excellent content and affordable blog writing services. All posts were search engine optimized as well.
frequently asked question
We offer two time-based SEO blog writing services plans – emergency and normal. If you opt for our emergency plan, we will write your blog and deliver it within 24 to 48 hours. With normal plans, you can expect it within four business days.
H4: Do your writers strictly adhere with Google ranking factors and SEO?
Yes. Our writers are up-to-date in Google's ranking criteria and SEO strategies. When they write your blogs, they will incorporate proven tactics and measures to ensure that sites containing your blogs are organically listed in Google searches. Unless you specify otherwise, we process your order as per SEO services blog.
We can assure you that you will be 100% content with our services because we allow you to have your order revised as per your tastes. At first, you will write a sample of your project itself to review and verify our writing quality and other compliances. We can give 100% guarantee that the final blog you receive from us will be of same quality or may be better than the sample we provide you. On top of that, after you have placed order for your blog from us, we will send you the first draft. You can review it and raise your suggestions or give your feedback. We will include them while drafting your final copy.
If you are not happy with a blog that we write for you, we are ready to revise it 2 times. However, your new suggestions shouldn't contrast with your initial requirements. Moreover, you should make the revision request before the final blog is delivered to you.