Professional
SOP Writing Services
FINEST SOP WRITING SERVICES FROM TOP SOP WRITERS​
Hiring a professional SOP Writer is always beneficial because they are experts in their field. As they are well versed in their profession, they know the nuances of writing a Statement of Purpose. Even if you don't have an attractive profile, SOP Writers are experts at crafting unique stories, which can enhance your chances of selection. Skilled and seasoned SOP writers ensure that your SOP meets the university requirements. By hiring us, we will provide you with error- and plagiarism-free content. Since we are specialists in our field, content written by us is marked with a professional touch.
Professional Writing Services (PWS) consists of talented professional statement of purpose writers with extensive experience and in-depth training in the domain. Our writers know the nuances of the document. This makes them treat it carefully, including every detail that the admissions committee would look for while processing the application. We have a dedicated team to offer the best statement of purpose writing service to courses, programs, and institutions of your choice. They could help you write a statement of purpose that helps you make a change. Over the years, we have helped hundreds of students secure admission at the world's best institutes.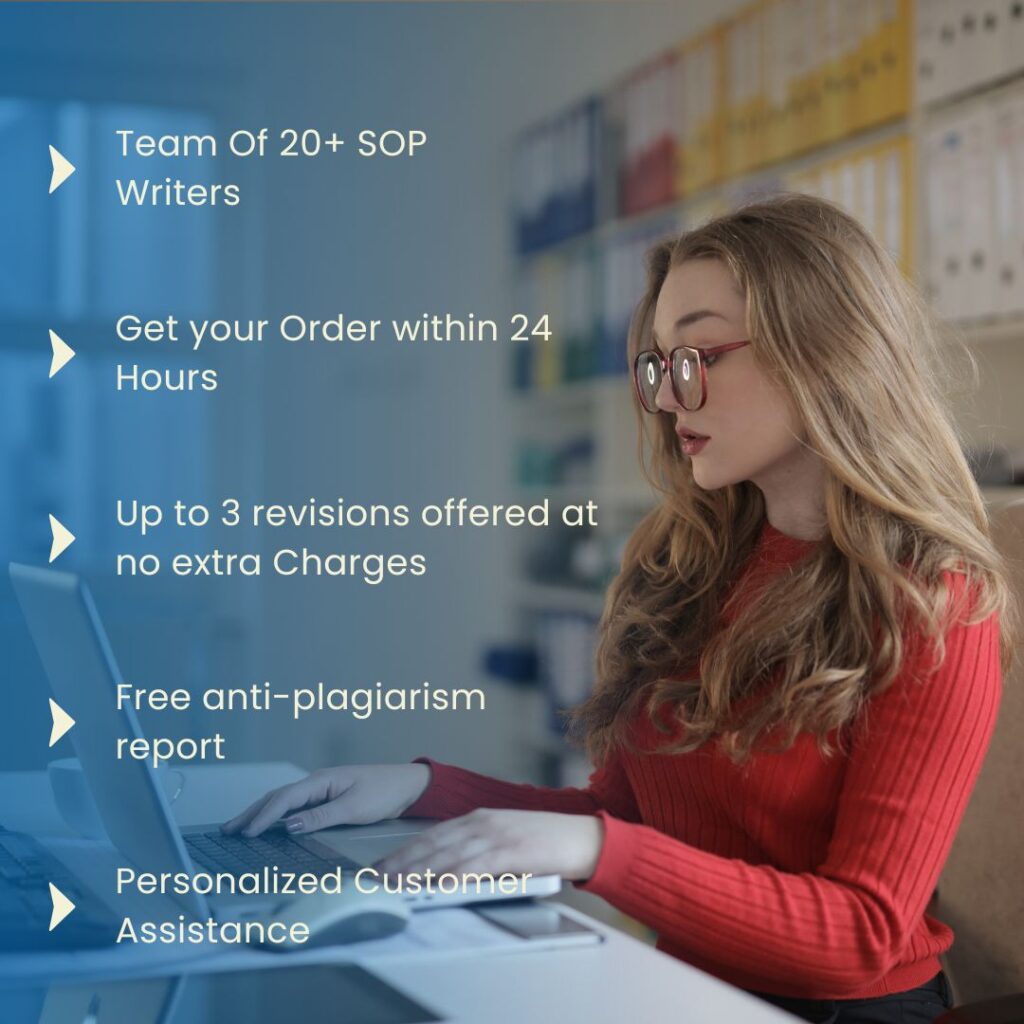 An SOP (statement of purpose) is a document written by students who aspire to study in foreign universities and colleges. It explains who you are and what you wish to do in the future in relation to academics and career. It is an important admission document, and is a deciding factor in your admission. A well written SOP can guarantee you an Acceptance Letter from your desired university. Even a weak profile can be compensated with a well-crafted Statement of Purpose. An SOP is a reflection of your personality, so it must be crafted with great care and precision.
Well, crafting an SOP is not a difficult task, but drafting it perfectly demands a lot of effort and time. Here we list seven signs of an ideal SOP.
Why is Professional Writing Services (PWS) still the best SOP Writing Services provider?
How do we work on your statement of purpose?
Get SOP help from our professionals in 7 simple steps
STEP 1
Contact us and inform us about the type of SOP writing service you need.
STEP 2
We will send you matching SOP samples and the price quote.
STEP 3
If you are convinced, place order by making the payment.
STEP 4
An experienced writer will take up the task and send you the first draft
STEP 5
Give us your feedback regarding the same.
STEP 6
Final copy is prepared and sent for quality inspection.
STEP 7
You will receive the perfect document from our SOP experts.
We write your sop for the country of your choice
We are the best SOP writing services online who craft SOP for the country of your choice. No matter which country you prefer, we with our years of experience can understand your need and tailor your SOP, keeping in your demand.  Following are the types of SOP we craft for the below mentioned countries.
Our SOP writing services locations
Everyone's hoping for this, "SOP writing services near me"
We know you are looking for SOP writing services near you. We, with our online approach, are easily accessible and approachable. Search us online typing SOP writing services near me. We are providing the best services possible in the major Indian cities listed below.
Writing an SOP is not an easy task. But we with our years of experience can understand your need and craft customized Statement of Purpose matching your profile and personality. Our SOP for courses is well written by experts who are specialists in SOP writing services. So far we have delivered successful SOPs in countries like India, Pakistan, UAE, Nepal, Sri Lanka, Malaysia, Bangladesh, and Nigeria for the following below mentioned courses.
Listout the Courses below,
SOP for Visa application is very crucial in determining your approval of visa application. Don't worry, we are a professional writing service who have crafted thousands of SOP for Visa Applications. Following are the types of visas we have crafted for different countries like the USA, UK, Canada etc.
Our writers will help you present more desirable in front of the Scholarship Committee.
Want to accompany your spouse? We will help you better craft an impressive story.
What do our customers think about our statement of purpose services?
Professional Writing Services (PWS) delivered me a tailor-made statement of purpose that helped me greatly in my university admission. It was a good experience and I am happy to recommend their SOP consultants to anyone who needs a strong document for their higher education.
It was an amazing experience. I got my SOP written on time and the quality was more than I expected. Their transparent approach, giving samples and exact price quote at the beginning is very helpful for placing the order.


I had a wonderful experience with the team of professional writing services. I needed an SOP for my law admission and I got a writer who was very familiar with my field and he could understand my profile and my requirements very closely and craft a true statement.
What Makes Us Better Than Other Sop Writing Consultants?
What makes us different from other SOP Writing Consultants is our passion and dedication towards the work committed. Our success rate is the testimony of our quality of work and professionalism.
How can you benefit from choosing Our Professional Sop Writers?
As a tedious task, SOP writing is not everyone's cup of tea. Even the most experienced SOP writers can sometimes find it difficult to write an SOP. What makes us most demanding SOP Writing Services is our unique approach and great work ethics. We have got 
Different Types of Writing Services Offered at PWS
Our dedicated team is at your disposal from the moment you first contact us in order to get SOP help.