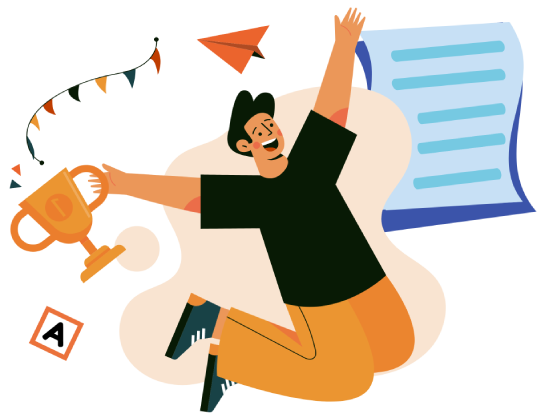 Write The Best
Statement Of Purpose
For Scholarship
The Complete Guidelines For 2023
If you are looking to obtain a scholarship for university, one of the most important things you really need is a Statement of Purpose. Through this blog, you can understand what is an SOP for scholarship.
Let's explore the importance of SOP for scholarship, the differences and top universities in the world that offer a variety of scholarships for you.
Let's get started!
What is an SOP for Scholarship ?
SOP for Scholarship is a personal document that is intended to convince the university and the scholarship committee to grant you the funds for your education in the college. Your SOP for Scholarship will be different according to the type and topic of Scholarship you apply for. 
How long should a scholarship SOP be ?
Your scholarship Sop should be of maximum 2 pages. The general word limit is 500-1000 words. But it varies depending on your university and its requirements. If there are no rules stated, follow the general regulations.
What is the significance of SOP in Scholarship ?
Your SOP for Scholarship is a statement that is included in your scholarship application and helps the scholarship committee to  evaluate you more favourably.
What details should we add in a Scholarship Sop?
Are you confused about the details to be added in Scholarship SOP? Don't worry. We will guide you through it and help you to write it.
Talking about yourself
Add a brief description of yourself and how you became interested in the program. Answer to the questions like who you are and what you want.
Your academic achievements 
Talk about your academic achievement and honours you received during your education. Show them how worthy you are to get this scholarship.
Discuss about scholarship
You should mention how this scholarship can help you in terms of education and life. Why you want it should be expressed honestly.
State your reasons
Explain why you chose the university and this program along with your objectives. Write logically in your scholarship Sop.
Your extracurricular pursuits
Showcase your interests,  activities other than academics. If you received any awards or scholarships earlier, mention that too. 
Your career goals
You should talk about where you see yourself after 5 years. The short term and long term goals should be discussed.
Your gratitude
Express your gratitude for the scholarship and how it will enhance your life. The scholarship committee should understand why it is so important for you. 
The difference between SOP for University and SOP for Scholarship
You may think that both university SOP and Scholarship Sop are the same. But they are not. They differ in their structure, purpose, and details. Common differences are: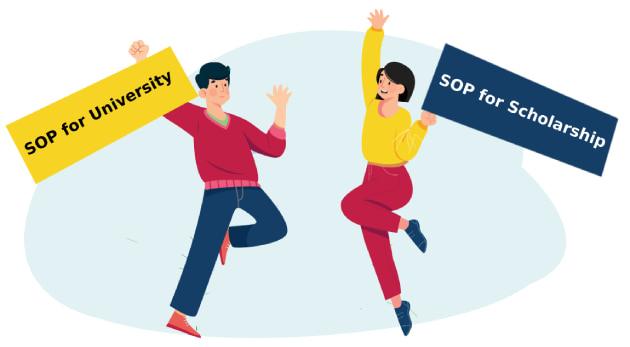 I firmly believe that desire itself constitutes the basis for all accomplishment. Every occasion I have had in my life, both as a scholar and as an individual, have assisted me with developing personally and progress towards my objectives. Family, career, and helping my family are the three things that mean the most to me. Because of my past experiences, I continually have these three fundamental contemplations in my sub-conscience to support my advancement.
The cornerstone of my reality and what keeps me going is my family. Families could mean various things to various individuals, but to me, they are my life. I experienced an accident in 2007, and if not for my parents, I wouldn't be here today. They treated me with every penny they had, despite the fact that we were having monetary troubles at that time. Only necessities stayed in the house when I returned. On the floor, my siblings were dozing. Seeing that broke me. My family gave me the bed since I was so seriously hurt, and they slept on the floor. I understood that I wouldn't have the option to make this statement of purpose in the present moment if it weren't for my loved ones. I will continuously be thankful for what they have done, and I'm much more keenly aware of the adoration and support they have for me.
My encounters have taught me the significance of money for success. Without it, nothing in this world really has any meaning. The main thing holding me back from accomplishing my goals is an absence of financing. However, while I have a lot of objectives for my life, my main concern is satisfying my parents so that they can see the significance of the sacrifices they have made. To me, achievement is getting a job I enjoy that pays well and allows me to take care of my family. Like I encountered when I was a youth, I try to never again go through battles like poverty, hunger, and financial hardships.
I need to stress that I have a decent record of academic accomplishments, and extracurricular interests. I graduated with a first-place from my undergraduate degree in the year xx. I appreciated taking on administrative obligations while I was at my college pursuing a degree and did everything of those to the best of my skill. I have filled in as my college's vice chairperson, class representative, leader of the clubs, and department social media manager, along with other roles. Arranging and planning various events at the college was something I was effectively engaged with. Likewise, I have been part of street plays to increase public awareness. Additionally, I volunteered in the meal distribution programme during the COVID outbreak.
While investigating better approaches to propel my scholastics, I'm focused on getting the absolute best learning. If given the opportunity, I will put in a lot of effort and increase the value of the scholarship by making major contributions to your community. I will show my solidarity and resolve and live up to the university's standards. Now, I truly request that you consider my grant application so that I can lessen the financial hardships faced by my parents. I didn't want them to experience that.  Instead, I want to give them a life where they can be happy and not worried about us children. 
Top 10 Countries that provide best Scholarships
What are the main ranking factors of these countries?

If you are pursuing your education in Canada, you can apply for a number of grants and scholarships offered by the government, academic institutions, and non-profit organisations. In Canada, the majority of students are awarded various scholarships based on their qualifications and education level. 
Top universities in Canada:
University of Toronto

McMaster University

University of Montreal

University of British Columbia

With a best SOP for Scholarship, the international and resident students of the UK can receive various scholarships from Government, educational institutions, and private organisations. The scholarships cover expenses such as tuition and fees, accommodation and transport within the UK, academic equipment, and rarely airfare. 
Top universities in UK:
University of Oxford

University of Cambridge

Imperial College London

University of Edinburgh

Numerous governmental and non-governmental organisations encourage eligible students to obtaining scholarships in the United States. Since living costs are high in the USA, scholarships enable students to live better lives. Both overseas students and US citizens can apply for scholarships.
Top universities in the USA:
Massachusetts Institute of Technology

Harvard University

Stanford University

Yale University

California Institute of Technology

Australian Government and Universities are the 2 groups under which scholarships are offered in Australia. A range of scholarships are available to international students under the Australian government's program to support progressive education. By fulfilling conditions like SOP, more than 2500 Australian students are awarded various scholarships.
Top universities in Australia:
University of Melbourne.

University of Sydney.

University of Queensland.

Monash University.

Government, university-specific, and other non-governmental scholarships are all available to students in New Zealand. Scholarships are awarded to students in New Zealand depending on their academic standing, citizenship, and eligibility (SOP). Scholarships for New Zealand trade and foreign affairs, as well as for Surfshark privacy and security, are some of them.
Top universities in New Zealand:
The University of Auckland

University of Otago

University of Canterbury 

University of Waikato

Germany's largest scholarship fund, DAAD, offers a grant that even covers living expenses of students and nearly all universities in Germany are free to attend. In 2021, Germany will award funds to over 28000 students across the country. With the help of an excellent SOP, students can get scholarships. 
Top universities in Germany:
Technische Universität München

Ruprecht Karls University Heidelberg

Humboldt University of Berlin

University of Bonn

The French government, universities, and various groups provide financial aid to foreign students. Some of the finest scholarships available in the nation are the Emile-Boutmy Scholarship and the La Femis Scholarship. The majority of students who meet other eligibility requirements and have strong SOPs are awarded scholarships.
Top universities in France:
University of Paris

PSL Research University

Sorbonne Université

Université Grenoble Alpes

With a scholarship SOP, applying for government scholarships in Italy is easy for the international students. The major scholarships offered in the nation include the Regione Veneto Scholarships, the Padua International Excellence Scholarship Program, and the Italian Government Scholarships for Foreign Students.
Top universities in Italy:
University of Padua

University of Bologna

University of Milan

Sapienza University of Rome

Scholarships are available to international students in Switzerland from the Swiss government, Swiss universities, and other non-governmental organisations. You may be eligible for scholarships in Switzerland, including the EFPL Excellence Fellowship and the Swiss-European Mobility Programme (SEMP) Scholarship. The majority of students obtain scholarships.
Top universities in Switzerland:
ETH Zürich

University of Zurich

University of Bern

University of Lausanne

International students can apply for fully funded grants from the Spanish government and universities. 850,000 scholarships were approved by the Spanish government for the 2022 and 2023 intake earlier in 2022. However, a key component of those scholarships is having a good SOP and fulfilling the requirements.
Top universities in Spain:
Pompeu Fabra University

Universitat de Barcelona

Complutense University of Madrid

Universitat Autònoma de Barcelona
Various types of Scholarship for you
Not every student receives the same scholarships.  Right? They vary according to different reasons. Let's look at the various types of scholarships available for you.
Students with a great academic background can receive academic scholarships.  All students with a GPA of 4.0 are eligible for these prestigious scholarships. Students that submit a great application and fulfil all conditions typically receive scholarships.
All types of students are eligible for these scholarships. It prioritises the applicant's personal attributes. This is available to students who established a reputation for themselves through achievements in a variety of educational or extracurricular activities.
Those with exceptional physical and athletic ability are awarded athletic scholarships. For students who succeed in sport activities, these scholarships act as a gateway. They can excel both in sports and academia with the help of athletic scholarships. 
To help the women who are struggling with their finances, their social lives, or their careers and are unable to attend classes, Women Scholarships are offered.  In every academic field, these scholarships are available.
This scholarship type is just for minority students, and it is especially for individuals who are identified as small minorities belonging in a specific area. This depends upon the culture, values and beliefs of the applicants.
Students who love volunteering in their communities are eligible for this grant. If you're a student with a passion for contributing to various communities, then you can apply for this scholarship.
This scholarship is available to students who exhibit their artistic talents in any form, including painting, dancing, music, or other creative pursuits. Through this scholarship, universities encourage creative people and their interests.
Students that successfully apply for scholarships and meet the requirements are frequently given unexpected scholarships. Contrarily, these uncommon and unique scholarships are frequently given out in secret.
Top Universities offer scholarships for you
Some of the universities stand out from others due to the number and types of scholarships offered. Some of them are:
Now, you know which are the top universities in the world that provide the best Scholarships
for your education. Right? We talked about every step on your scholarship and SOP. To be able to convey your intentions and purpose clearly to the scholarship committee, you need expert advice. 
We hope that our little guide on SOP for Scholarship and top universities covered your queries and concerns on scholarships. Now you can decide what type of scholarship you need. Is that right? We believe the answer is yes.
If you find our blog useful, share it with your friends. Don't forget to share your thoughts and doubts on our blog through comments.