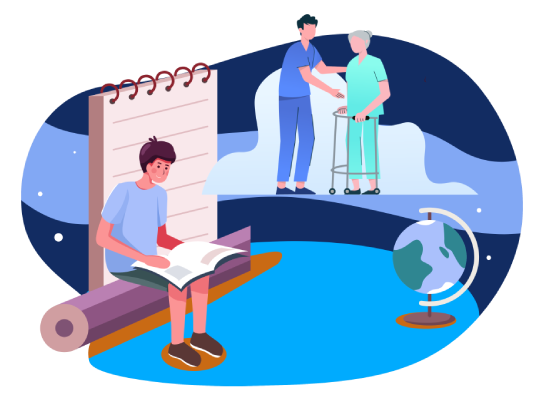 How To Write A Statement Of Purpose (SOP) For Nursing
Wondering whether you need a sop for nursing? A statement of purpose for nursing in Canada or other countries is required. The university admission committee will assess your application based on your nursing sop. 
Not sure what or how to write? Don't worry, the guidelines in this blog will help you draft a convincing sop for nursing school. Whether you're applying for nursing in Australia, or nursing in America, with this blog you will know 
What is an SOP For Nursing?
A nursing statement of purpose is a formal document written to the university admissions committee. It provides details about you. It helps the committee decide why they should select you for the nursing program.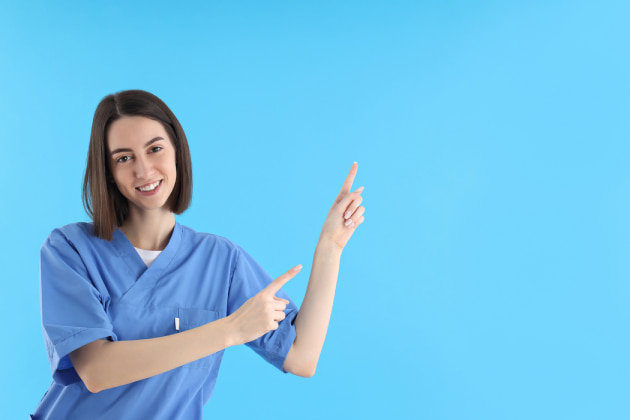 How long should a sop for nursing be?
A sop for bachelor of nursing at most universities should be written between 500 to 1,000 words, or 5,000 characters. It should not exceed two pages. SOPs exceeding the character or word limit may be automatically refused. 

Why is SOP for Nursing Required?
Planning to take admission in the noblest profession? A convincing nursing statement of purpose will increase your chances of admission to your preferred university
Look at this illustration of a sop for nursing students. It will provide you a thorough grasp of SOP for Nursing and how it is different from SOP for other programmes. You should only use this sop nursing sample as a guide.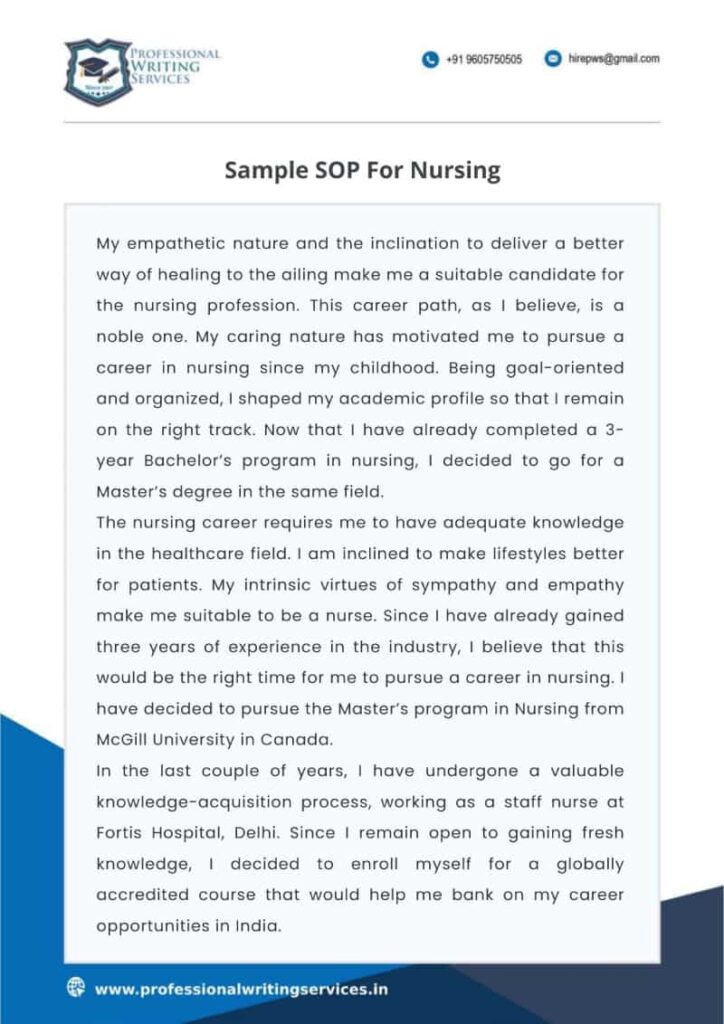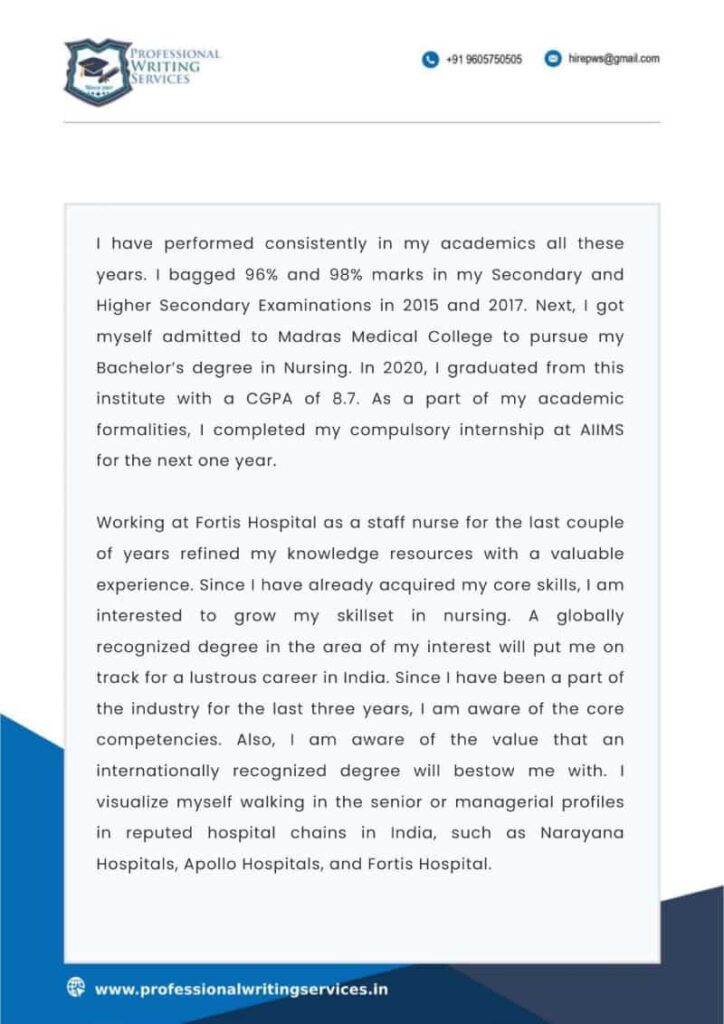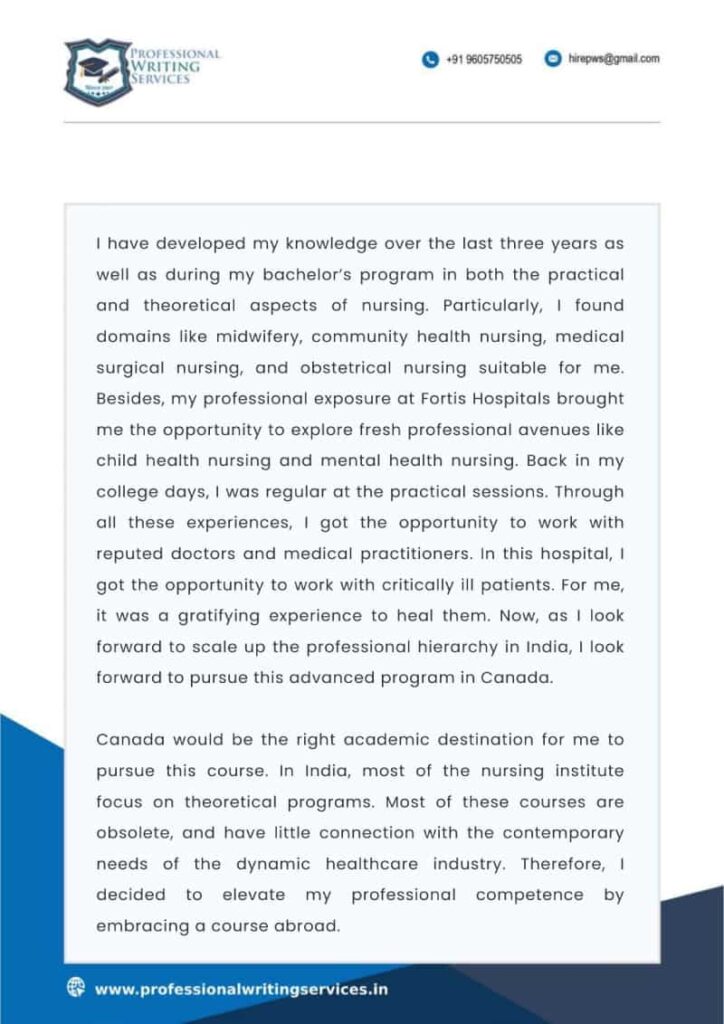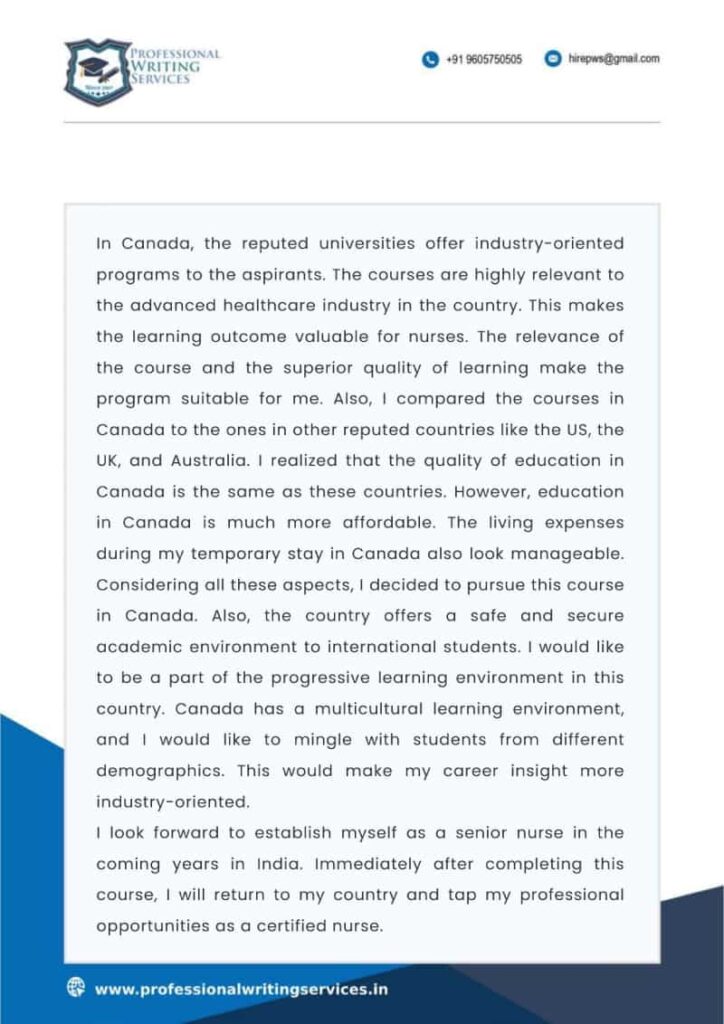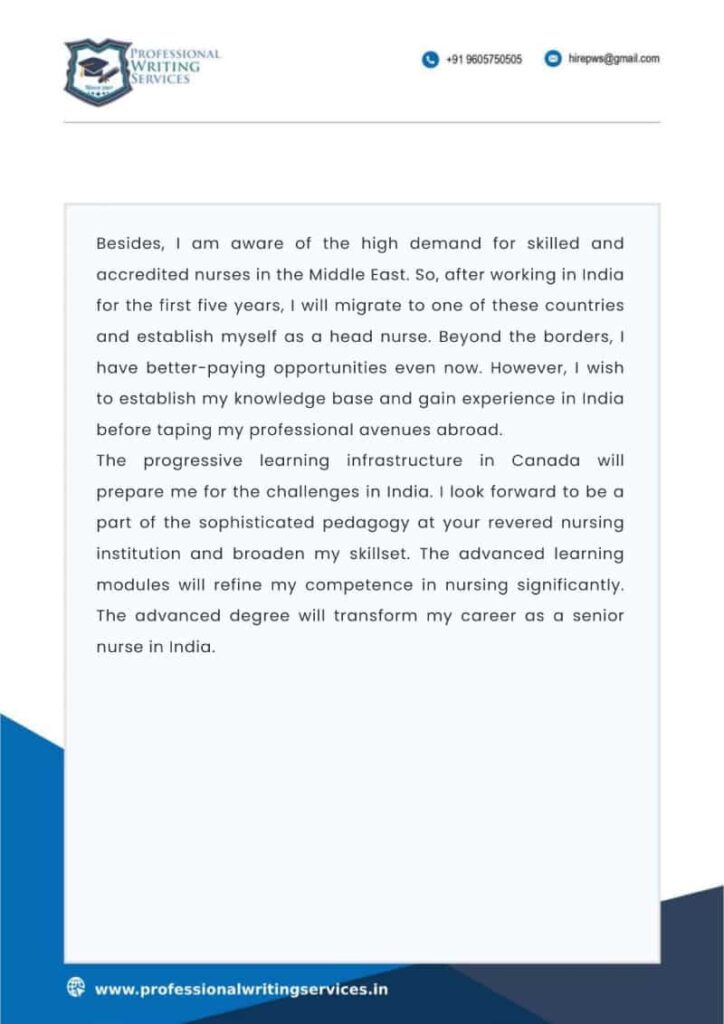 Nursing Statement of Purpose Example
My empathetic nature and the inclination to deliver a better way of healing to the ailing make me a suitable candidate for the nursing profession. This career path, as I believe, is a noble one. My caring nature has motivated me to pursue a career in nursing since my childhood. Being goal-oriented and organized, I shaped my academic profile so that I remain on the right track. Now that I have already completed a 3-year Bachelor's program in nursing, I decided to go for a Master's degree in the same field. 
The nursing career requires me to have adequate knowledge in the healthcare field. I am inclined to make lifestyles better for patients. My intrinsic virtues of sympathy and empathy make me suitable to be a nurse. Since I have already gained three years of experience in the industry, I believe that this would be the right time for me to pursue a career in nursing. I have decided to pursue the Master's program in Nursing from McGill University in Canada. 
In the last couple of years, I have undergone a valuable knowledge-acquisition process, working as a staff nurse at Fortis Hospital, Delhi. Since I remain open to gaining fresh knowledge, I decided to enroll myself for a globally accredited course that would help me bank on my career opportunities in India. I have performed consistently in my academics all these years. I bagged 96% and 98% marks in my Secondary and Higher Secondary Examinations in 2015 and 2017. Next, I got myself admitted to Madras Medical College to pursue my Bachelor's degree in Nursing. In 2020, I graduated from this institute with a CGPA of 8.7. As a part of my academic formalities, I completed my compulsory internship at AIIMS for the next one year.
Working at Fortis Hospital as a staff nurse for the last couple of years refined my knowledge resources with a valuable experience. Since I have already acquired my core skills, I am interested to grow my skillset in nursing. A globally recognized degree in the area of my interest will put me on track for a lustrous career in India. Since I have been a part of the industry for the last three years, I am aware of the core competencies. Also, I am aware of the value that an internationally recognized degree will bestow me with. I visualize myself walking in the senior or managerial profiles in reputed hospital chains in India, such as Narayana Hospitals, Apollo Hospitals, and Fortis Hospital.
I have developed my knowledge over the last three years as well as during my bachelor's program in both the practical and theoretical aspects of nursing. Particularly, I found domains like midwifery, community health nursing, medical surgical nursing, and obstetrical nursing suitable for me. Besides, my professional exposure at Fortis Hospitals brought me the opportunity to explore fresh professional avenues like child health nursing and mental health nursing. Back in my college days, I was regular at the practical sessions. Through all these experiences, I got the opportunity to work with reputed doctors and medical practitioners. In this hospital, I got the opportunity to work with critically ill patients. For me, it was a gratifying experience to heal them. Now, as I look forward to scale up the professional hierarchy in India, I look forward to pursue this advanced program in Canada. 
Canada would be the right academic destination for me to pursue this course. In India, most of the nursing institute focus on theoretical programs. Most of these courses are obsolete, and have little connection with the contemporary needs of the dynamic healthcare industry. Therefore, I decided to elevate my professional competence by embracing a course abroad. In Canada, the reputed universities offer industry-oriented programs to the aspirants. The courses are highly relevant to the advanced healthcare industry in the country. This makes the learning outcome valuable for nurses. The relevance of the course and the superior quality of learning make the program suitable for me. Also, I compared the courses in Canada to the ones in other reputed countries like the US, the UK, and Australia. I realized that the quality of education in Canada is the same as these countries. However, education in Canada is much more affordable. The living expenses during my temporary stay in Canada also look manageable. Considering all these aspects, I decided to pursue this course in Canada. Also, the country offers a safe and secure academic environment to international students. I would like to be a part of the progressive learning environment in this country. Canada has a multicultural learning environment, and I would like to mingle with students from different demographics. This would make my career insight more industry-oriented.
I look forward to establish myself as a senior nurse in the coming years in India. Immediately after completing this course, I will return to my country and tap my professional opportunities as a certified nurse. Besides, I am aware of the high demand for skilled and accredited nurses in the Middle East. So, after working in India for the first five years, I will migrate to one of these countries and establish myself as a head nurse. Beyond the borders, I have better-paying opportunities even now. However, I wish to establish my knowledge base and gain experience in India before taping my professional avenues abroad.
The progressive learning infrastructure in Canada will prepare me for the challenges in India. I look forward to be a part of the sophisticated pedagogy at your revered nursing institution and broaden my skillset. The advanced learning modules will refine my competence in nursing significantly. The advanced degree will transform my career as a senior nurse in India.

How to Write a Winning SOP For Nursing?
Writing a convincing nursing statement of purpose does not have to be difficult. In this blog, you will learn
Nursing Statement Of Purpose Requirements
Sop for nursing is a formal essay that increases your chances of admission. It explains your interests in nursing, the university, qualities that make you a good candidate, and your future plans. 
Here are seven requirements of nursing sop:
Introduction- State your name, location, program, and university where you're applying
Education- Mention your academic background with all the courses you've taken. Include certification courses, hard skills, training programs, workshops, and seminars you've attended.
Volunteer Work- Mention experiences demonstrating your compassion, self-motivation, and empathy.
Your interests- To present a unique application, explain why you're interested in nursing. You may mention your life experiences.
Work Experience- Describe your work experience, even ones unrelated to nursing. You can also talk about the volunteer experience.
Details about the program- Demonstrate your knowledge about the program by mentioning the course details, learning outcomes, subjects, etc
Skills- Highlight your skills that are related to nursing, i.e. customer service, communication, etc.
Mistakes to avoid in your nursing SOP
Crafting the perfect sop for nursing is not difficult. However, there are a few mistakes you need to avoid, such as: 
What are the Different types of Nursing qualifications?
Thinking about pursuing the nursing profession? The training level ranges from diploma courses to doctorate degrees.
Consider the different types of nursing qualifications listed below:
This is the fastest way to launch your career as a Licensed Practical Nurse. You will provide basic care and work with physicians and registered nurses. 
It is an 18-month to the 2-year nursing degree that enables you to work as a registered nurse. With an Associate's degree, you can work with a wide range of patients.
This is a four-year program and the new academic standards for all registered nurses working in hospitals. In the future, more healthcare settings will prefer to hire nurses with bachelor's degrees.
This is a 1 to a 2-year program that enables you to expand your scope of practice. With a Master's degree, you can work as a Nurse Practitioner, Nurse Educator, or Nurse Leadership/Administration.
This certificate enables nurses with a Master's degree to gain specialized nursing practice, i.e. Family Nurse Practitioner.
This is a Doctor of Philosophy in Nursing (PhD), Doctor in Nursing Practice (DNP) or Doctor of Nursing Science (DNS). It is a research-based degree.
Nursing Prospects in Popular Countries
Did you know that nursing is the most sought-after profession in the world? Here are the top countries where many nurses work: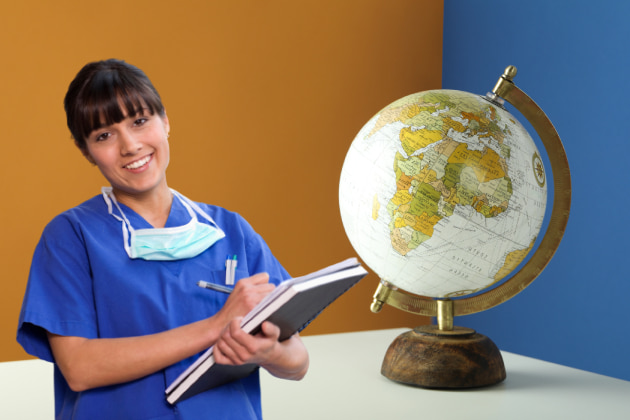 Top Universities and Destinations to Study Nursing
Thinking about studying nursing abroad? Here's a list of top nursing destinations and countries where you should consider taking this course:
SOP For Nursing in United Kingdom (UK)
The United Kingdom is home to some of the best nursing schools in the world. It is the first choice for international students.
SOP For Nursing in Australia
Within two years (fast track option), you can complete your nursing degree in Australia. The programs are offered in state-of-the-art facilities. 
SOP for Nursing in Sweden
The nursing programs in Sweden offer rigorous training with a mandatory language and experiential learning component. 
SOP For Nursing in United States of America (USA)
Nursing programs in the US are four-years and require licensing before you can practice.
SOP For Nursing in Canada
Nursing programs range from 2 to 4 years and require a nursing license before you can practice. Some of the world's best nursing schools are here.
Studying nursing in a foreign place is a special opportunity. To gain admission to the best universities abroad, you must draft a compelling nursing sop. 
Do you have any questions about writing an sop for nursing?
Was this blog helpful? We invite you to post your comments, suggestions, and questions below.