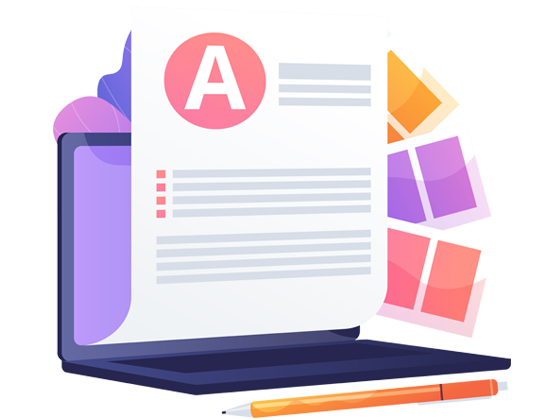 SOP for Project Management
The Complete Guidelines & Samples For Students - 2023
Looking for the right guidance on how to write an SOP for project management course? This blog is for you.
In this blog, you will find details about the writing process of a project management statement of purpose, its format, key ingredients, etc.
It will first give you an overview of what an SOP for project Management is.
After that, a detailed note on how to craft it.

What is SOP for Project Management?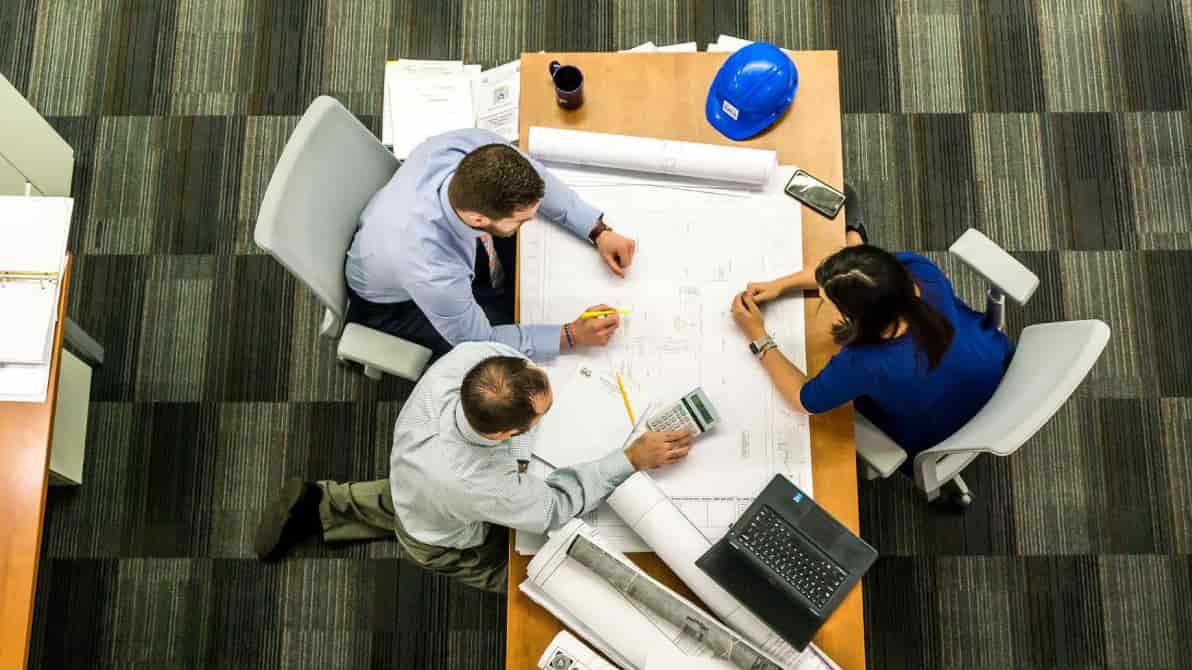 Project management SOP is an essay that explains who you are and what makes you a perfect fit for MBA in Project Management or MSc Project Management program. It would also shed light on the unique skills and abilities that enable you to pursue the course successfully.

How to Write SOP for Project Management?
The first step in knowing how to write SOP for project management is to identify how closely the course relates to your experiences, skills and strengths. You must have a story that can be presented to explain this. Follow the below steps to start writing your document.
Step 1: Getting ready
You need to have a rough idea about what you are going to write in your SOP. Read best SOP samples for project management to get an overview.


Step 2: Outline preparation
Now that you have the points, organize them in an outline. This will be of immense help as you start writing the first draft and then finalizing it.


Step 3: First draft preparation
Don't bother about the sentences or grammar or spelling at this point. Make a first draft and ensure that it covers all relevant topics and university specific questions.


Step 4: Finalizing
This is where you mold your SOP into the correct structure. Be ready to modify the sentences that do not look suited in the context. Ensure logic, coherence, cohesion.


Step 5: Proofreading and editing
Go through your writeup word by word and ensure that there is no mistake in it. You need to submit a perfect copy to the selection committee.
How to Format an SOP For Project Management?
Like what you write in your statement of purpose for project management, it is also important to format it in the correct way. The format here means both text formatting and the structuring.
Text Formatting: Write your SOP using an academically recognized font style and size; for instance, Times New Roman, 12 points size. Leave one line space between the sentences and extra line between paragraphs if you are not indenting the first line.


Paragraph Organization: It is important to organize your project management SOP pdf into multiple paragraphs such as introduction, body paragraph 1, 2, 3….and the conclusion. Formatting the writeup this way will make it easier for the selectors to look for specific points.


Introduction: The introduction of your SOP is where you can leverage your chances of getting noticed. Start with a personal story where you show how your interest in the field got ignited. Also, say what to expect in the essay.


Body Paragraph 1: Use the first body paragraph to talk about your academic backgrounds, achievements and other experiences. Explain how each of them shaped who you are today and prepared you for MBA project management. If you have any negatives like gaps, describe them briefly highlighting how you overcame them.


Body Paragraph 2: Selectors are interested to know how smart you are outside academics. Show your involvements in extracurricular activities. Write about your notable skills – leadership, communication, etc.


Body Paragraph 3: Talk about your relevant work experiences. Write specifically about any project that you have undertaken and completed successfully in the previous organization. This reveals your capability to become a project manager.


Body Paragraph 4: In this paragraph, talk about your strong motivation for choosing MBA in project management. Say how you think the program will benefit you, improve and enhance your knowledge and skills, and prepare you for a desired future in your chosen field.


Body Paragraph 5: Here, write your reasons for choosing this particular university and the country. First talk about the university and the special features of it that attracted you specifically to it. Try to be as much specific as possible. Following that, talk about the reasons for choosing the particular country.


Conclusion: In the conclusion, write a brief summary of the whole writeup and highlight what you can contribute to the institute academically, personally and socially.
Project Management SOP Sample
Here is a project management SOP sample for you to review and gather some useful insights. Read it carefully to understand how it is structured and how the ideas are presented logically.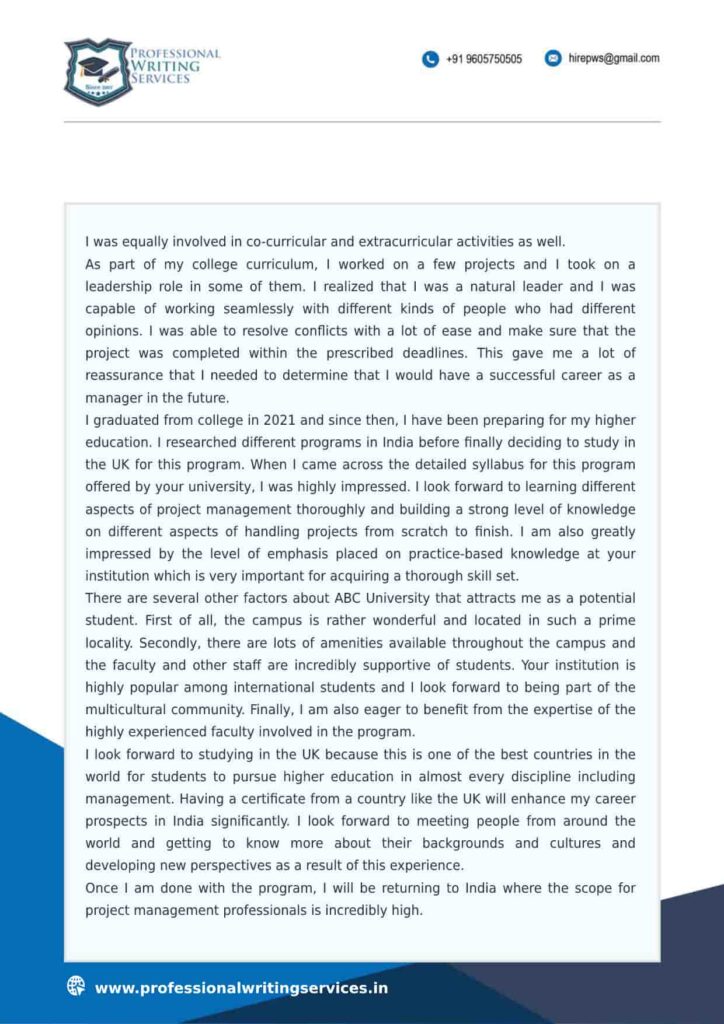 SAMPLE SOP FOR PROJECT MANAGEMENT 
A genuine leader is someone who can learn and develop alongside the people they manage, and who accepts a position of responsibility rather than one of superiority. My intrinsic capacity to encourage the development and improvement of others has always been a strength of mine, and I hope to realise my full potential as a leader by pursuing a career in management so that I can contribute to the success of multiple organizations. Given that I am a person who is characterized by my strong determination and concentration, as well as the fact that I have always had a strong interest in the fields of management and engineering since I was quite a young age, I made up my mind fairly early on regarding the direction that I would take in both my education and my professional life. 
I have never given in to the lure of letting challenges deter me from achieving my goals. I have always pushed the boundaries of my capabilities to broaden my understanding and improve my capabilities in the areas of study that I am most enthusiastic about. By pursuing a career in project management, I hope to develop the skills that will enable me to contribute my knowledge and the practical experience that I have gained to the collective growth of the workplace. This can be attributed almost entirely to the quality of the management that is in place, and it is for this reason that the ideal environment of the workplace can be largely attributed to the management that is in place. 
My academic prowess is a reflection of my passion, as evident by the fact that I have consistently achieved good marks. I have consistently worked hard to make the most of the opportunities I have been given to further my education in the field of technology. For this reason, after completing the tenth grade, I enrolled myself in entrance coaching classes for two years. These classes were designed to assist me in securing admission to a prestigious college for my undergraduate studies and to lay a very thorough foundation in the topics that interested me. 
As a result of my determination, I was able to secure admission into an excellent program for my undergraduate studies. I got enrolled to study for my Bachelor of Technology in Computer Science and Engineering. During college, I exerted every effort possible to gather as much knowledge about computers and programming and worked very hard to understand these subjects on a theoretical and practical scale. 
I was equally involved in co-curricular and extracurricular activities as well. As part of my college curriculum, I worked on a few projects and I took on a leadership role in some of them. I realized that I was a natural leader and I was capable of working seamlessly with different kinds of people who had different opinions. I was able to resolve conflicts with a lot of ease and make sure that the project was completed within the prescribed deadlines. This gave me a lot of reassurance that I needed to determine that I would have a successful career as a manager in the future. 
I graduated from college in 2021 and since then, I have been preparing for my higher education. I researched different programs in India before finally deciding to study in the UK for this program. When I came across the detailed syllabus for this program offered by your university, I was highly impressed. I look forward to learning different aspects of project management thoroughly and building a strong level of knowledge on different aspects of handling projects from scratch to finish. I am also greatly impressed by the level of emphasis placed on practice-based knowledge at your institution which is very important for acquiring a thorough skill set. 
There are several other factors about ABC University that attracts me as a potential student. First of all, the campus is rather wonderful and located in such a prime locality. Secondly, there are lots of amenities available throughout the campus and the faculty and other staff are incredibly supportive of students. Your institution is highly popular among international students and I look forward to being part of the multicultural community. Finally, I am also eager to benefit from the expertise of the highly experienced faculty involved in the program. I look forward to studying in the UK because this is one of the best countries in the world for students to pursue higher education in almost every discipline including management. Having a certificate from a country like the UK will enhance my career prospects in India significantly. 
I look forward to meeting people from around the world and getting to know more about their backgrounds and cultures and developing new perspectives as a result of this experience. Once I am done with the program, I will be returning to India where the scope for project management professionals is incredibly high. 
It is predicted that there will be a requirement of over 1 million project management professionals pretty soon all over the country. Having the certification from a prestigious university in the UK will enhance my prospects and give me a great competitive edge over other candidates. I sincerely hope that you consider my application for this seat at your university. I will strive hard to make your institution proud.
What Is SOP for Masters In Project Management?
SOP for MS in Project Management is an essay a student writes expressing their interest and eligibility to pursue a master's in Project Management. It should be written within a word limit of 800 to 1500 words. As an important element of your university admission, a Statement of Purpose for Project Management must include the following:
  Your passion and interest for Project Management

  Your academic and professional background and how the same motivated you to choose a career in Project Management

  Your career plans; include both short-term and long term career goals

  Your reason to choose this particular country and university

  Any achievements or extracurricular activities that is relevant to the field of Project Management
Sample Statement of Purpose for Masters(MS) in Project Management
It is always good to refer to some sample SOP for MS in Project Management before one starts to write their Statement of Purpose. Because referring to samples will help you gain a holistic idea on how to structure each paragraph, address your course motivation and career goals, etc.
5 Essential Tips to Write a Winning SOP For Project Management
Writing a powerful SOP for post graduate diploma in project management or MBA requires hard work, iterating through drafts several times and more. Here are five simple tips to help you find the process a bit easier.
Plan Ahead: Planning ahead will help you start the SOP in time and leave you with enough time to review it carefully. It will also help you ensure that all important points are covered in the writeup.


Highlight motivation: You need to talk about your motivation to choose Project Management MBA briefly in the introduction and in detail in another dedicated paragraph.


Use an engaging tone: While maintaining the decorum of an academic essay, try to be more engaging and conversational. It is a bit hard but it is that balance that makes your SOP an impressive one.


Maintain positivity: To be a successful project manager, you need to be optimistic. Hence, your SOP for project management should maintain both optimism and positivity throughout.


Know about the institute and program: Research about the institute and know how its MBA project management program is designed. Knowing the specialties of the course is important to draft the SOP uniquely.

5 Mistakes You Should Do Away with In Your SOP For Project Management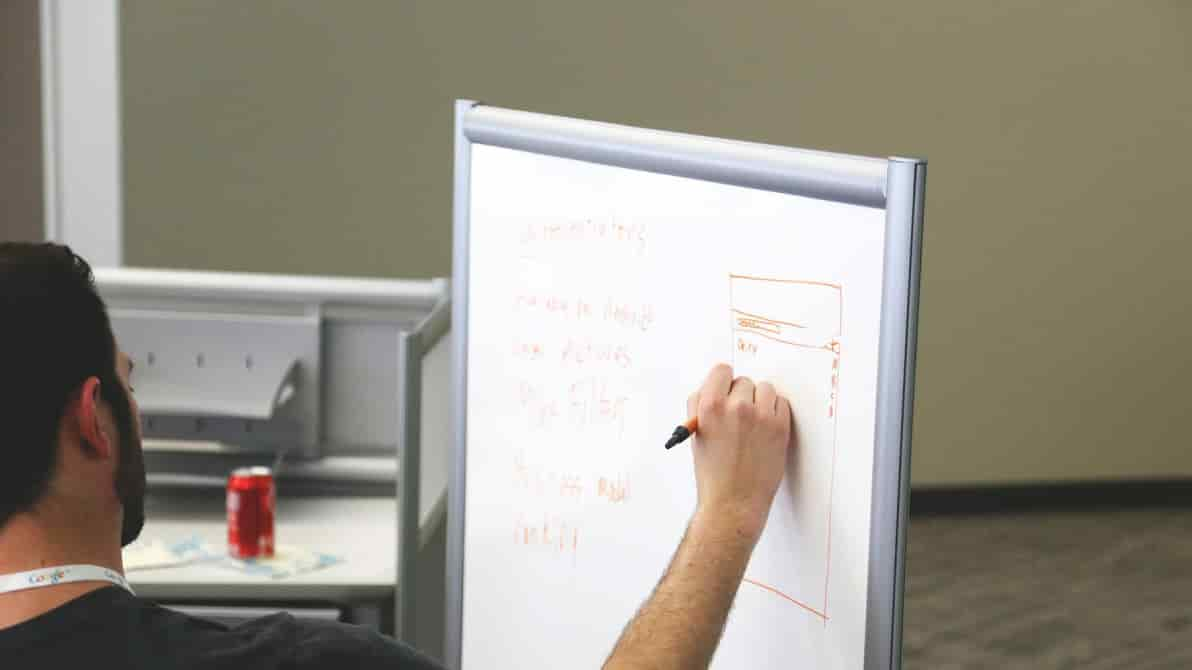 You need to have a foolproof SOP for project management pdf in the application in order to have a competitive edge over all other applicants. Know these five mistakes which could spoil your SOP.
Technical jargons: Strong vocabulary in the SOP doesn't mean the use of too many technical jargons. Write your SOP in simple language so that it is better understood by anyone who reads.


Typos and grammar errors: The best way to avoid them is to read your writeup carefully multiple times. If you tend to overlook your own mistakes, seek someone else's help.


Wrong information: Don't write anything that is not true. Be it your skills, experiences or achievements. Use real information and ensure that you have evidence to back them up, for instance an LOR.


Overstuffed paragraph: It is not good to talk about multiple points in a single paragraph. It is better to dedicate a paragraph for a particular topic you wish to highlight.


Plagiarism: Technology is so advanced that even single sentence of plagiarism can easily be identified. So, never try to copy from SOP for project management sample.

Top 15 Countries to Write SOP for Project Management
Here is a list of top countries you can consider for project management admission. When you apply in a foreign country, you may be required to write a visa SOP for project management course as well.

Top 20 Universities to Write SOP for Project Management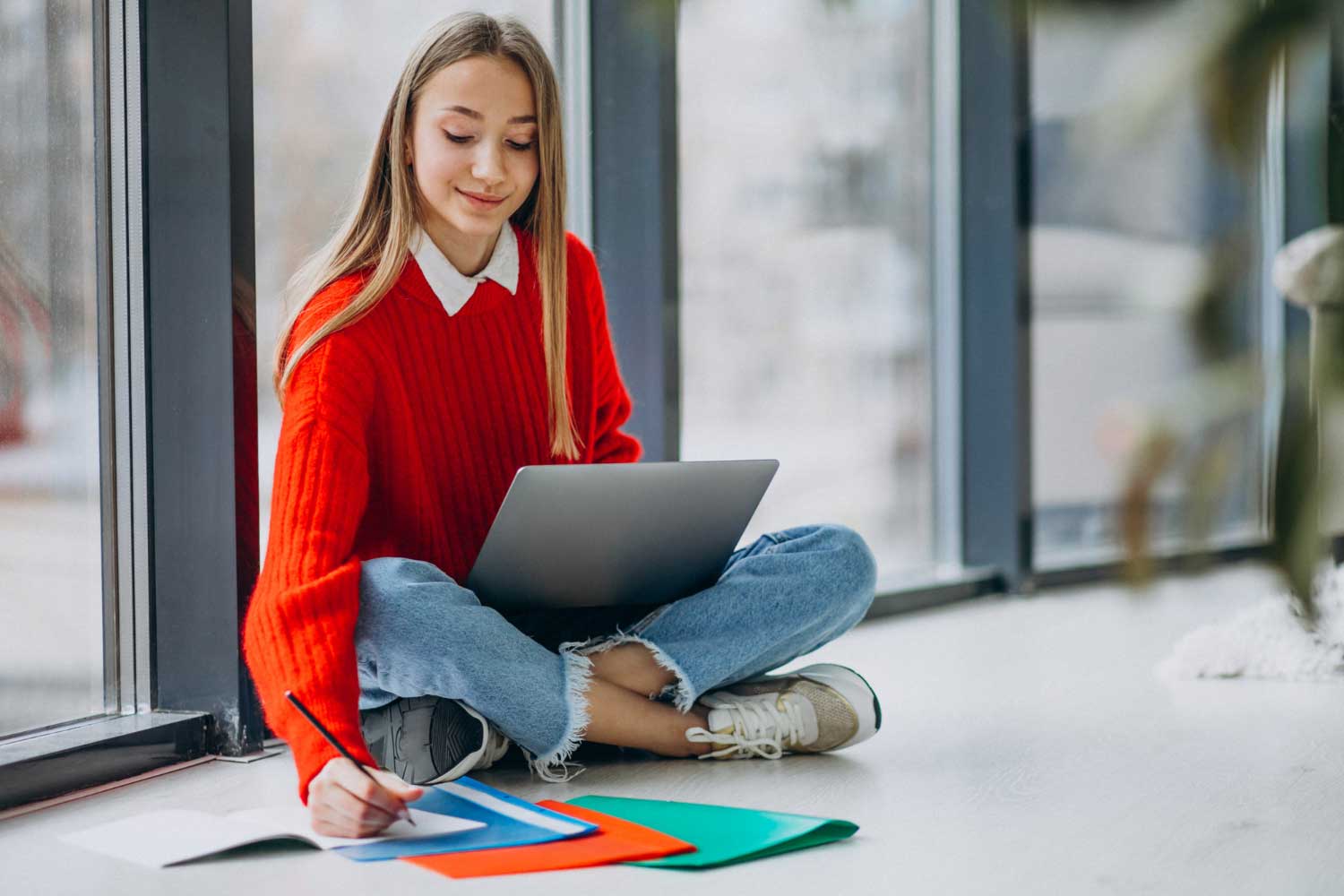 There is a huge number of universities across the world that offer comprehensive Project Management programs. Check out the program features of each institute to find the best one for your selection.