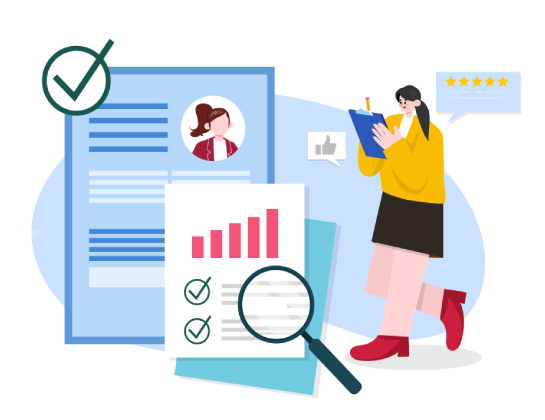 SOP For Masters in Project Management In Canada
A Detailed Guide for 2023
If you want to apply to project management courses in Canada, you should have a persuasive SOP. If you're confused about it, we can help you. Anyone who wants to write an SOP for project management in Canada can rely on this blog as a thorough resource.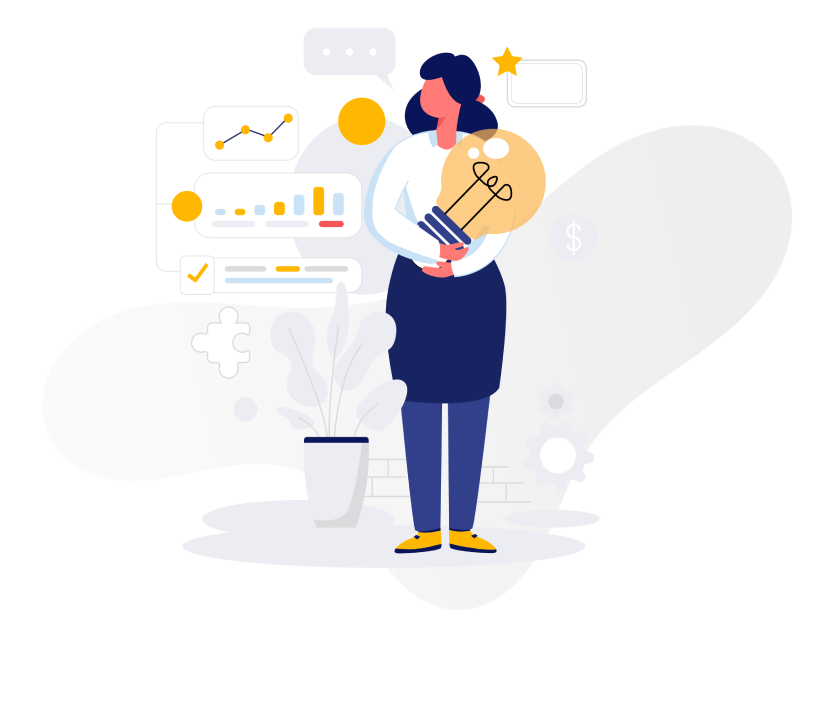 SOP for Project Management in Canada: What Is It?
What is the best way to write a strong SOP for a Masters in Project Management in Canada?
Sample sop for project management in Canada
What possible grounds could be used to reject your SOP for project management in Canada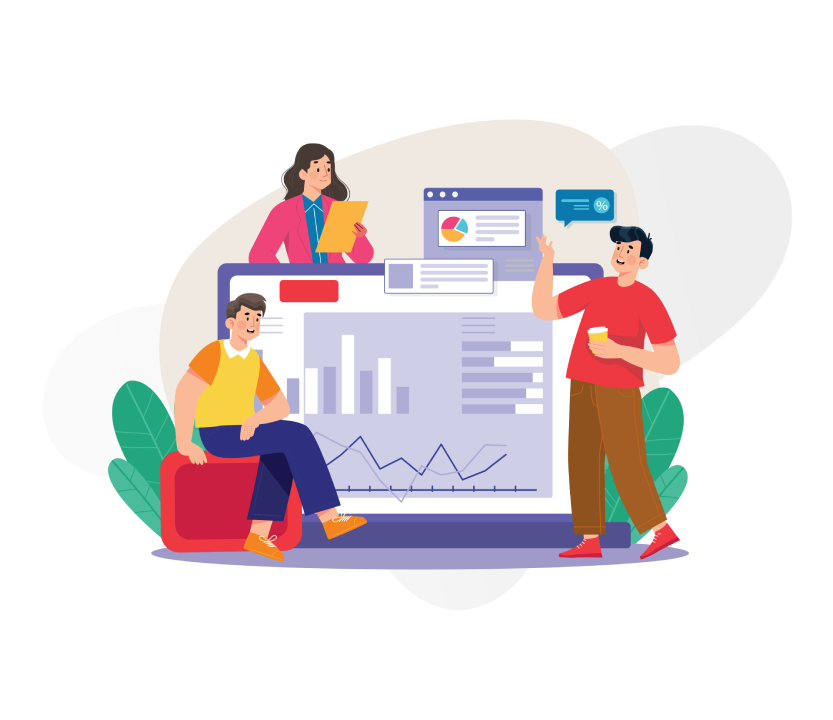 What are the different types of project management?
Top 13 Universities in Project Management In Canada - 2023

SOP for Project Management in Canada: What Is It?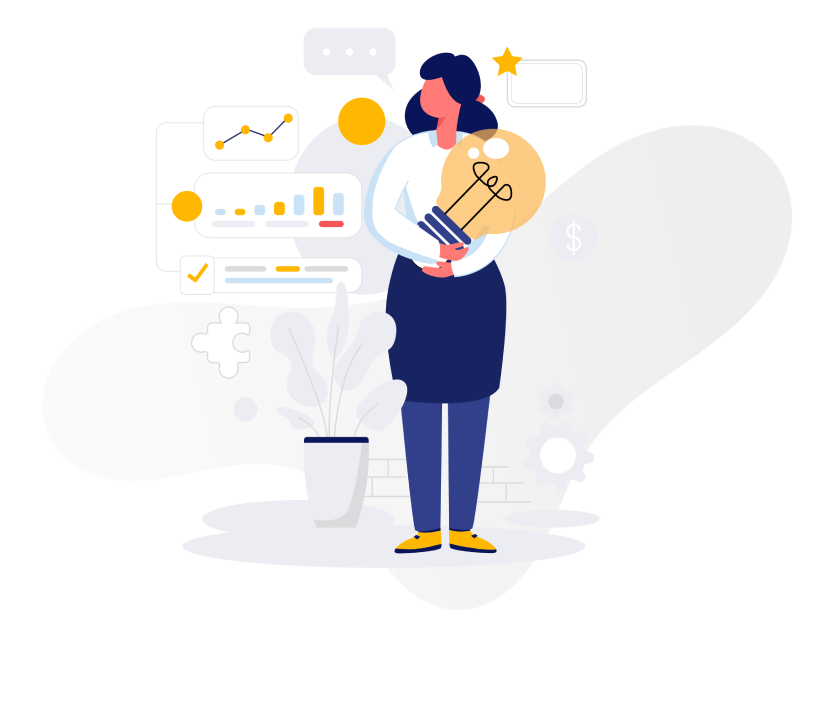 An SOP for project management in Canada is a detailed essay that includes all the applicant's aspects, including academic skills, activities accomplished, and employment history. The course's nature and level of competition call for a solid SOP.
What role does SOP play in the Masters in Project Management program?
In the admissions process, your SOP can have a serious influence. Let's discuss the significance of
project management SOP in Canada.
To know the qualifications and experiences of candidates.
To determine how sincere and driven you are.
To boost the likelihood of admittance.
It aids in expressing your uniqueness.
To know your worth as a candidate.

What is the best way to write a strong SOP for a Masters in Project Management in Canada?
Do you know how essential writing is to the SOP process? There is a lot about you that your SOP can show.
In order to apply for project management, you need be familiar with the writing and formatting conventions of statement of purpose for project management in Canada.  Let's learn together, now!
What is the best SOP format for project management in Canada?
The admissions committee looks at your SOP to evaluate your expertise and the skills that separate you from others. Therefore, use a format that is easily understandable when writing your project management SOP.
Paragraph 1 – Introduction
Create an impression by beginning with a personal tale about how you first became interested in project management. The reader should get a clear idea of your SOP after reading this.
Paragraph 2 – Academics
Briefly describe your academic background, along with the relevant skills, achievements, projects you have worked on, etc. Don't forget to mention how they assisted in your course preparation.
Paragraph 3- Experience
Discuss your professional background and highlight your contributions. In Canadian universities, experiences are valued highly. An important facet of your SOP is to describe them.
Paragraph 4- Why this course
Explain why you choose to pursue a master's in project management. Describe the expected outcomes of the course and how they should advance your aspirations.
Paragraph 5- Why this university
Gather detailed information about the university and discuss the unique aspects that are appealing and make you want to attend.
Paragraph 6 – Why Canada
Instead of speaking generally about Canada, consider it from the perspective of your course. How it will benefit your course, as well as the scope, possibilities, etc.
Paragraph 7- Future Plans
Next, you will discuss your short and long-term objectives after the course. You must also emphasise your intention to go back to your native country.
Paragraph 8- Conclusion
Conclude your SOP by presenting a strong statement. You shouldn't repeat anything that has already been said, and it should be brief.
What are the guidelines for preparing SOP for project management in Canada?
The format for your SOP for project management is now clear to you. Right? The next phase is writing it down. If you follow the guidelines listed below, you can write it easier.
Writing Your Project Management SOP: Best Tips
What should you do in order to improve your project management SOP in Canada? Consider some of the top tips given by professionals. You can thus improve your SOP beyond good.
Be sincere.
Be sure to emphasise your motivation.
Be specific about your professional aspirations.
Maintain a conversational tone without becoming too informal.
Keep your paragraphs from being overly dense with details.
Adhere to the university's required word limit and format.
Make sure you carefully review your SOP for grammatical and other flaws.

Sample sop for project management in Canada
You'll wish you had a project management SOP sample nearby to use as a reference while you're writing your SOP. Your wish has been heard. If you want to understand more, read the sample.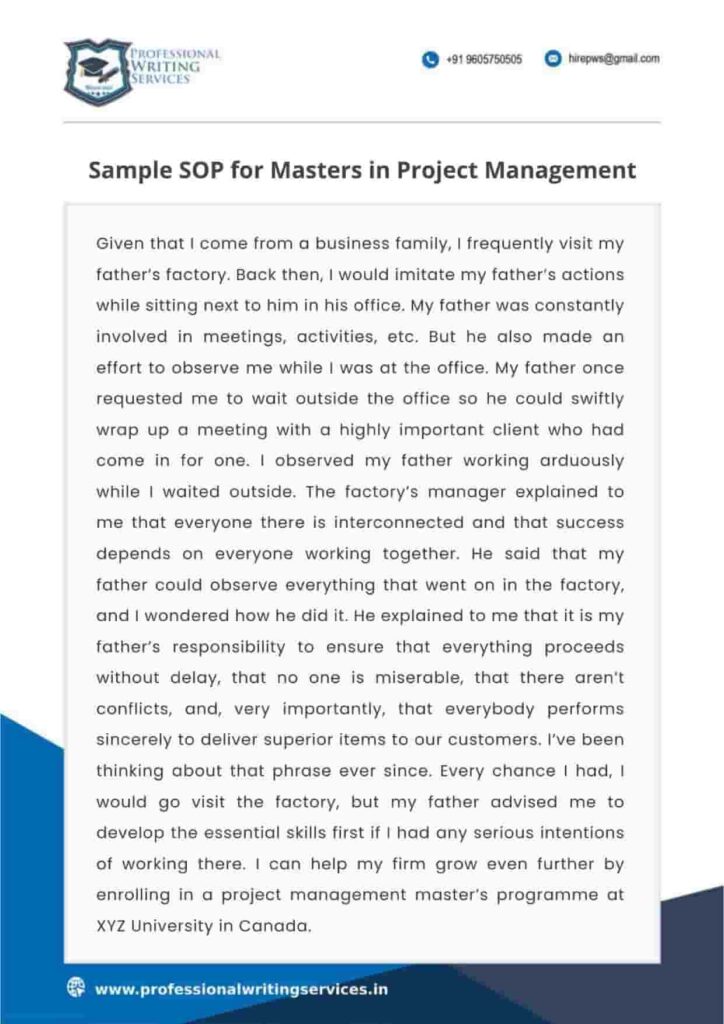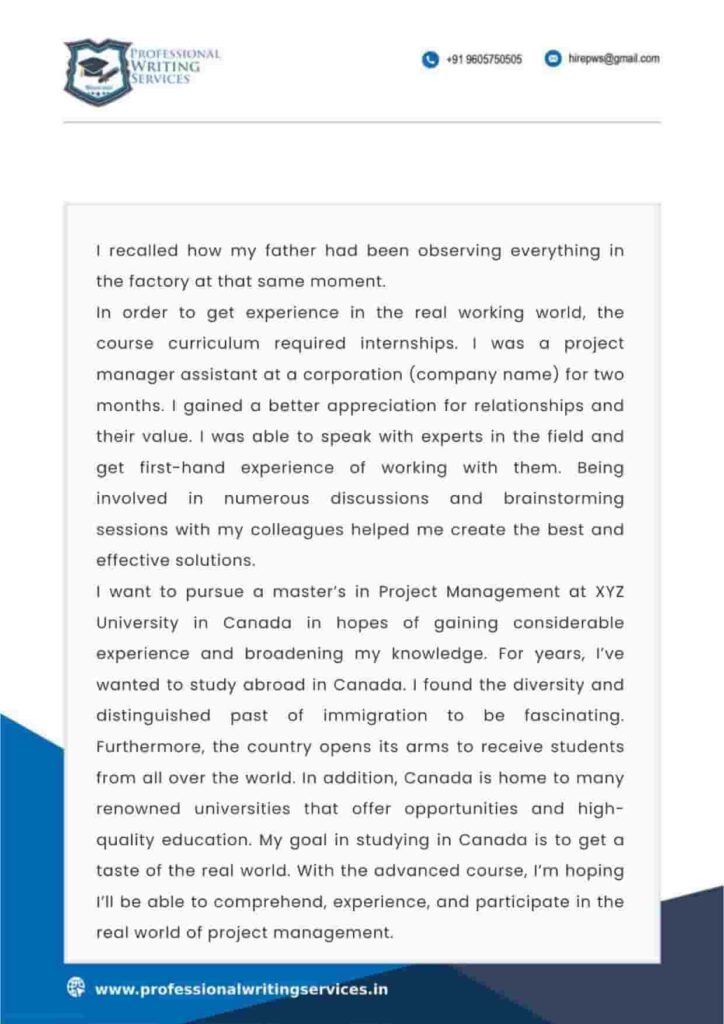 Given that I come from a business family, I frequently visit my father's factory. Back then, I would imitate my father's actions while sitting next to him in his office. My father was constantly involved in meetings, activities, etc. But he also made an effort to observe me while I was at the office. My father once requested me to wait outside the office so he could swiftly wrap up a meeting with a highly important client who had come in for one. I observed my father working arduously while I waited outside. The factory's manager explained to me that everyone there is interconnected and that success depends on everyone working together. He said that my father could observe everything that went on in the factory, and I wondered how he did it. He explained to me that it is my father's responsibility to ensure that everything proceeds without delay, that no one is miserable, that there aren't conflicts, and, very importantly, that everybody performs sincerely to deliver superior items to our customers. I've been thinking about that phrase ever since. Every chance I had, I would go visit the factory, but my father advised me to develop the essential skills first  if I had any serious intentions of working there. I can help my firm grow even further by enrolling in a project management master's programme at XYZ University in Canada.
My initial step toward achieving my goal was to enroll at ABC University in (place)  to earn a Bachelor of Science in Project Management. I acquired the information and abilities I needed to thrive in the world due to my college degree. Through teamwork and taking leadership, I put my attention on honing soft skills. I believed that getting these abilities would help me succeed in my line of work. I learned things about how experts organize, budget for, and carry out projects. My time in college showed me that an objective without a plan could consume a lot of our time. So, while putting my priorities in order, I was able to establish small steps to help me reach my goal.
I carried out (research project name) while under the guidance of (professor's name) during my final year of college. I was responsible for formulating and allocating resources for this project, setting the budget, keeping a record of the project status, and communicating with partners at all times. I learned how to complete a task through collaboration and cooperation while working on the project with friends. It gave me some insight into how to divide up the job, as well as the capacity to see how well things were getting along. I recalled how my father had been observing everything in the factory at that same moment.
In order to get experience in the real working world, the course curriculum required internships. I was a project manager assistant at a corporation (company name) for two months. I gained a better appreciation for relationships and their value. I was able to speak with experts in the field and get first-hand experience of working with them. Being involved in numerous discussions and brainstorming sessions with my colleagues helped me create the best and effective solutions.
I want to pursue a master's in Project Management at XYZ University in Canada in hopes of gaining considerable experience and broadening my knowledge. For years, I've wanted to study abroad in Canada. I found the diversity and distinguished past of immigration to be fascinating. Furthermore, the country opens its arms to receive students from all over the world. In addition, Canada is home to many renowned universities that offer opportunities and high-quality education. My goal in studying in Canada is to get a taste of the real world. With the advanced course, I'm hoping I'll be able to comprehend, experience, and participate in the real world of project management.
The best Project Management master's programme is offered by XYZ University, which is also ranked as Canada's top university. It is also well-known for its first-rate facilities, knowledgeable faculty, top-notch library, and placement opportunities. This course is perfect for me because it will help me improve and broaden my knowledge in the project management topics that I find most interesting. I also want to make use of the campus's cultural resources and extracurricular activities to meet people and develop professionally. By enrolling in this course, I hope to advance academically and socially.
After earning my master's, I intend to work on a range of projects in industries like IT, health, architecture, engineering, marketing, banking, manufacturing, or commerce. I wish to work at my father's factory and enhance its standards after getting broad knowledge and expertise. I really believe that great leadership is about motivating people to accomplish things they never thought they were capable of, as opposed to management, which is about persuading people to do everything even if they don't like it. That is how I aspire to be.

What possible grounds could be used to reject your SOP for project management in Canada
You should be mindful of the possibility of rejection while you write the Project Management SOP for Canada. You must be aware of the common causes of rejection in order to prevent that.

What are the different types of project management?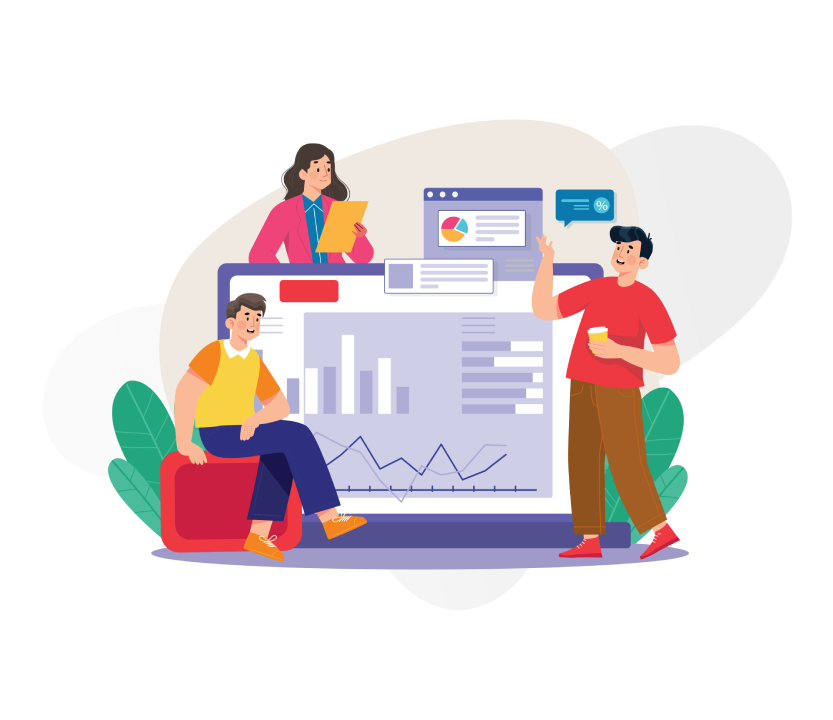 You should be mindful of the course's scope if you write an SOP for Project Management courses in Canada. Project management has advanced as one of the fields with the fastest growth.
Scope of Project Management in Canada
In Canada, project management is used in a variety of industries. Opportunities are available in the fields of IT, architecture, medical engineering, banking, marketing, manufacturing, and telecommunication, among many others. The greatest regions in Canada for project management jobs include Quebec, Alberta, British Columbia, etc.
The following is a list of employment possibilities for you:
Project Director
Project Control Manager
Operations Manager
Project Coordinator
Project Manager
Between $38,000 and $56,000 is the range of the starting salary on average. It can change according to your position within the firm, your expertise, and your certifications.

Top 13 Universities For Masters in Project Management in Canada- 2023
Your growth is significantly influenced by the university you choose. So, go with your best option. These are the top 13 institutions for masters in Project Management in Canada. 
Centennial College
Northeastern University
Seneca College
Vancouver Island University
Fleming College
Douglas College
Durham College
Lambton College
Fanshawe College
George Brown College
University of British Columbia
Conestoga College Kitchener
Humber College

Frequently Asked Questions
It should have 800 to 1000 words. However, it may vary depending on the colleges and their guidelines for creating SOP.
You should write the SOP yourself if you are confident enough to do so. If you're unsure, ask a professional for advice.
No. You cannot. Copying and pasting the SOP is not advised. It can indicate plagiarism, which might result in the rejection of your SOP.