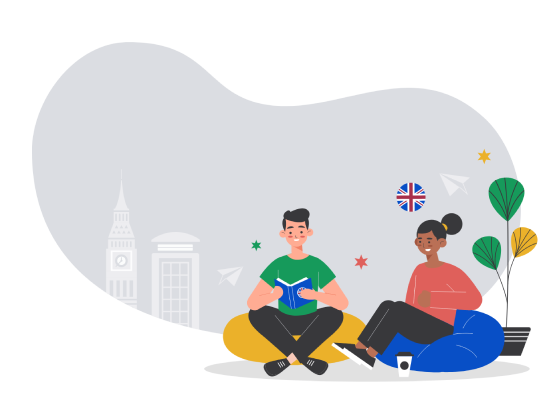 The Comprehensive Guide For 2023
Are you planning to study in the UK? Then you must require a SOP for Visa application. Are you confused on how to draft an SOP for UK Student Visa? Then you are on the right page.
Here you will get answers to all your daunting questions, and this blog will help you craft an impressive SOP for UK Student Visa that will help you get your visa to study in the UK.
What is an SOP For UK Student Visa
SOP is an official document submitted by you to the UK Visa Official in your country, explaining your interest and passion for the subject and the reason for your choice of the UK as your study destination.
How important is SOP for UK Student Visa ?
SOP is an important element of your student visa application for the UK, as it helps you to better express your interest and passion for the subject and reason for your choice of the UK as your study destination. 
It is important because:
Difference Between SOP for UK study visa and Other Countries
How to Write an Attractive and Impressive SOP For UK Student Visa
As your SOP is an important element of your visa application, care must be taken while you draft it so that you get your visa approved and fulfill your dream to study in the UK. 
What should be the content of the SOP for UK Student Visa?
When you draft your SOP, always be careful that you include only relevant details. Here is your guideline on what you should include in an SOP for UK Student Visa. 
What is the Perfect Structure for a SOP for UK Student Visa?
Below is the perfect structure to write an SOP for UK Student Visa.
Start with an eye catchy introduction that attracts the reader's attention. Be short and specific here and explain your ardent interest in pursuing your higher studies in the UK.
Briefly explain your academic history by naming each institution you were part of and the grades obtained in each degree. You can also mention details of any educational gap here in this paragraph.
If you have any professional experience or internship experience, you can mention it here. Describe each job position and your learning outcome, and explain how it helped boost your career.  
Explain your reason for choosing this particular course and how it will help you in your career. Be specific here, and don't forget to elaborate on what you wish to achieve from this course. 
Describe why you chose this particular university and how it will help you in your academic grooming. Explain why you chose the UK as your study destination, and not any other country. 
Explain your short and long term career plans after completing your chosen course. Be specific here and briefly explain at which position and company you wish to work in the future. 
Never forget to give details about your financial stability and how you plan to fund your course fees and other expenses in the UK. You can also mention your savings, details about the property and other assets.
Close your SOP by expressing your gratitude to the official for reading your SOP for student visa. You can also express your hope of visa approval. 
Sample SOP for UK Student Visa
 Here is a sample SOP that can help you craft your SOP for UK Student Visa. Glancing through the sample can provide you an idea on how to structure and tone your SOP for UK Student Visa.
Name: xxxx
DOB:
Passport No:
To
The Visa Officer,
British High Commission,
(Place)
I (the applicant's name) plan to seek a master's degree in Computer Science at the renowned XYZ University in the UK. In order to pursue my master's in the UK, I would like to apply for a study permit. I'm hoping to improve my career by extending my insight and capacities through an international graduate degree at such a prestigious institution.
 Professional and academic background
 I come from a forward-thinking family that includes my parents and younger sister. I was not forced to accomplish anything in school by my parents; all things considered, they encouraged me to seek the courses I was interested in. My choices shaped the foundation of both my academic and professional lives. Since I first learned about computers and technology in school, my interest in them has only grown. At the point when the tenth grade was finished, most of the understudies decided to pursue science, while I picked computer science. In addition to the fact that I was captivated, I had no computer at home, so that was the deciding factor for me. Hence, I thought about majoring in computer science as a method to learn more about technology and comprehend it better. I went to XYZ College in ABC for a BSc in Computer Science after school. The course offered me the chance to take part in an array of extracurricular and classroom activities that helped with my improvement as an individual while acquainting me with the technical and programming parts of technology. I worked on projects for my college degree to apply my theoretical knowledge and build skills that could refine my technical competency. Subsequent to completing my degree, I worked as a quality analyst for the XYZ Organization for two years.
Why higher education? 
Tracking down the software's flaws and fixing them prior to the retest were fundamental parts of the quality analyst's work. My position didn't offer a lot of chances for progress, so over the long run I felt it to be stale. I understood after thinking about it that a quality analyst can progress to manager or leader status. In this job, there is no place for development or learning. I reached the conclusion that, to progress towards a more focused objective, I needed to improve my capacities and knowledge. I realised that the position of a software developer is challenging and that there is still a lot of opportunity to get better there. I can ultimately progress to various jobs as a developer. Right now, ideas like blockchain and cybersecurity are making the world a better place. In this area, there are endless open doors. In any case, I feel caught in my situation as a quality analyst. The fact that I lack the necessary knowledge in the sector prevents me from progressing. I believed that the only way I could advance into a secure and lucrative career was by pursuing further education. To gain more insights into computer science and openness to different nations, I should seek a postgraduate degree. I should stay aware of the latest developments in the field of computer science in order to maintain my technical competency. Thus, I settled on the choice to attend XYZ University in the UK for a master's programme in Computer Science. By doing so, I will be able to achieve my career goals and move closer to what I want. 
Reasons to choose the UK
Since I obtained my college degree in India, I'm more mindful of the benefits of studying abroad. I had no clue about how teaching differed in different countries when I settled on an undergrad degree in India. I found that Indian educational institutions lacked exposure to real-world situations when I was studying there. The course frame has not been refreshed to reflect the latest advances in the subject. While the Indian educational system anticipates that understudies should remember what is written in reading material, it never really propels their technical capability. I encountered this while I was studying in India. This experience persuaded me to select an institution abroad. At the point when I investigated different study abroad choices, I found that the UK is a developed country with a huge interest in technology; thus, courses in this nation are continually refreshed to reflect the latest turns of events. The courses at UK universities basically emphasise the importance of practical skills and insight; thus, they give students an array of various training choices. Additionally, a number of the world's top colleges for computer science are situated in the UK. They are recognised on a worldwide scale for their quality and educational standards. A graduate degree from the UK is worth more in India than it is in other countries. Thus, having a graduate degree from the UK will offer me a benefit over other Indian candidates. 
Reasons behind choosing XYZ University 
Quite possibly the best college in the UK, XYZ University is notable for offering excellent guidance, state-of-the-art facilities, and different programs. The university's scholastic networks, reliable resources, and exceptionally qualified staff are only a couple of its features, which have attracted my interest in going to the prestigious educational centre to seek further studies. The university offers various courses, including bachelor's and postgraduate courses, and the best learning and guidance across every branch of a subject. The institution's Lords programme is notable all over the world, and it can set me up for positions in significant IT vocations.
 About the course
I will extend my understanding of how I might interpret fundamental topics in the subject through the master's in Computer Science certificate at XYZ University, preparing for a prosperous expert profession. Likewise, having the potential chance to choose electives in light of my inclinations will assist me in studying a specific field, which will be valuable for my future vocation. I can upgrade my range of abilities and advance my technical knowledge with the assistance of the program's subjects. Since the course is industry-focused, it will give me access to an extensive variety of innovation fields all over the planet. The course incorporates a project that will empower me to utilise my scholarly knowledge. The placement will offer me a gigantic chance to interact with the best experts in the world. 
Career Opportunities 
Computer science presents many possibilities since it is a quickly developing and changing field in India. Learning computer science has various advantages, for example, being faster, more accurate, and having more critical thinking. Today, it seems to apply to practically all industry areas like medical care administrations, public travel, infotainment, schooling, security contraptions, and so forth. One might choose to seek a profession as a software designer, data analyst, network manager, or go into additional serious regions like developing robots utilising AI and computer-based intelligence, leading data research, becoming an examination researcher, and so on. 
Future plans 
In the wake of finishing my program, I need to get back to India and work for the top organisations there, where I can invest my earlier work experience and the abilities and information I acquired from my master's course. I need to take advantage of the appeal for professionals with international degrees in India. A graduate degree from XYZ University will improve my profile and open up additional choices for me in my own country. My techniques, manners, interpersonal capacities, and so on, will be more sophisticated and in accordance with international norms, expanding my possibilities for growth in the organization.
 I'm going to finance the programme with money from my savings and a student loan. My tuition and living costs in the UK will be covered by it. I have already made the required deposit and payment for xxxx tuition. I have included all the necessary documentation with this statement.
My career will reach its apex due to my faith in my abilities and myself. Therefore, in order to accomplish that, I kindly ask that you allow me to enrol in the highly sought-after course by granting me a student visa to the UK.
Regards,
Name of the applicant 
The best Tips from Industry Experts for Your SOP
Here are the best tips from the industry experts on how to craft an SOP for UK Student Visa.
Always be genuine in your approach, and never lie or exaggerate.  Always be you in the whole procedure of visa process and never try to fake it. 
Give a you element to your SOP which can make your SOP unique. Always remember, the Visa officials look for the novelty of your ideas and the uniqueness of your approach.
Say a big NO to plagiarism, as it may affect the quality of your write up and lead to an instant rejection of your visa application. 
Never forget to express your interest and passion for the chosen course and how it can benefit you in your future professional endeavors. 
Justify your reason for choosing the UK as your study destination and not any other country. Explain what attracted you to the UK and UK universities. 
Give emphasis on your skills in academic and extracurricular activities and explain how proficient you are in all these. 
Never forget to proofread your document; make sure it is free from both grammatical and spelling mistakes. You can use apps like Grammarly, Hemmingway, etc. to proofread. 
Always show your work to experts and seek their feedback. If their comments are genuine, never hesitate to include them in your SOP. 
Mistakes to Avoid While Crafting Your SOP
Always be careful to make your SOP error free. Below are a few common mistakes you should avoid while drafting an SOP for UK Student Visa.
Writing at the last minute can affect the quality of your write up. So always be careful to start early to write your SOP for UK Student Visa. 
As an introduction is a key factor in creating your first impression, don't neglect your introductory paragraph. Always be creative and innovative while writing the introduction.
Providing false information can lead to rejection of your visa application. So don't fake information and lie in your SOP for visa application for the UK. 
Don't elaborate on your personal details and always stick to the purpose of your writing. Never explain endlessly about your childhood dream, as foreign universities look for achievers not dreamers. 
Never ever cross the word limit of an SOP for UK Student Visa. You must be very careful to stick to the word count and character limit while you draft your SOP for UK Student Visa.
Never forget to proofread your document and correct all the mistakes. An SOP with a lot of mistakes will lead to instant rejection.
As an SOP for visa application is a formal document, always be careful to use formal language.  Always be respectful and polite in your writing. 
Seeking feedback can help you correct your mistakes. So don't be hesitant to show your SOP to experts and seek their feedback. 
SOP For UK's best Universities
One must be very careful while drafting an SOP and adhere to university requirements. Read and understand what the admissions committee demands in an SOP and write accordingly. 
Here are details on how to craft a SOP for the top 5 universities in the UK.

Considered one of the best universities in the world, the University of Oxford has a historical legacy of providing quality education. Below are the requirements for drafting an SOP for the University of Oxford:
SOP has to be submitted in PDF or jpg or png format

Must be written in English

It must be plagiarism free

Give special emphasis on course motivation and why this university
Being among the top 8 colleges in the world, the University of Cambridge offers academic excellence and a high level of teaching. Below are the requirements of SOP for the University of Cambridge:
Jot down the modules you have studied

Must mention your future plans

Give emphasis on why you want to study in this university

Highlight your goals
University College London
Being the third established university in England, University College London was founded in 1826 and has branches outside England at Qatar and Australia. Below are the requirements of SOP for University College London:
Must address why you choose this university

For MS program character limit is of 3000 with spaces or 2 sides of an A4 page

Course motivation

Career interests

Imperial College London is a science university that has campuses in and around London. With a global score of 84.3, Imperial College London is a top educational institution in the UK. Here are the few requirements of the SOP for Imperial College London.
Must communicate the reason for your interest in the chosen course

Must be plagiarism free

Never exaggerate

Never provide false details

Must include career aspirations, course motivations etc.
King's College London, one of the top universities in the UK, King's College London was founded in 1829 by the royal charter under the patronage of King George IV and the Duke of Wellington. Here are the requirements of SOP for King's College London:
Must explain course motivation

Give special emphasis to why this university

Must explain academic background

Character limit is of 4000 or 47 lines

Avoid clichés
We have come to the end of this blog. We have explained exclusively how to write an SOP for UK study visa. I hope the information was useful and you found this blog helpful. Feel free to comment and share your queries below.