Everything you need to know in 2023
Writing SOP for MS or statement of purpose for Master of Science is challenge for most students because it is completely different from other types of writings. In this blog, you will find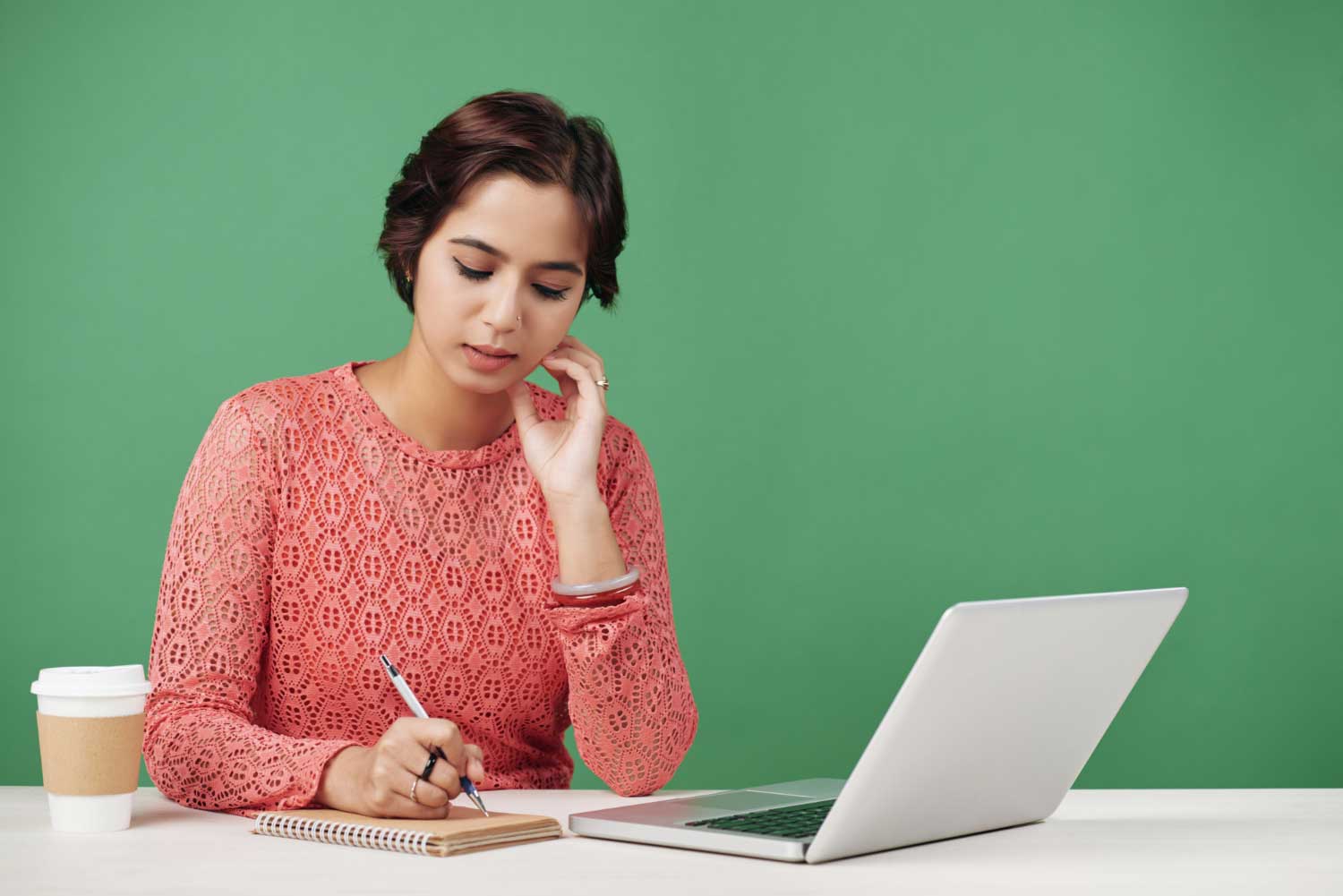 The Statement of Purpose (SOP) is an essay that describes the candidate's qualifications, experiences, driving forces, and personality as they are presented to the Admissions Committee in order for them to be admitted to international universities. In contrast to other SOPs, the SOP for MS courses can be built based on the candidate's academic accomplishments and how their currently selected course degree will be the next step that could assist them attain their academic goals.
How Important Is an SOP For Masters?
The Statement of Purpose is crucial, so why? Your application is judged on the Statement of Purpose (SOP). It aids the admissions committee in evaluating your outlook on life, your professional objectives, your convictions, your subject expertise, and your vision.
How to Write a Winning SOP for Masters?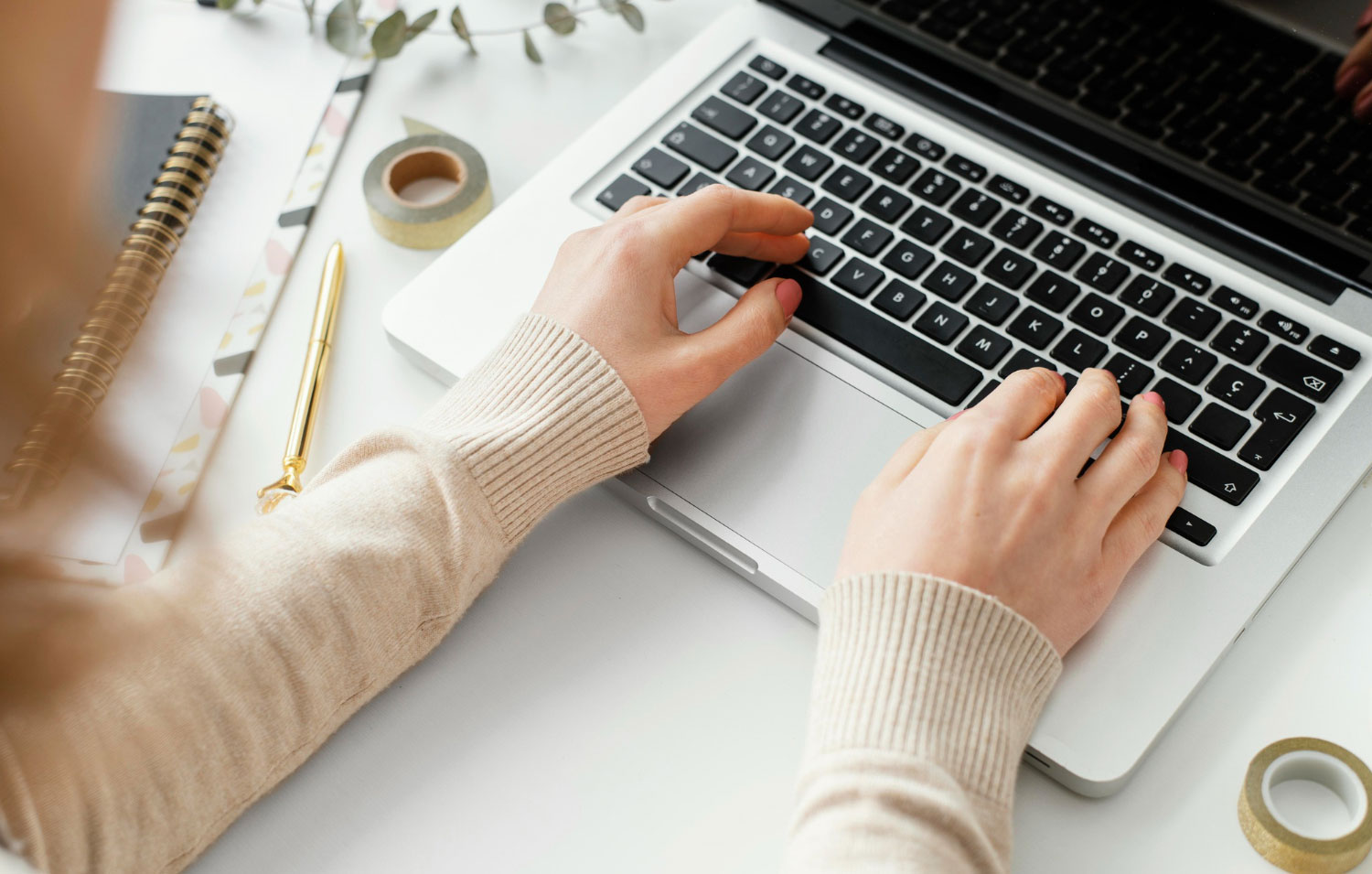 You need to write statement of purpose for Master of Science showing your conviction about your course selection. It should clearly demonstrate how serious and prepared you are for the program.
Know about your desired program: Decide on your MS program, its future scope, skills and aptitudes required to excel in the domain etc. Besides reading, discuss with people who are involved in the field for more insights.
Learn about the university: Depending on the institute, there will be differences in the course structure for your MS program. You will need to have a fair idea about it in order to write an SOP for your program.
Prepare a plan for your SOP: After collecting the details which you need to craft for your SOP, prepare a plan. Refer to a statement of purpose sample for MS for this. Your plan should contain word count, format, points etc.
Write first draft: Don't wait to write a perfect final copy. Write a first draft first. You will have to change or rewrite it several times later until you have a perfect final copy.
Proofread and correct: Proofreading is the most crucial phase in SOP writing. Keep your eyes open to spelling mistakes, grammatical errors and structure errors. Also, make sure that your essay maintains readability.
Get verified by an expert: Before you submit your SOP, it is recommended to have your writeup read and verified by an expert. A professional SOP writer is the right person to advise you regarding the quality of your SOP.
Important Guidelines for Writing SOP for MS
While writing an SOP for MS programs, it is very important to show that you are not choosing the program out of fun. Follow the below guidelines to write your SOP for MS uniquely and convincingly.
Emphasize motivation: Find out your true motivation behind the selection of the MS program you are eying and express that with as much conviction and seriousness as possible.


Write engagingly: In order to strike a chord with the reader and make him decide favorably on your admission, you must make your SOP for MS interesting to read.


Eliminate mistakes: Read your document multiple times and filter out all mistakes. An SOP for MS shouldn't be taken for granted. It is a crucial document that makes selectors decide your admission.


Clarify everything: Through your SOP, you should clarify all questions that the selectors may have about you which your GPA and resume can't shed light on. Course change, backlogs, future plans etc.


Keep balance of points: It is important keep a right balance of the points in your statement of purpose. Don't use too much space on your SOP to explain certain things and write too shortly about other points.


Be true to yourself: Do not write anything which is not factually correct in order to make your SOP look appealing or to impress the selection panel. Be 100% true to yourself.
Choosing the Right Structure and Format for SOP for Masters
Generally speaking, you can use the same format and structure for all SOPs for MS programs, as shown in the SOP example for MS. Sometimes, certain universities will give you a specific structure to follow in the SOP. This happens quite rarely.
Do not use any fancy or calligraphic font in your SOP for MS. Similarly, do not use any extra formatting such as coloring or bolding text or italics etc. If you find any SOP samples for MS pdf in such a manner, ignore them.
Introduction: Start with true story to tell how you became interested in the specific science subject. Move on to explain what you will be discussing in the essay briefly.
Second and third paragraphs: Dedicate second and third paragraphs to speak about your academic and professional backgrounds respectively. Discuss about your skills and achievements.
Fourth paragraph: In the fourth paragraph, discuss about your true motivation for selecting this particular field as your future platform. Support your claims with reasonable points and anecdotes.
Fifth paragraph: In the fifth paragraph of your SOP for MS, talk about your reasons for choosing a certain university as the higher education destination. Analyze the unique aspects of the institute.
Sixth paragraph: In this paragraph, talk about your reasons for choosing a particular country for studying in and not your home country or any other country.
Seventh paragraph: In this paragraph, elaborate on your future plans. Don't forget to mention that you will return to your home country and start your career there.
Conclusion: Wind up your essay by summarizing the whole essay in two or three sentences. Wind it up with a call to action, encouraging the panel to take a favorable decision.
Take a look at this statement of purpose sample for masters degree. You will have a comprehensive understanding about SOP for MS from it as well as how it differs from SOP for other programs. Use the SOP samples for MS given here only as a reference.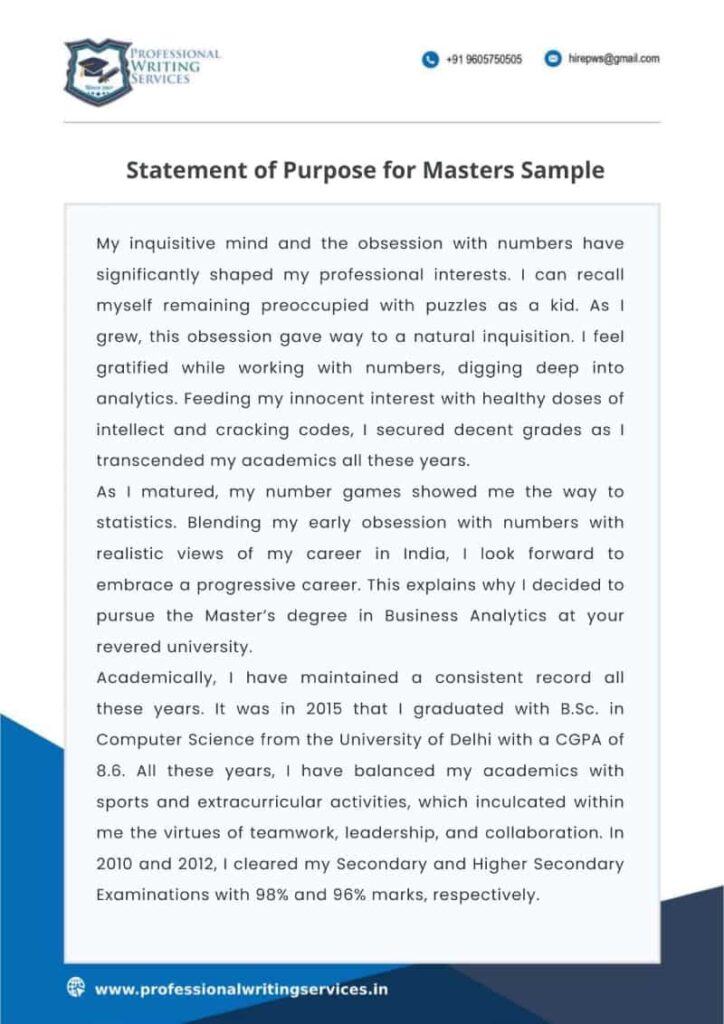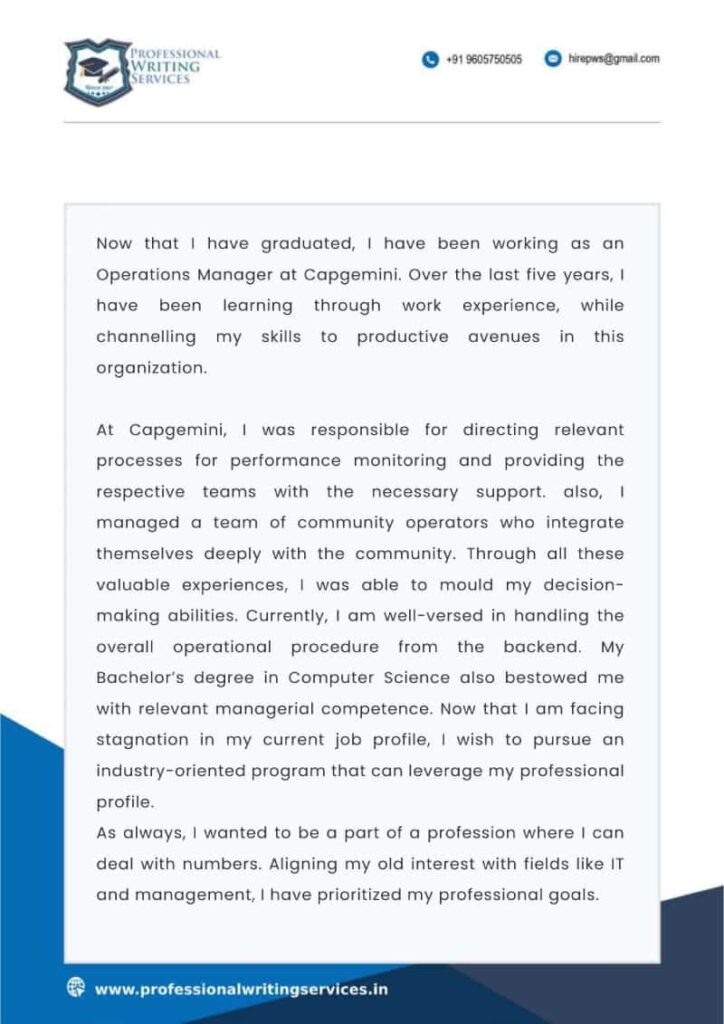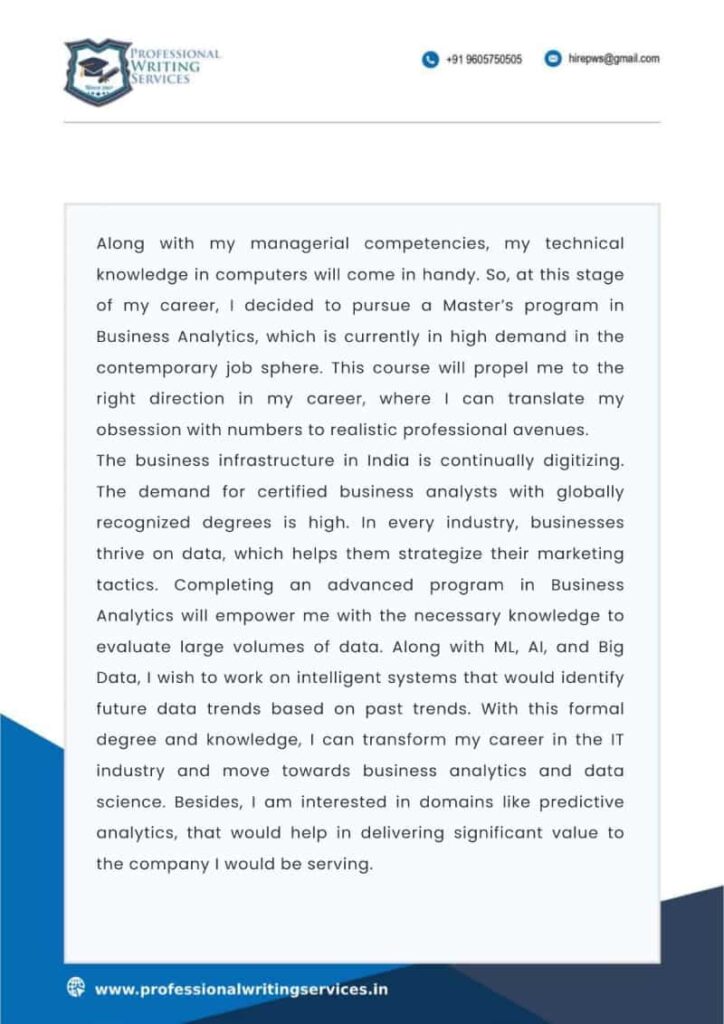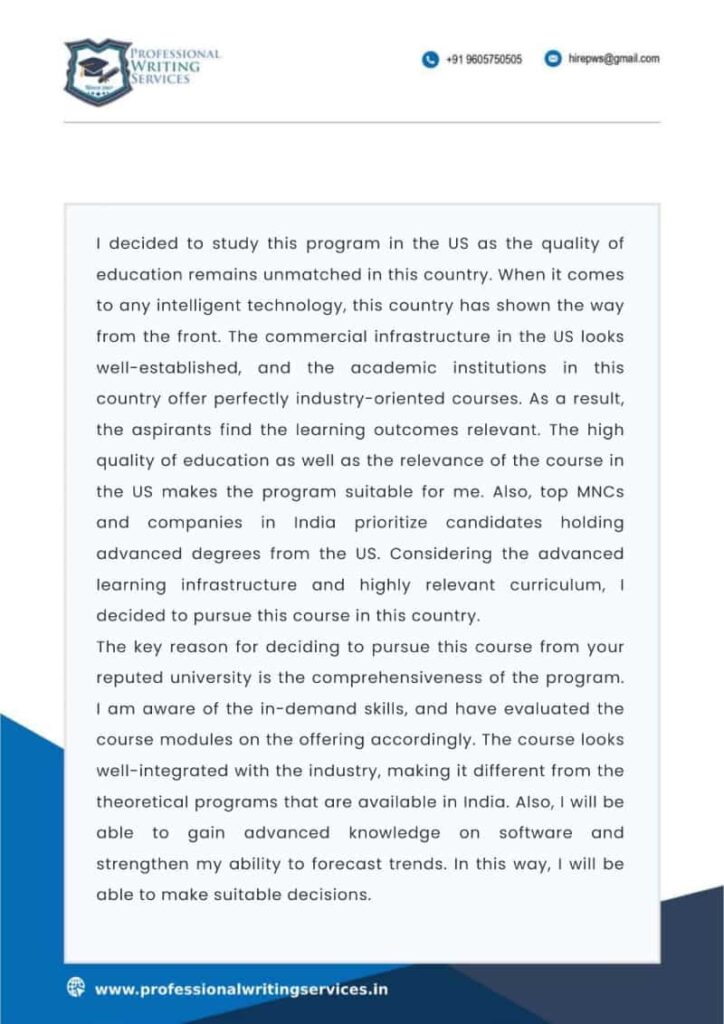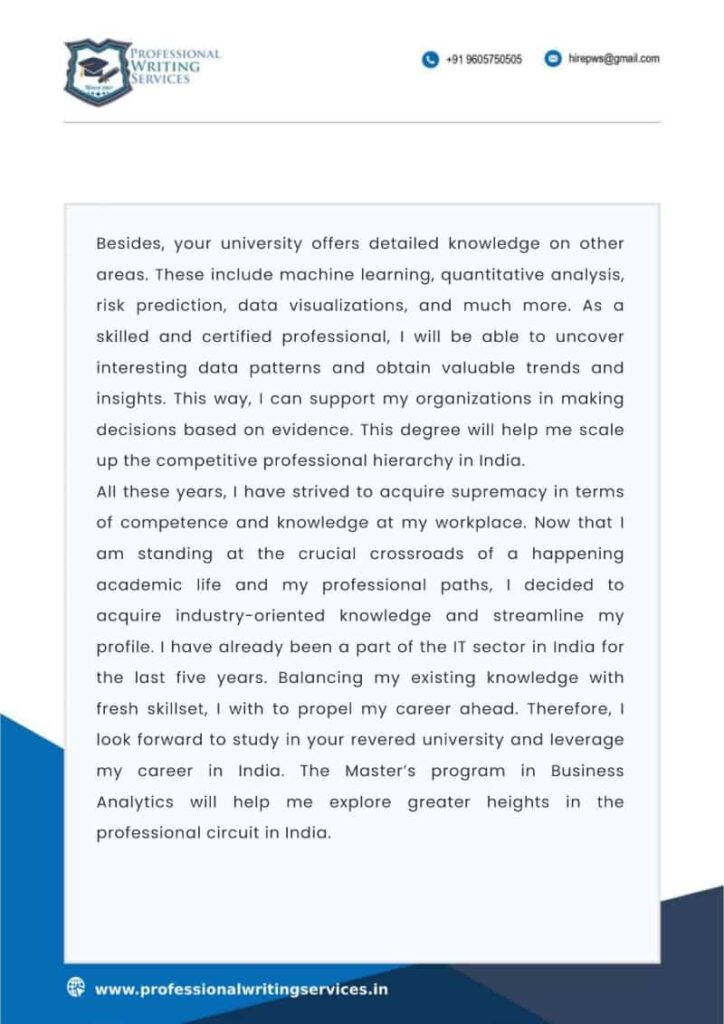 Statement of Purpose for Masters Sample
My inquisitive mind and the obsession with numbers have significantly shaped my professional interests. I can recall myself remaining preoccupied with puzzles as a kid. As I grew, this obsession gave way to a natural inquisition. I feel gratified while working with numbers, digging deep into analytics. Feeding my innocent interest with healthy doses of intellect and cracking codes, I secured decent grades as I transcended my academics all these years. 
As I matured, my number games showed me the way to statistics. Blending my early obsession with numbers with realistic views of my career in India, I look forward to embrace a progressive career. This explains why I decided to pursue the Master's degree in Business Analytics at your revered university. 
Academically, I have maintained a consistent record all these years. It was in 2015 that I graduated with B.Sc. in Computer Science from the University of Delhi with a CGPA of 8.6. All these years, I have balanced my academics with sports and extracurricular activities, which inculcated within me the virtues of teamwork, leadership, and collaboration. In 2010 and 2012, I cleared my Secondary and Higher Secondary Examinations with 98% and 96% marks, respectively. Now that I have graduated, I have been working as an Operations Manager at Capgemini. Over the last five years, I have been learning through work experience, while channelling my skills to productive avenues in this organization.
At Capgemini, I was responsible for directing relevant processes for performance monitoring and providing the respective teams with the necessary support. also, I managed a team of community operators who integrate themselves deeply with the community. Through all these valuable experiences, I was able to mould my decision-making abilities. Currently, I am well-versed in handling the overall operational procedure from the backend. My Bachelor's degree in Computer Science also bestowed me with relevant managerial competence. Now that I am facing stagnation in my current job profile, I wish to pursue an industry-oriented program that can leverage my professional profile.
As always, I wanted to be a part of a profession where I can deal with numbers. Aligning my old interest with fields like IT and management, I have prioritized my professional goals. Along with my managerial competencies, my technical knowledge in computers will come in handy. So, at this stage of my career, I decided to pursue a Master's program in Business Analytics, which is currently in high demand in the contemporary job sphere. This course will propel me to the right direction in my career, where I can translate my obsession with numbers to realistic professional avenues.
The business infrastructure in India is continually digitizing. The demand for certified business analysts with globally recognized degrees is high. In every industry, businesses thrive on data, which helps them strategize their marketing tactics. Completing an advanced program in Business Analytics will empower me with the necessary knowledge to evaluate large volumes of data. Along with ML, AI, and Big Data, I wish to work on intelligent systems that would identify future data trends based on past trends. With this formal degree and knowledge, I can transform my career in the IT industry and move towards business analytics and data science. Besides, I am interested in domains like predictive analytics, that would help in delivering significant value to the company I would be serving.
I decided to study this program in the US as the quality of education remains unmatched in this country. When it comes to any intelligent technology, this country has shown the way from the front. The commercial infrastructure in the US looks well-established, and the academic institutions in this country offer perfectly industry-oriented courses. As a result, the aspirants find the learning outcomes relevant. The high quality of education as well as the relevance of the course in the US makes the program suitable for me. Also, top MNCs and companies in India prioritize candidates holding advanced degrees from the US. Considering the advanced learning infrastructure and highly relevant curriculum, I decided to pursue this course in this country.
The key reason for deciding to pursue this course from your reputed university is the comprehensiveness of the program. I am aware of the in-demand skills, and have evaluated the course modules on the offering accordingly. The course looks well-integrated with the industry, making it different from the theoretical programs that are available in India. Also, I will be able to gain advanced knowledge on software and strengthen my ability to forecast trends. In this way, I will be able to make suitable decisions. Besides, your university offers detailed knowledge on other areas. These include machine learning, quantitative analysis, risk prediction, data visualizations, and much more. As a skilled and certified professional, I will be able to uncover interesting data patterns and obtain valuable trends and insights. This way, I can support my organizations in making decisions based on evidence. This degree will help me scale up the competitive professional hierarchy in India.
All these years, I have strived to acquire supremacy in terms of competence and knowledge at my workplace. Now that I am standing at the crucial crossroads of a happening academic life and my professional paths, I decided to acquire industry-oriented knowledge and streamline my profile. I have already been a part of the IT sector in India for the last five years. Balancing my existing knowledge with fresh skillset, I with to propel my career ahead. Therefore, I look forward to study in your revered university and leverage my career in India. The Master's program in Business Analytics will help me explore greater heights in the professional circuit in India.

SOP for MS - Most Popular Courses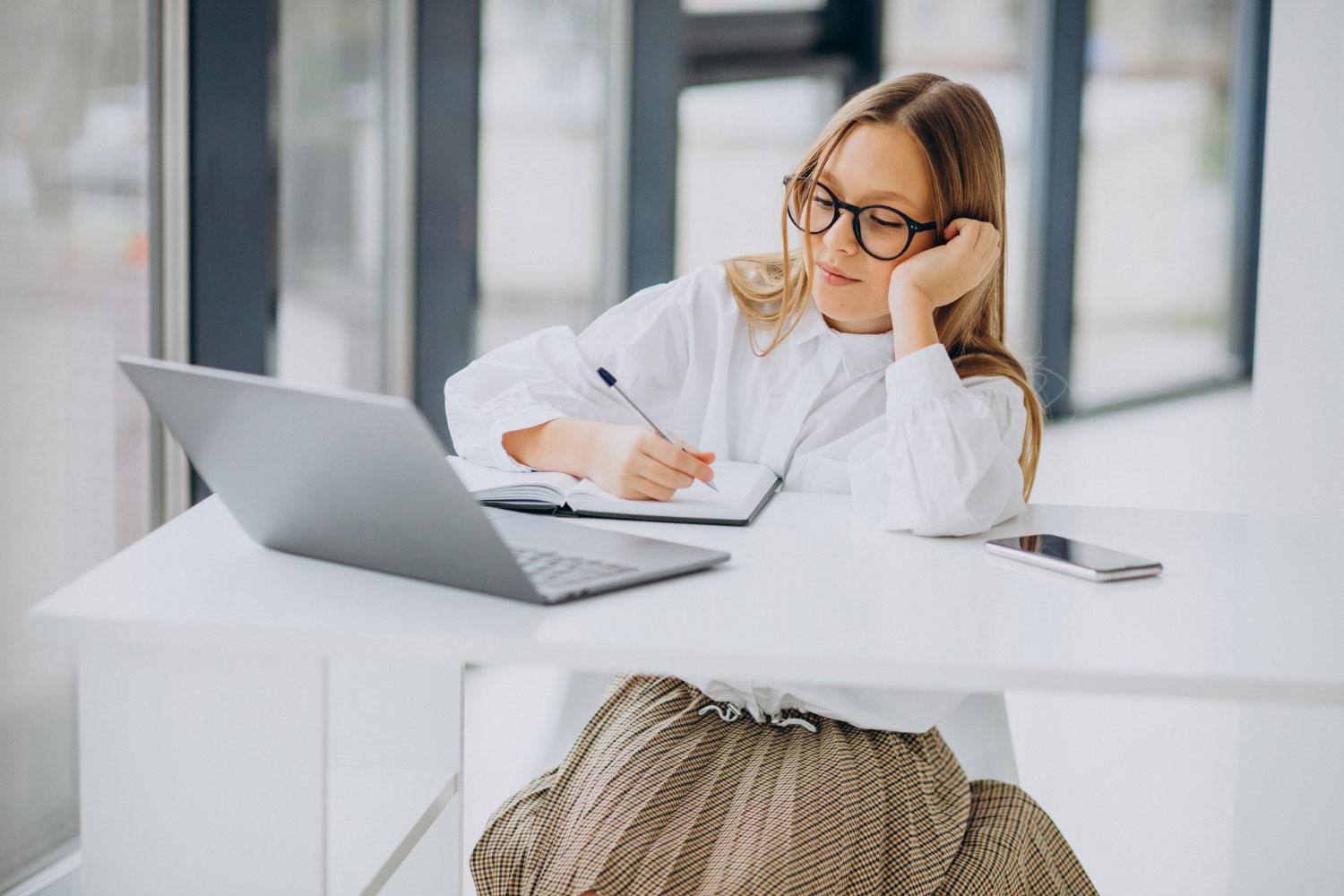 Master of Science is an umbrella team. Several independent programs come under it. Here is a list of SOPs for the most popular types of Master of Science courses. Before attempting to write an SOP, be sure to find out how to write SOP for masters for your specific program.

SOP for Master of Science in Different Countries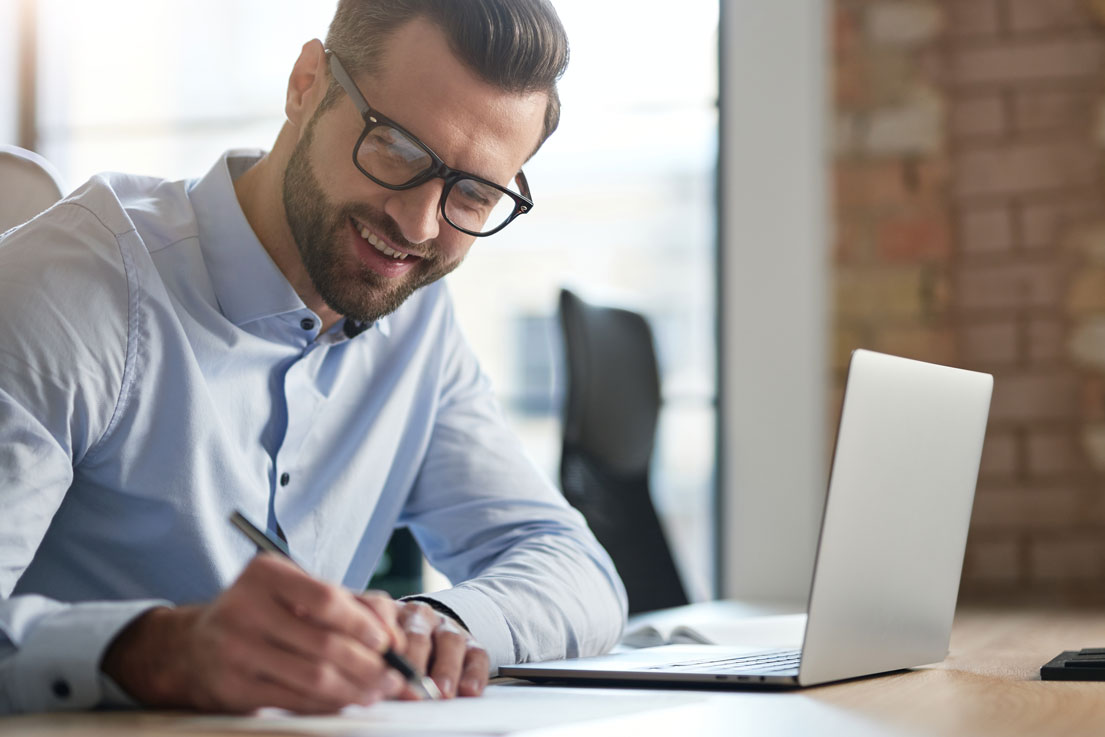 All the top higher education destinations offer MS programs for various subjects. It is important to know how to write a SOP for masters in your desired country and how it differs from other countries.

Frequently Asked Questions