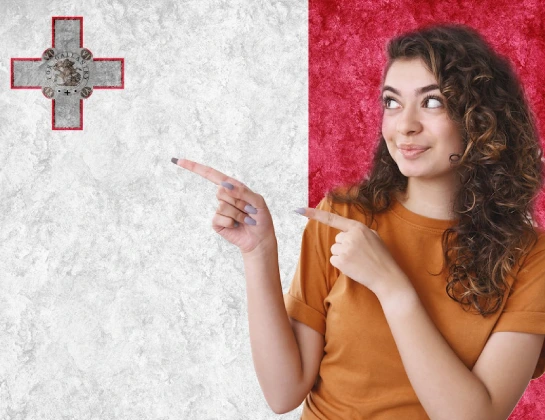 SOP For Malta Student Visa
Are you considering Malta as your ideal destination for higher studies?
You are on the right track as there is an increasing number of students across the world who are opting to study in this picturesque country of Europe. Due to this, the SOP for Malta  student visa  becomes an important part of the process. 
Malta is globally renowned for its peaceful environment and high quality of education in varied areas of study. This is complemented by its vibrant cultural and social factors, which ensure a high standard of living for its students. Therefore, we will explain all the aspects that are relevant to preparing a Statement of Purpose for studying in Malta in this blog. 
What, Why, and When? All about the Statement of Purpose for Malta
As we have mentioned, an SOP for Malta Student Visa is an essential part of your application. As the country is a member of the Schengen area, you have to comply with the procedure that is required for obtaining a visa for it, in addition to the letter of acceptance from your chosen university. 
What is a Statement of Purpose for Malta?
This is an official document that will aid you to provide the right justification for your intentions to study abroad. It can be more informative than a resume as it presents a narrative of your academic background, prior experience, and the activities you have been a part of. This will facilitate the assessment of the validity of your intentions and eligibility.     
An SOP has a number of benefits with regard to your visa application for Malta, as it provides comprehensive details about you as a prospective candidate to pursue your higher education in the country, in the following ways: 
When do you need the SOP to apply for a Student Visa to Malta?
An SOP for a student visa to Malta is required if you are intending to continue your education at a university in Malta. This will explain your reasons to study in the country and your personality in general to the assessing authority. 
What are the requirements to write an SOP for Malta?
Writing an SOP can seem to be quite challenging as you may have queries about its format and guidelines. This is why we have explained the structure of the SOP, which you can divide into paragraphs to make sure your statement is organized and easy to read. These include: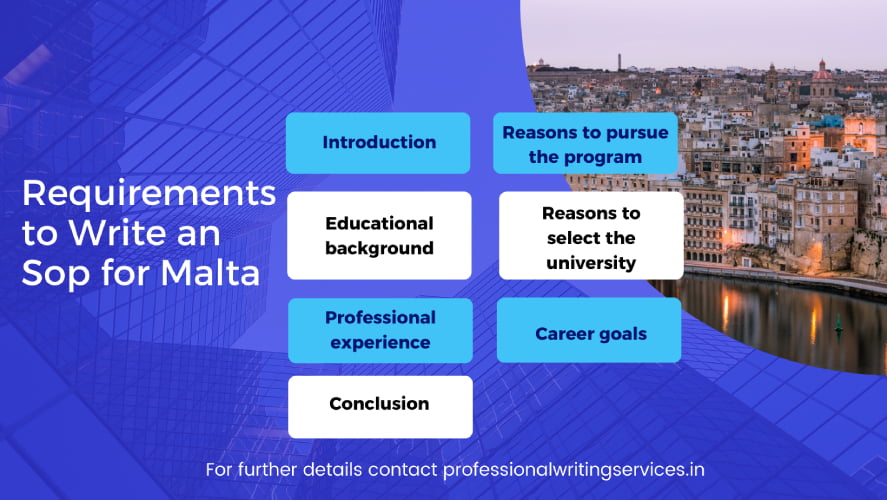 Introduction: Here, you can establish your identity and be specific about the course you are choosing. This will be an effective stance to your statement. 
Educational background: This is an important part of the statement as it shows how relevant your education is to the path you are choosing to take. This may also include any activities that you have been a part of that have helped you develop your abilities. 
Professional experience: Details of this section may be as per the requirement. If you have any relevant industry experience, you can include it as it will help your statement significantly. 
Reasons to pursue the program: For a successful SOP, you will have to specify your reasons to pursue your chosen program, like what attracted your interest and how  the curriculum will be advantageous for you. 
Reasons to select the university: Along with the program, you will also have to state the factors that made you choose the particular university, such as its various attributes and its ambit in general. 
Career goals: In this paragraph, you will have to state how this program will help your career trajectory by explaining your immediate and long-term goals. 
Conclusion: You can end the statement by providing a short summary of your eligibility. This can explain how this program will benefit you in general. 
What are the Do's and Don'ts one should follow while writing an SOP for Malta
To help you write a well-structured SOP for a visa for Malta, check your document with the help of the following points on what you should or should not do while writing: 
Use the correct information about your profile. 
Research well about your course and university
Highlight your achievements and passion for the field. 
Use the right vocabulary for a formal tone
Revise your document before submission. 
Do not make unrealistic claims
Do not use plagiarised content. 
Do not be disorganized with the information you are providing
Do not exceed the standard word limit 
Do not use casual language or excessive humour. 
Popular courses and universities in Malta to pursue your higher studies
We understand the frustration of producing a convincing cover letter for Schengen tourist Visa. But let us assure you that by referring to the below given inputs, your task can be completed with ease. As you read through, you will go past:
Malta is gaining much traction among international students due to the wide range of courses offered to various students. These are available at a nominal cost which is highly beneficial for students. The following are some of the courses offered by leading colleges and institutes in Malta: 
Best Universities in Malta
One of the primary reasons for students to opt for Malta as a study destination is due to its stellar educational institutions located in the country. To aid your search for the best option, we have compiled a list of the top colleges and universities in the country: 
Why do you need Professional Help to write an SOP for Malta
Professional writers have experience and knowledge needed to create SOPs that are successful. They are aware of the structure, vocabulary, and content required by Malta's admissions committees. They can assist you in highlighting your abilities, credentials, and objectives. Professionals can also assist in carefully tailoring your SOP to Malta's standards. When it comes to SOPs, each nation may have its own expectations and cultural quirks. Professional writers with knowledge of Malta will make sure that your SOP matches these requirements.
We are a professional content-writing agency that specializes in academic documents. These include Letters of Recommendation, Essays, Statements of Purpose, Letters of Motivation, and Personal Statements for international universities. 
Why should you avail our professional writing services?
Over the span of eleven years, we have garnered an excellent reputation for our writing services. Our expertise stems from our commitment to providing best-in-class services to our clients as we provide the following factors: 
Assured Quality: This comes foremost for our team and we understand how important this is for the approval of your university and visa applications. 
Overall Efficiency: In our methodology, we ensure that we work in an efficient manner so that we can complete our projects as per the requirements. 
Focus on inputs: We first gather inputs about the intended course and university along with the client inputs about them. These are then incorporated by us to write an SOP that is unique to you. 
Original content: This is a core element of our work and we verify the content written by our team through quality and plagiarism checks. 
Timely Delivery: Along with quality, we also ensure that we deliver our projects on time so that you can meet your set deadlines. 
Reasonable pricing: Our services are also accompanied by competitive prices based on industry standards so that we can reach out to everyone who requires our help.