Everything You Need To Know in 2023
Are you confused about writing a Study Visa SOP? Tired of preparing so many drafts, and still not satisfied? Then you are in a right page. Here you will get answer to all your daunting questions. So what is a Student Visa SOP?
A  Statement of Purpose for Student Visa is a non-immigrant visa application written by students to get a Student Visa to their chosen foreign destination.  So as it is sent to the visa official, always be careful and maintain formal outlook.
Top nations to consider for higher educational pursuits are Canada, USA, UK, Australia, New Zealand etc.
This write-up gives extensive details regarding the statement of purpose for student visa and enables you to write a compelling and outstanding study visa SOP.

What is SOP For Student Visa ?
SOP for Student Visa is an official document written by students who aspires to pursue their higher education from a foreign country and this is sent to the respective country's embassy in the home country to get analyzed by the Visa Officer of the embassy.
Based on how expressive you are in your student visa sop, your document gets analyzed and reviewed for visa approval.
Importance of Student Visa SOP
Student Visa SOP is important to confirm admission at a university. If you are granted admission in a university then the next step is to write a student visa SOP and obtain a Student Visa to enter your destined country. 
Needs of a Student Visa SOP
Preferred Length of the Student Visa SOP
The length of a Student Visa Sop depends upon which country you are applying for. Preferably the length must be of 1000 to 1500 words. It is important to stick on to word limit and character limit.
The sole intention of our write up is to prove your excellence and secure the Student Visa. So don't make the official confused or bored. It must be a compelling essay which grants you your student visa.
Content of Student Visa SOP
The SOP for Student Visa is an official document which contains all your capabilities, talents and moreover your statements that insist you are a perfect choice for the course.
It must be compelling and attractive and must contain all the information regarding your personal, academic and professional endeavors. You must clearly state your motivation to pursue the desired course and clearly mention that why you think this particular country is your perfect study destination.
Failure to state your financial stability may lead to visa rejection, so clearly mention your financial capabilities to fund the course and give reason for your incentive to return to your home country. You must also submit supportive documents with the application. Briefly the Student Visa SOP contains :
Course motivation is your reason behind your course selection. If your chosen course is a different stream from your previous study, you must clearly state the reason for your change in career path. 
Student Visa Sop must contain details regarding your personal and family background. Details regarding the educational background and professional history must also be included. 
You must clearly state your financial capabilities to fund your course and stay in Canada.
Write all your reason for which you will return to your home country after the course completion. Try to show that you have a great family bond in your native place and will return back to get reunited with them. This is a crucial part in your Student Visa SOP and failure to convince the official may lead to visa rejection. 
You must give a brief account of your future career plans after the course, and how this course will help you to achieve your career goals.
Try to include the name of potential employers and positions you wish to work in the future.
This will help to build a positive image of yourself and create an impression that you are a competent student and a career focused individual. 
Can Student Visa Application get rejected?
Yes, of course. If you fail to convince the Visa Official any of the above mentioned points in a clear manner with supportive documents, surely there are high chances of Student Visa rejection.
So you must be careful while drafting your Student Visa SOP. Top reasons for the Student Visa rejection are :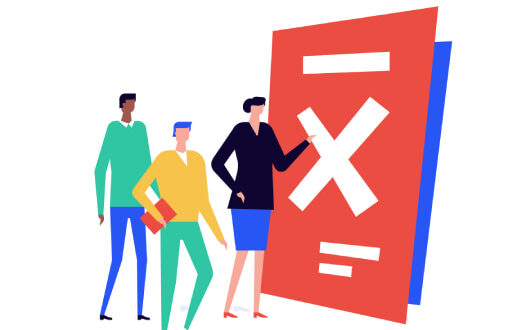 Lack of clear course motivation
Failure to convince the official regarding your motivation behind course selection, may lead to rejection of your Student Visa application.
Failure to provide details regarding financial stability and fee payment
Clearly state your financial stability and provide necessary documents as proofs. You must include all the details regarding your source of income, movable and immovable assets, bank deposits etc. Provide details regarding your fee payment and other deposits made by you to confirm your admission in the University.
No reasonable explanation on choosing the country
Failure to state why you choose the country may lead to visa rejection. You must carefully state that why this country is a perfect study destination for you. Also don't forget to state that your visit to this country is solely for education purpose and will return back once the course gets over. 
Less score in English proficiency Test
Good score in IELTS exams is a proof of your linguistic proficiency. So always try to score good bands in IELTS or other relevant exams.
False documents
If you fail to submit original certificates, surely your Student Visa will get rejected. So always be honest during visa processes. 
Inability to state clear future plans
Always state your future plans after the course in a clear and concise manner. Show that you are a competitive candidate who has got clear goals in the future. Say how this course could accelerate your career growth how this course is perfect for your dream career. 
Documents Required for Student Visa SOP
There are a number of documents you need to submit along with your visa application. And you must be careful in submitting them to avoid them being rejected. 
The documents required are:

Choose the Nation that matches your profile and interest
Always choose a country that matches your interest and profile. Try to know about the visa process of your chosen country well in advance. 
Here are some of the top countries, which are selected by the majority of international students as their study destination. 

SOP For Australian Student Visa 
Getting a student visa to Australia is not that tough. Though the visa process seems quite pricey, it is easy to get a student visa to Australia compared to other countries.
Top universities in Australia are Australian National University (ANU), University of Sydney, University of Melbourne, University of New South Wales, University of Queensland.

Getting a student visa to this North American country is sometimes more difficult and tiring. The stringent rules and increase in the number of applicants are major reasons for the visa rejection.
Usually the visas are granted for the period of study tenure with an extra 90 days. You must be very careful in writing the student visa sop to Canada, as a single mistake can cost you. Top Canadian Universities are University of Toronto, University of British Columbia, McGill University, McMaster University, University of Alberta.

SOP For Germany Student visa
Getting a student visa to Germany is pretty simple compared to other countries and will only take 15-30 days after application.
Visa period will be the same as your study period. The top universities are University of Munich, Heidelberg University, Technical University of Munich, Humboldt-Universität zu Berlin

Getting a student visa to the USA from India is not that difficult and can cost you around $510. F1 visa is granted for up to 5 years. Recent reports show that Indians got more student visas from the USA and there are plenty of job opportunities available for you after your graduation.
Some of the top universities in the USA are Massachusetts Institute of Technology (MIT), Stanford University, Harvard University, California Institute of Technology (Caltech), University of Chicago. 

Getting graduated from this island country is a dream of anyone. Courses in this country are short and affordable. The duration of student visa granted depends upon what level of course you have applied to. Normally it takes Euro 363 as visa processing cost. Indians top on receiving maximum visas from the UK.
There are plenty of job opportunities available for students after their graduation. Top universities in the UK are University of Oxford, University of Cambridge, Imperial College London, University College London (UCL), London School of Economics and Political Science.

SOP For New Zealand Student Visa
Applying for a New Zealand Visa can be tiresome and difficult as you have to figure out several things before you apply. Approximately it costs NZD 330 and additional costs. It is granted for the same period as your study.
There are plenty of job opportunities for international students to take up after their studies. University of Auckland, Massey University, AUT University, University of Otago, University of Waikato etc, are some of the top universities in New Zealand.

 SOP For Ireland Student Visa
Applying for a student visa to this island country can be lengthy but also simple. Visa application fees may cost around US $ 80 for single entry. Multiple entries can cost around US $ 135 more.
Moreover the Irish Government allows you to stay back one year after your under graduation and 2 years after Post graduation. Trinity College Dublin (TCD), University College Dublin (UCD), National University of Ireland, Galway (NUIG), University College Cork (UCC), Dublin City University (DCU) are some of the top ranked universities in Ireland. 

 SOP For France Student Visa
It is simple to get a French student visa given that you follow all requirements. Your French student visa may last up to four months to one year, given that you have to extend depending upon the situation.
Application for student visa can cost you around 50 Euros. Université PSL (Paris Sciences & Lettres), Ecole Polytechnique, Sorbonne University, Centrale Supélec, Ecole Normale Supérieure de Lyon are some of the top universities in France.
Top Universities to consider for your international education
It is always important to get into an outstanding and popular university for your international education. It is vital to consider the ranking of the college, student satisfaction ratio, curriculum etc. 
Let's look  at the top universities in the world for higher education
Writing a good Student Visa SOP is essential to secure your admission in the University. Always be careful to draft your Student Visa SOP error free both grammatically and content wise. Give a personalized touch to your Student Visa SOP. 
So now you have come to the end of this blog. We hope that the information mentioned finds you in good spirits. Please feel free to contact us if you have any doubt. You can mention your queries in the comment section of this article.