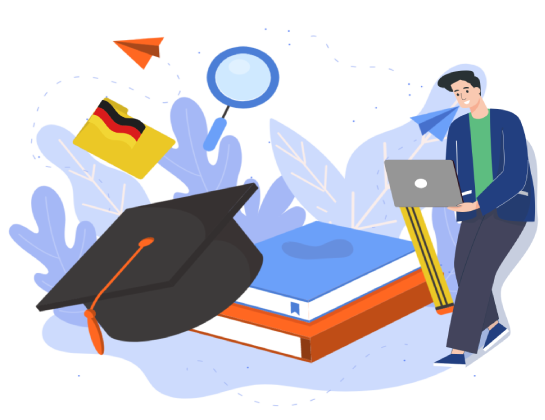 How To Write SOP for Germany Student Visa
Best Sample & Guide For 2023
What is an SOP For Germany Student Visa
SOP for Germany Student Visa is an official document you submit to the German Visa Official in your country stating your reason for pursuing your higher education in Germany and what interested you in this course. 
How Important is an SOP for Germany Student Visa
SOP is an important element of Germany Study Visa application as it gives you a chance to explain why you wish to study outside your home country. 
SOP for German Student Visa is important as it:
How does Germany study visa SOP differ from Other Countries ?
An SOP for Germany Student Visa is different from other top countries like the UK, USA, Australia, Canada etc. Here, you have to be specific about why you chose Germany as a study destination and about your study aspirations.
Below are the major differences that make an SOP for a German student visa different from other countries. 

How to Draft an Excellent SOP For Germany Student Visa ?
Writing an SOP for German Student Visa is an important element of your visa application. You have to be careful to make it error free to minimize any chance of visa rejection. 
What should be the content for the SOP for Germany Student Visa
SOP for Germany Student Visa is your trump card to confirm your admission at the university. So care must be taken to include all the relevant details in your SOP.
Below are the main pointers you have to include in your SOP for Germany Study Visa. 
What is the Structure of an SOP for Student Visa Germany
There are certain defined structures and formats which have to be followed by you when you write an SOP for German Student Visa. Unless it is specified by the German Embassy or Consulate, you can follow the below mentioned format. 
Start with an eye catchy introduction that best describes you and your personality. Here you can give a gist of your personal details and factors that inspired you to choose the course. 
In this paragraph you can give the details of your academic history. You can name each institution you were part of and can mention grades obtained in each degree. 
If you have got professional experience, you can mention it in this paragraph. Here you can say about the professional knowledge gained, describing each position and roles held by you. 
This is the most important part of your SOP where you have to mention what motivated you to choose this course and what interests you in the course chosen.
Here you can mention why you wish to study abroad in Germany and how a German degree can help you in your career. You can also say why you choose this particular university and how this university is ideal for you. 
Here you can briefly say about your short and long term goals. This will help to create a good impression of how focused you are about your course and future. 
You can explain about all your financial resources here. You can add details about all the assets and source of income you have, so that you can fund all your expenses without any hurdle. 
Conclude in a positive tone expressing your hope to get a visa and fulfill your dream to study in a popular German University. 
Sample SOP for Germany Student Visa
Glancing through some of the samples of German Student Visa can provide you an idea on how to structure your SOP. Below is a sample to give you an idea on how to materialize above mentioned points.
To,
The Embassy of the Federal Republic of Germany
Place

From,
Name
Address

Letter of Motivation

Dear Sir/Madam,

I am Name, a _____country resident, willing to pursue an advanced academic program from Germany. This brief statement of purpose explains my academic background, career objectives and justifies my intentions to visit Germany. I have completed my Masters in Zoology. To streamline my profile and to attain great career growth, I look forward to obtaining a master's degree in Molecular Biology from one of the reputed Colleges in your country, which I am sure will enhance my career growth and conceptual knowledge.

Thus, I have decided to pursue Msc Molecular Biology from------ College, Germany and the program is taught in English. I have researched the career outcomes after successful completion of this program. Besides, the University has already provided me with an offer letter.

I have been a studious student right from my childhood. After successful completion of my schooling, I joined--------College,--------- (place) for my bachelors in Zoology and secured a CGPA of -------------. Later I did my post graduation in Zoology from-------------College,------------- (place) and secured a final grade of-------------.My post graduate days introduced me to several advanced topics in Molecular Biology and the practical knowledge gained were an impetus to my professional career ahead. Apart from regular academics, I was also into extracurricular activities as well. With the active participation in school and college cultural events and sports meets, I got to learn numerous interpersonal skills and imbibe leadership qualities.

I am very keen to build my career in Molecular Biology, and that is my motivation to pursue yet another post graduation in Molecular Biology, for which I choose Germany as my study destination. I am impressed with Germany's hailed status as a pioneer in education and the academic excellence of German Universities and the quality of education delivered is incomparable. As a land of top 20 universities in the world, Germany is the best loved place for international students like me. I am impressed with the no tuition fees attitude of German public universities and the affordable living cost of this country motivated me to consider Germany for my higher education.

----------College is one of the top higher educational institutions in Germany. Ranked-------------in-------------Rankings, the quality of education of this university is unbeatable. I am really impressed with the overall educational environment at this university and the state of the art facilities of the university must receive special mention. Faculties are highly qualified and syllabuses are industry oriented.

It's after fulfilling necessary admission criteria, I got admission at ----------College. I am happy to say that my parents and I are in a good financial state to fund my studies and living expenses in Germany. We have a total annual income of---------------.I have already paid my first year tuition fees at---------College.

After the successful completion of course, I wish to fly back to my home country to start my career in research. With the advanced knowledge gained, I am sure I will be able to find a better designation.

I am grateful for the given opportunity and the time invested to review my motivation letter. I request you to kindly consider my application for the German Student Visa so that I can fulfill my dream and confirm admission at-------------------College, Germany.

Thanking you
Name
The best 8 Tips to Write Your Visa SOP for Germany
Below are the best tips from the industry experts to make your SOP for German Student Visa attractive and impressive. 
Be careful to mention only relevant details. Never be too short or too long in your write up. Always be mindful to stick to the word limit. 
Always be genuine in your approach. Never try to fake out or make stories that don't suit you and your personality. 
Never try to plagiarize any content in your SOP. There are plagiarism detection softwares to detect the plagiarized content, so if caught, it can create a negative impression and sometimes can lead to rejection of your SOP. 
Always be you in your approach. Create a unique style in your writing which will make you different from others. 
You must never forget to express your passion for the chosen course as this will help you make your SOP stronger. 
This is the important part of your SOP for Germany Student Visa and one must clearly express their reason to choose Germany as their study destination. 
Always proofread your work and correct all the mistakes. An SOP with a lot of spelling and grammar and other mistakes can create a negative impression. 
Always show your document to experts and seek their feedback and add their comments in the SOP if you find it relevant. 
Mistakes to Avoid While Writing Your Germany Visa SOP
It is very important to draft your SOP error free to create a good impression. Below are some of the common mistakes one must be careful to avoid in your German Student Visa SOP.
Not understanding the difference between a Visa SOP and University SOP
It is very important to understand the difference and requirements between a Visa SOP and University SOP and write the SOPs accordingly. 
Being too late to start writing the SOP
Keeping to the last minute to start writing an SOP can hamper the quality of your write up as in the rush you will forget to include relevant points and end up making lots of mistakes. 
Not stating the reason for the choice of Germany
It is very important that you must mention why you intend to study in Germany and not any other country. 
Not providing the relevance of the course
You must clearly state how relevant is the course with your previous academic and professional background and how it can accelerate your career. 
Failure to mention future career goals
Never forget to mention your future career plans including both short and long term goals. Failure of this will create a bad impression. 
Always remember to mention correct dates of commencement of course, orientation, flying and landing at the destination. Confusing or providing the wrong date can lead to rejection. 
Failure to provide financial security
You must clearly state that you have got enough financial resources to fund your living, tuition fees and other expenses that can happen in Germany.  
Failure to show that you intent to return to home country
This is the gravest mistake and can lead to instant rejection of your visa application. You must clearly state that you intend to return to your home country after your studies in Germany. 
SOP For German Universities
Germany is one of the top study destinations as it has numerous reputed universities in the world. Writing SOP for the best universities in Germany may be different and one must be careful to read each university website to write SOP. Below are the 5 top universities in Germany. 
SOP for University of Munich

SOP for Ruprecht Karls University Heidelberg

SOP for Humboldt University of Berlin

SOP for Technical University of Munich

SOP for Free University of Berlin

Frequently Asked Question
Word limit for German Student visa SOP is normally between 800- 1000 words.
Duly filled out and signed national visa application form, valid national passport, photocopies of your passport, Birth Certificate, Proof of Financial stability, Proof of University Admission,  academic and professional records, Student Health Insurance, University entrance qualification, Certificate of German or English Language Proficiency.
No. SOP is one of the important documents required for visa application. 
Looking for professional writers? Connect With us