Unveiling Guidelines, Format, and Tips for Writing an Impressive SOP for the Netherlands
Plan on writing your SOP for the Netherlands? Don't worry because we know just what to do to help you. This blog post will give you all the information and tips to independently write a splendid Sop for Netherlands universities. 
We have everything you need to know, from a free sample PDF to the best style and helpful tips. We will assist you through each step, including figuring out the format, showing your achievements, or explaining what drives you. So, prepare to study in the Netherlands confidently and make an Sop for the Netherlands universities that make you stand out from the other applicants.
What is SOP for the Netherlands? List the Importance
SOP for the Netherlands is a written document that shows your academic history, goals, and why you want to go to college in the Netherlands. It gives information about your skills, goals, and how the institute you picked fits your plans for a future career. If you want to study in the Netherlands, you must write an excellent SOP. This is why:
Demonstrates your abilities: The Netherlands sop shows why you are a good fit for the school you have chosen and how your skills and hobbies match up with the values and goals of the educational organization.
Personalizes Your Application: It lets you show off your unique skills, experiences, and accomplishments that make you stand out from other candidates.
Highlights Your Motivation: The SOP allows you to explain why you want to study in the Netherlands. This shows that you are committed to your field of study and are excited about it.
Shows Your Writing and Communication Skills: A well-written SOP shows that you can clearly and concisely explain your thoughts, ideas, and experiences.
Increases Admissions Chances: A strong statement of purpose (SOP) can inform the admissions committee about you as a student.
Essential Elements to Include in Your SOP for Netherlands Student Visa
Crafting a compelling Statement of Purpose (SOP) for a Netherlands Student Visa requires careful attention to essential elements. A few of these are as follows: 
How to write a winning sop for the Netherlands?
In this section, we'll give you advice and step-by-step instructions to help you write a statement of purpose (SOP) that makes you stand out from other candidates.
Structuring Your SOP:

Learn how to organize your SOP well, with an opening, body parts, and end, to make a story that makes sense and is interesting to read.

Compelling Content:

Learn what information to include in your SOP to make a strong impression on admissions panels, such as your motives, academic background, study interests, and career goals.

Showing Your Motivations:

Know how to show that you are genuinely interested and passionate about the field you want to study in the Netherlands. This will show that you are committed to Higher education in the Netherlands and are a good fit.

Highlighting Relevant Experiences:

Learn how to highlight your relevant academic results, study experiences, employments, and leisure activities that show your skills and prospects for success.

Effective Language Use:

Look for tips on writing your SOP in a clear, short, and convincing way. Use solid words and phrasing to make a strong case for your application.

Sop sample for Netherlands:

Refer to Sample sop for Netherlands study visa and Sample sop for Netherlands universities from an authentic source. 

Proofreading and Polishing:

Find out why it's important to carefully review your SOP to ensure it's free of mistakes, is well-organized, and gets your point across.
By reading this blog, you will learn everything you need to know about how to write a winning SOP for the Netherlands. With this information, you'll have the confidence and tools to write an excellent SOP to assist you in getting into your dream university in the Netherlands.
Mastering the Format of Your Statement of Purpose (SOP) for the Netherlands
We will show you how to write your Statement of Purpose (SOP) that works well for the Netherlands. We'll talk about the most essential things in each paragraph and explain each point of the structure. 
Get the reader's attention, give a short history, and say why you want to apply to the institution.
Talk about your schooling, related classes, and any study projects or academic accomplishments that show you are ready for the program.
Describe why you want to move to the Netherlands for education and your short-term and long-term career goals.
Talk about any research experiences, or projects you've done that are connected to your Field of study. This shows how you can add to the school and academic community.
Describe the skills you have that are relevant to the school you've chosen and stress how these skills will help you in your academic and career goals.
Summarize your main points, repeat your interest in the school, and show how excited you are to study in the Netherlands.
Sample SOP for Netherlands
Aspiring pupils benefit from a Netherlands Sample SOP. It shows how to arrange, write, and speak to admissions committees. Students may construct a captivating SOP by examining a well-crafted sample. A sample PDF inspires and clarifies how to write a successful SOP for studying in the Netherlands. Here is a sample to understand the format and contents: 
Dear Visa Officer,
I am writing this statement to express my sincere intention to study in the Netherlands and apply for a student visa. The Netherlands' top universities, thriving culture, and many research possibilities have inspired my desire to study there. I'm delighted to participate in Dutch education and intellectual life.
I want to study [Degree Program] in [Field of Study] at [University/Institution]. I selected the Netherlands for its innovative education and research. My academic goals match [Name of University/Institution]'s outstanding reputation and dedication to academic achievement.
I have a solid foundation in my subject of study. I have a [Bachelor's Degree] in [Field] from [University/College]. I want to study in the Netherlands to build on my academic and practical knowledge from undergrad.
Research and internships have also developed my love for [Field of Study]. These experiences have helped me appreciate the Field's intricacies and practical applications of knowledge. Studying in the Netherlands will give me the resources and chances to develop my Field.
The Netherlands' cultural richness and openness attract me. Interacting with a multicultural population will widen my horizons and improve my interpersonal abilities. The Netherlands' dedication to an open and indulgent society matches my ideals and will help me flourish.
I'm devoted to my academic and personal objectives in the Netherlands. I want to join the prestigious academic community and contribute to research and intellectual dialogue in my subject. I promise to follow visa rules and leave the Netherlands after graduating.
Please examine my student visa application, which will allow me to achieve my academic and professional goals. 
Thank you. Please contact me for further information or documents. I want to study in the Netherlands.
Yours sincerely,
[Your Name]
Pro Tips to Compose a Winning Netherlands SOP
Writing an Sop for Netherlands institutions requires particular suggestions. These guidelines will assist you in writing an impressive SOP.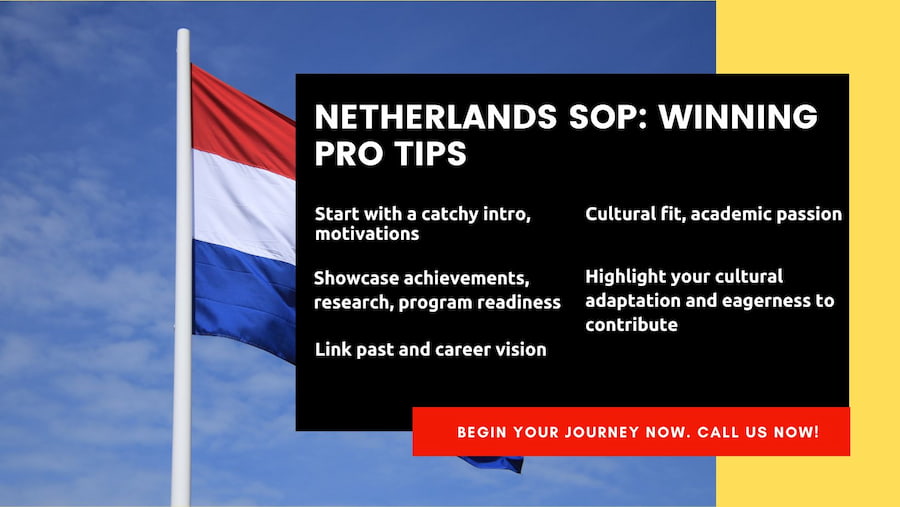 Start with an attention-grabbing introduction.
Clearly articulate your motivations, goals, and why you are specifically interested in studying in the Netherlands.
Showcase your academic accomplishments, research activities, and applicable coursework to indicate program readiness.
Connect your previous experiences and future objectives to demonstrate how the Netherlands is essential to your career.
Highlight your cultural adaptation and eagerness to contribute to the unique academic environment in the Netherlands.
The best way to get your message across is to read it out.
The Ultimate SOP Writing Checklist: Ensuring a Stellar Statement of Purpose
Review this comprehensive checklist before finalizing your Sop for a Netherlands student visa. By following this checklist, you can fine-tune your SOP, ensuring it is well-structured, engaging, and error-free, maximizing your chances of success in the application process.
Clear and Concise: Keep your SOP simple and focus on essential aspects.
Structure and Flow: Ensure the structure is sensible and the paragraphs flow smoothly.
Strong Opening and Closing: Make sure your introduction and ending are captivating.
Grammar and Proofreading: Proofread your SOP for grammar, spelling, and punctuation to make it flawless.
SOP for Popular Courses in the Netherlands
Here are the top 10 courses you can choose from for your academic journey in the Netherlands:
Computer Science and Artificial Intelligence
Business Administration and Management
Engineering (Mechanical, Electrical, Civil)
Economics and Econometrics
Medicine and Health Sciences
International Relations and Political Science
Architecture and Urban Planning
Hospitality and Tourism Management
Whether you're interested in science, business, health care, or the arts, the Netherlands has a lot of choices to fit your interests and goals. Start your academic journey and look into the well-known courses offered by universities in the Netherlands.
Top 10 Universities in the Netherlands
The Netherlands is known for having one of the best education systems in the world, and its colleges are consistently ranked among the best. Here are the top 10 universities in the Netherlands, known for their academic excellence, research opportunities, and diverse study programs:
Delft University of Technology
Eindhoven University of Technology
Wageningen University & Research
Vrije Universiteit Amsterdam
Erasmus University Rotterdam
Requirements for Obtaining a Student Visa for the Netherlands
Understanding the standards for student visas is crucial before beginning your educational journey in the Netherlands. Learn about these needs to complete the application process and start your educational journey in the Netherlands. Here are the most important things that you need to do to get a student visa to study in the Netherlands: