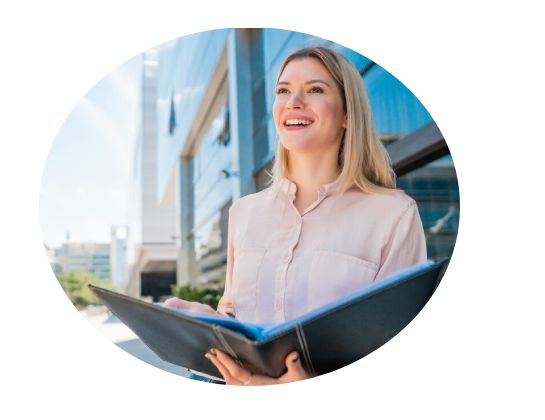 Visit Australia - Cover Letter for Australia Tourist Visa
Sample PDF with Writing Guidelines
Looking to explore the natural wonders of Australia?
Worried about your Australia Tourist Visa application? 
Wandering about expert help in writing a convincing cover letter for your Australian visa application?
If we have guessed any of those right, consider your luck favouring you. We have onboard a team of professional writers who have compiled this roadmap to help you write a winning Australia Tourist Visa cover letter. Scroll down to learn how this blog can help you.
What is Cover letter for tourist visa Australia?
A cover letter for Australia tourist visa is used to provide an official introduction to the authorities dealing with immigration, explaining your vacation itinerary and confirming how you intend to adhere to the visa's regulations.
How can a Cover letter benefit your Australia Visa Application?
A cover letter for Australia Visa application can prove significant due to the following reasons:
Crucial elements that comprise an Australian Visa Cover Letter?
A cover letter for embassy for the Australian visa application process must include the following details: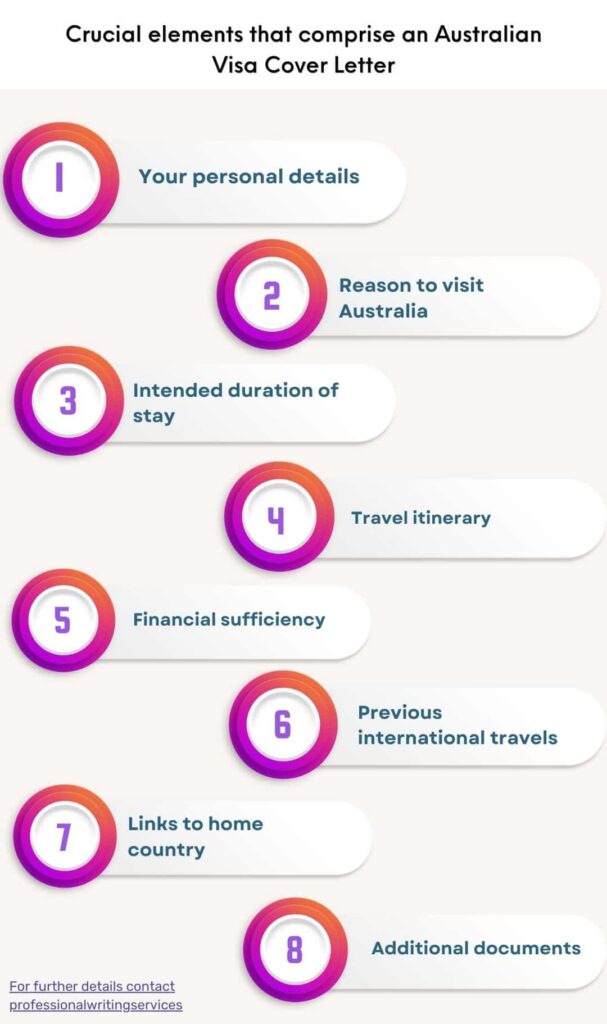 Possible reasons for rejection of your Australia Tourist Visa Cover Letter
You must be aware of these below given reasons that can raise red flags and even lead to the rejection of your cover letter:
If your cover letter lacks consistency or authenticity of information, it can confuse the visa officers to get a bad impression of your visa application.

Your

cover letter for Australia visa application

can be rejected if you fail to prove the authenticity of your intentions. This must be supported with concrete evidence and documents.

An inadequacy in finance information or your inability to prove your financial strength to cover the expenses of the trip can lead to rejection of your cover letter.

If the visa officers are not convinced of your ties with your home country and suspect your intentions of returning after the visa tenure, your visa cover letter can be rejected.

Any hint of false information or manipulation of facts can raise a red flag and lead to rejection of your visa application.
How to Write a Winning Cover Letter for Australia Tourist Visa?
We understand that writing an Australia tourist visa cover letter is quite frustrating. But why worry when you can leverage our professional experience and creative writing skills. As you scroll down, you will come across:
Writing guidelines

Ideal format 

Download a strong sample

Formatting guidelines 

Additional tips for writing
Guidelines to help you Write Your Personalized Australia Tourist Visa Cover Letter
We have prepared a step-by-step process for you to easily navigate through the cover letter writing process for an Australian tourist visa:
Covering letter format for Australia tourist visa
Referring to a professionally approved format can help you keep track of your writing process. Use the below given format to write your cover letter for Australia tourist visa:
The format that we follow is the official business letter format which starts with your address followed by the information of the consulate/embassy you are writing to.
Ensure that you put the corresponding date and use appropriate salutation to formally greet the recipients. You should also mention the subject of the letter after the salutation.
Start by introducing yourself and any co-traveller if any. Mention your background, your personal information, your purpose of visit, visa type, etc.
You can use 2 or 3 paragraphs to elaborate on your travel itinerary, duration of stay, your reasons to return home, etc. You must also explain your financial plan or your sponsorship details with proof. 
You can then close the cover letter by expressing your gratitude for the reviewers' time. You sign off by conveying your enthusiasm to visit Australia and abide by the visa regulations at the same time.
Download sample cover letter for tourist visa application Australia
A good Australia tourist visa cover letter sample can give you the right motivation and guidance to draft one of your own:
To 
The Visa Officer 
Australian High Commission
New Delhi
Subject: Request for Australian Visitor Visa (Subclass 600) 
Respected Sir/Madam,
I am Sita Kumari and I am an Indian citizen residing in Mumbai. I am writing this letter to request a visitor visa (subclass 600) to explore the Australian wonders of nature. The duration of my stay in Australia will be for one week (DD.MM.YYYY to DD.MM.YYYY)  as I intend to spend my winter vacation this year traversing the sparkling beaches, beautiful landscapes and exotic tourist destinations. 
My detailed research on Australian destinations have helped me prepare the following itinerary which I have attached for your kind consideration:
Day 1 – I am scheduled to arrive at the "name of airport" at "flight timing" on DD.MM.YYYY. I intend to spend that day in Melbourne city, explore popular spots like Flinders Street Station, Federation Square, Queen Victoria Markets and call it a day with a chilled beer served at a local pub. 
Day 2 – I want to take on to the Great Ocean Road and drive through seaside towns, hoping for whale lookouts along the picturesque mountain ranges. I hope to visit Port Campbell National Park too. 
Day 3 – I am taking "flight number" to Sydney scheduled at "flight timing" on DD.MM.YYYY. I have reservations at "name of hotel". I intend to hire a tour guide at The Rocks neighbourhood to go on a local pub tour. 
Day 4 – I want to go hiking at the UNESCO World Heritage Region, Blue Mountains together with exploring the rich fauna and flora. I also want to witness the Grose Valley which is also better known as Australia's Grand Canyon. 
Day 5 – I intend to fly to Cairns at "flight timing" from "name of airport" on DD.MM.YYYY. I am eager to experience the night fire dinner at Tjapukai Aboriginal Cultural Park. 
Day 6 – I want to spend the next entire day exploring the beautiful Great Barrier Reef. I intend to board a catamaran, go snorkelling and learn about the reefs. 
Day 7 – I want to spend the day shopping for my family and then board the "name of flight" scheduled at "flight timing" and get back to Mumbai on DD.MM.YYYY. 
I am a doctor by profession and I am currently working at Fortis Hospital Mulund as Senior Gastroenterologist. I earn a handsome salary of XXXXX and I will be funding my trip by myself. I have a savings account in "name of bank" in which I maintained a bank balance of XXXXXX. This will be enough to do with all the expenses I will incur during my pleasure trip to Australia. 
I am hereby declaring that I have no intentions to prolong my stay beyond DD.MM.YYYY. I have to return back to my parents who have raised me with love and care. I am a single child and they have set aside their lives to do everything to make my dreams come true. Hence, I am trying to pay that debt by being there for them in their old age. Though they will be looked after by my first cousin, Shyamala Kumari, who is visiting them for her vacation, I need to take the baton back within one week. She has plans to visit her parents, my uncle and aunt, who currently reside in Visakhapatnam. 
Besides, I have to get back to my role as a healthcare professional at Fortis. I have been granted a leave from DD.MM.YYYY until DD.MM.YYYY which is exactly the duration I intend to stay in Australia. Hence, I have to return to Mumbai as it is my permanent home. 
I am attaching the following documents with this cover letter for your evaluation:
Copy of my passport 

Savings bank account statements

ITRs filed 

Ownership documents of both moveable and immoveable property in Mumbai

Photographs that meet the visa requirements

Copy of my Aadhar card 

Travel insurance 

Proof of my leave approval 

My payslips

My registration certificate
I am certain that I have presented all the information with utmost accuracy and clarity. If you need any further clarification or documents, please contact me at "phone number" or "email id". 
I would like to close by expressing my sincere gratitude for the time and consideration for my visitor visa application to Australia. 
Yours Sincerely, 
Sita Kumari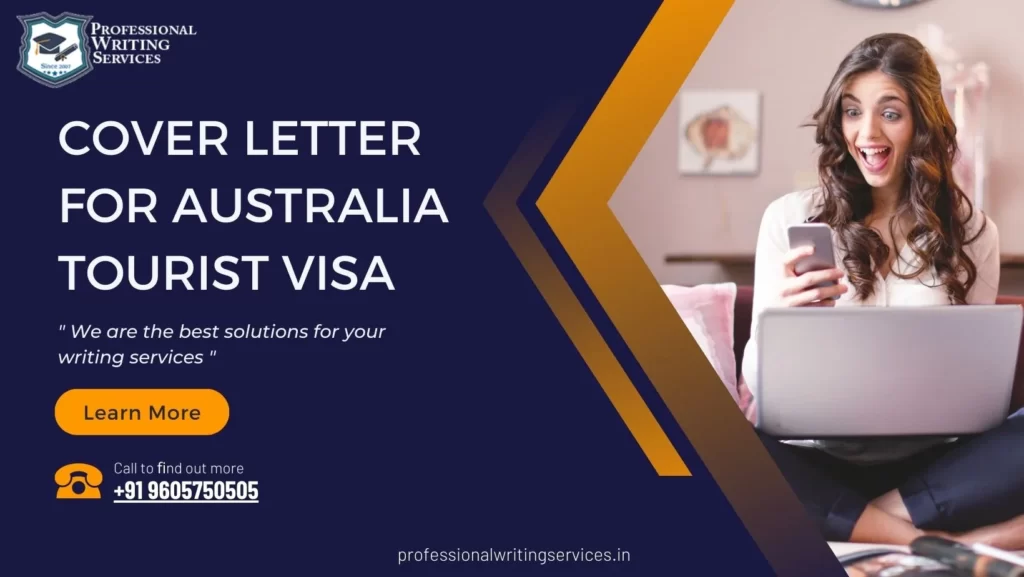 Formatting guidelines to follow while writing a Tourist Visa Cover Letter Australia
To increase the readability and appeal of your cover letter for Australia tourist visa, you must follow these formatting guidelines:
| | |
| --- | --- |
| Word limit: | 400 to 600 words |
| Margin Size: | 1 Inch |
| Font Type: | Times New Roman, Arial |
| Font Size: | 11 or 12 |
| Font Color: | Black |
| Line Spacing: | 1.5 |
Additional Tips For Writing your Australia visa cover letter
Bear these tips in mind while you write a cover letter for Australia Tourist Visa:
Ensure that you are fully aware of the visa requirements and have addressed all the prompts required in the cover letter

Do not provide any irrelevant information that does not hold any prominence for your tourist visa. Try to keep it as concise and crisp as possible.

Be honest and transparent about your intentions. This way you can avoid any unfortunate events of visa rejection.

Use a professional yet enthusiastic tone throughout the cover letter. Do not use any colloquial language or slang which may cause confusion. 

Proofread and revise multiple times to check if all the information provided is correct and that the document is free from grammatical or spelling errors.
Other Australian visa cover letters
Besides Australia Tourist visa cover letter, there are various others that we provide professional assistance with:
Cover Letter for business visa

Cover letter for student visa

Cover letter for work visa

Cover letter for dependent visa

Cover letter for spouse visa
Final Checklist For Writing a Cover Letter
Keep this checklist beside you while you wind up your writing process of a cover letter for Australia tourist visa: