How to write a Cover Letter For Visa Application
Sample Letter to Embassy For Visa Request
Are you wondering what a Cover Letter looks like?
Worried about preparing a strong Visa Application Letter? 
Or are you here for writing guidelines to enhance your visa cover letter?
If so, you have landed in the right place. Our team of professional writers can help you write the perfect letter to embassy for visa request. By going through this writing guide, you can easily write a cover letter to apply for any type of visa, be it tourist visa, business visa, student visa or a work visa.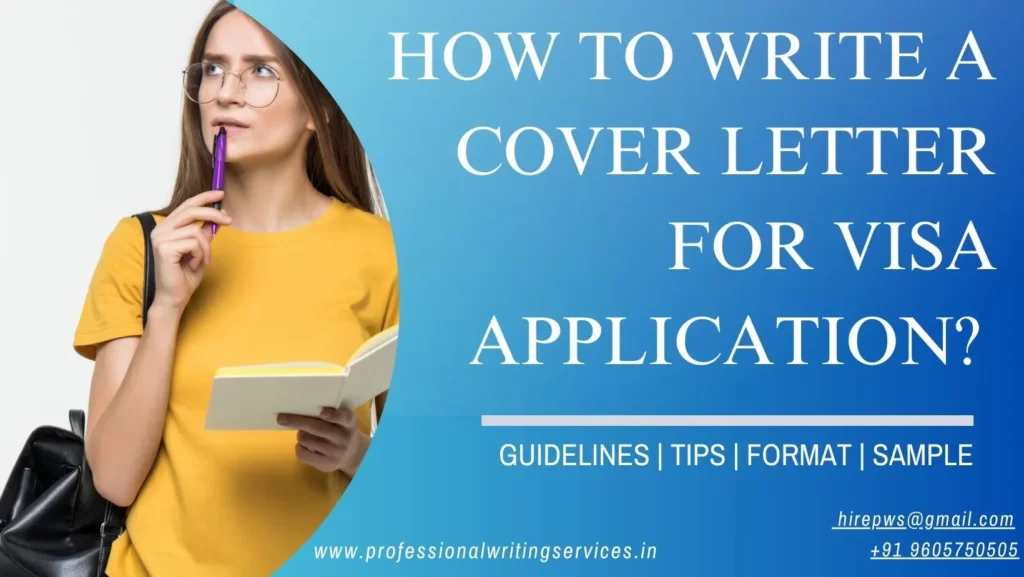 What is a Cover Letter For Visa Application?
Cover Letter for Visa Application is a formal document submitted to the corresponding embassy to explain your reason for visiting the particular country. It is written in a professional tone and is submitted alongside your visa application form and other supporting documents.
Why is a Cover Letter important for Visa Application?
A Visa Application Letter serves various purposes and is thus an indispensable part of your visa application process. We have listed below the reasons why a cover letter plays this crucial role:
Key Elements to Include in a Visa Application Letter
Besides your purpose for travel, most visa application processes outline a set of elements that you must highlight in your cover letter for embassy. Though it varies from visa types, your cover letter must include these important points:
Your cover letter must include your full name, passport details, phone number, address, as well as your personal background. 
You should mention your educational and professional credentials in your cover letter for visa application. 
Together with your arrival and departure timings, your cover letter must provide details of your travel plan including the flight details, places you plan to visit, etc. 
You should mention the details of your hotel booking or other arrangements made for your accommodation in your visa cover letter. 
You must demonstrate your source of funding for your visit to the country whether it is personal, bank loan, sponsor, etc. 
Your visa application letter should clearly explain your ties with your home country and prove your intentions to return after the desired visa tenure. 
Ensure that you provide your email address, phone number or address in your cover letter for any clarifications or further queries. 
Your cover letter for embassy must also enclose documents like bank statements, offer letters, educational transcripts, etc. to support your statements. 
How to Write a Cover Letter for Visa Application?
Writing a visa cover letter is not a simple task as it requires a close eye for attention. However, we have got you covered as this guide is prepared for you! 
We have compiled the following to facilitate your writing process and build your confidence to produce a strong visa application letter:
Writing Guidelines 

Cover letter format for visa

Download Sample Cover Letter 

Formatting guidelines 

Additional Tips For Writing 
Guidelines to help you Write Your Personalized Cover Letter For Embassy
A cover letter for visa application must be personalised, making you stand out from the rest. We have prepared this list of guidelines to help you draft one seamlessly:
Cover letter format for visa
A cover letter format for visa would give you a roadmap on how to structure the elements in a professional fashion. Hence, using a good format and referring to one while writing can improve the quality of your cover letter. 
Your contact information:
A cover letter is written in a professional business letter format that starts with your (sender's) full name, address, phone number, etc. 
 Mention the date on which you are drafting the cover letter for visa application. 
 Correctly mention the respective embassy or consulate information like name of recipient, his/her job title, department etc. 
You can start the cover letter with a formal greeting. You can address the reviewer with their appropriate title to show respect. 
 You can start by introducing yourself, the reason for writing the cover letter and the particular visa you are applying for. 
Your body paragraphs can clarify why you intend to visit the country. You can address all the unique requirements like reason for travel, ties to home country, financial sufficiency, duration and itinerary of the trip etc.
You must list the documents you are additionally attaching in order to support the claims made in the body paragraphs. 
You can conclude the cover letter by thanking the visa officer for considering your application. You can also express openness to provide any further detail if required. 
Use a formal closing to end the cover letter, and ensure that you leave enough space to put your signature.
Cover Letter For Visa Application Template
Now that you have referred to a cover letter format for visa, a template can give you a clearer idea of the structure. Our professional writers have prepared this template to show you how to go about the task at hand:
(Your Name)
(Your Address)
(Your Email)
(Date)
(Embassy/Consulate Address)
Dear Sir/Madam,
My name is (your name) and I hold the (name of country) passport (passport number). I am writing this letter in support of my (business/student/work/tourist) visa application to visit (name of country). I am excited to travel to (name of city/cities) from DD.MM.YYYY to DD.MM.YYYY and would be much obliged to be granted the visa for the same. 
My intention to visit (name of country) is (description about the purpose of visit). I look forward to (details of travel itinerary, study plan, business meetings, employment contract). 
My visit to (country) is funded by (myself/name of sponsor and relationship with him/her). I have (your financial assets and how you intend on funding your trip using them). I have attached the bank statements and property documents for your kind perusal. 
As scheduled, I plan to return to my home country on DD.MM.YYYY by (flight details). (explain the ties you have to your home country and your motivation to return after the visa tenure). 
I would like to extend my gratitude for your consideration. Please find my (all the attachments) enclosed with this letter. 
Sincerely, 
(Your Signature)
(Your Name)
Download Sample Cover Letter to embassy for visa request Pdf
A good sample cover letter for visa application can provide you with the right motivation to get started on yours. Through the sample given below, you will be able to get a clear picture of what a cover letter should look and sound like:
June 16, 2023
The Visa Officer
Canada High Commission
New Delhi
Subject: Anamika Singh, Passport XXXXX , Tourist Visa application
Dear Sir/Madam,
My name is Anamika Singh and I am an Indian citizen holding passport number XXXXXX. I am writing to apply for a Tourist Visa to visit Canada from DD.MM.YYYY to DD.MM.YYYY. The purpose of my visit is purely personal as I am looking forward to attending my friend, Satya Kumari's engagement ceremony scheduled on DD.MM.YYYY and touring in Canada with her to explore the natural beauty fostered by the country. 
Travel Plan for 2 weeks
My intended period of stay in Canada is 2 weeks. I intend to arrive at DD.MM.YYYY at (name of airport) and head straight to (address) where my friend Satya stays. The next day we plan to go shopping at (name of place). I have set aside the next two days to help her set the operations and logistics of her engagement ceremony. After the engagement ceremony and after party on DD.MM.YYYY, I intend to spend the weekend in (name of city). 
On DD.MM.YYYY, both Satya and I have decided to visit (names of popular destinations). We have reservations at (name of hotel) and we intend to explore the picturesque and offbeat places in and around (name of city). On DD.MM.YYYY, I plan to board (flight number) (at flight timing) to return back to my home country.
Personal Information
I was born on DD.MM.YYYY to a middle class family in Mumbai, India. My father, Ravinder Singh is a retired defence personnel and my mother, Aarti Singh is a retired private school teacher. Though they have been the backbone of my entire existence, I have been taking charge of the responsibilities at home lately as they are approaching their old age with every passing day. 
I have a Bachelor's degree in Finance and am a member of the Association of Certified Chartered Accountants (UK) since YYYY. I am currently working with the Strategy team at KPMG Mumbai and am drawing an annual salary of XXXXXX. 
Details of my friend in Canada
My travel plan to visit Canada is primarily focused on celebrating my close friend, Satya Kumari's engagement with Krish Sultania. My friendship with Satya dates back to our college days in YYYY and I am excited for her big day. She currently resides at (address) where I intend to spend my first week of visit. She works as a Finance Manager 2 at the Royal Bank of Canada and is available at (phone number) and (email id) for any queries. 
Incentive to return home
I have been raised in a very intimate and loving family. Hence, I cannot afford to prolong my stay in Canada. I have to return to my parents who will be depending on my cousin sister, Sheila Singh who is currently in town for her semester break from college. Moreover, I have to come back to take care of Casper, our 4 year old German Shepherd. I share an inseparable bond with him and neither do my parents nor Sheila have the energy to entertain him. 
Besides all these, I have to resume my job at KPMG after this 2 week break. I also have a close group of friends in Mumbai and I am very connected with the city. Hence, I intend to board the flight back to my permanent home on DD.MM.YYYY. 
Financial details 
My visit to Canada is fully funded by myself. I have estimated the total expenditure to be around CAD XXXXX and I have been maintaining a bank balance of Rs XXXXX in my savings account for the past 4 years. I have hereby attaching all the bank statements for your kind consideration. 
I have attached the following documents to this letter:
Visa application form

Passport size photographs

Travel insurance 

Confirmed flight tickets

Hotel reservation details

Bank statements

Pay slips
Thank you so much for taking the time to consider my application. I look forward to hearing a positive response from your end and being there for my friend on such a beautiful occasion. 
Yours Sincerely, 
Anamika Singh

Formatting guidelines to produce a strong visa application letter
A well-structured and formatted visa cover letter can increase the readability and enhance the credibility of your application. You must consider these formatting guidelines:
| | |
| --- | --- |
| Word limit: | 500 to 1000 words |
| Alignment: | Left or justified |
| Font size: | 11, 12 |
| Font type: | Times New Roman, Arial |
| Margins: | 1 inch |
| Spacing: | single or double spaced  |
Cover Letter After Visa Refusal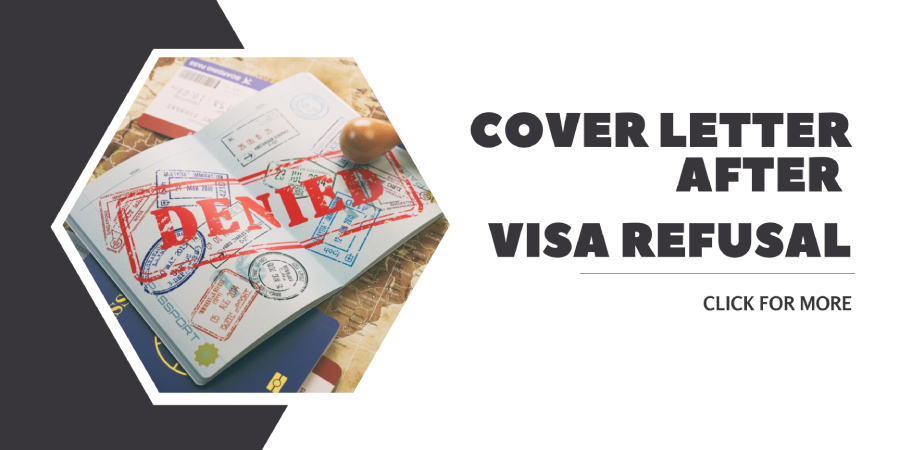 Have you faced a visa rejection and delayed your plan to fly abroad? Don't worry, writing a faultless cover letter after visa refusal can help you tackle the problem and make your path clear. A cover letter after visa refusal is a crucial document that helps you address the faults pointed out by the Visa officer while rejecting your primary visa application. So let's look in detail at the common reasons for visa rejection and how they can be fixed.
What are the reasons for Rejection of your visa Application?
There can be numerous reasons for visa rejection, as each application differs in its nature, country being applied to, visa policies and requirements, types of visa being applied to, etc. Below is a list of the most common reasons for the visa rejections; understand them and take care to avoid them in your cover letter for visa application.
Remember, each country has their own visa requirements and criteria, so it is vital to understand and fulfill necessary visa conditions and requirements before applying for a visa.  Since a visa approval is solely based on the visa officer's discretion, there would be cases where a visa can be rejected without a solid reason.  
How do I write a visa cover letter when a visa application has been rejected?
Write the below paragraph in Bulletpoints
Writing a visa cover letter after visa rejection is a challenging task. But with a positive and detailed approach you can address the reasons for rejection and write a compelling cover letter for visa application. Following the below mentioned steps will help you write an impeccable cover letter for visa application. 
Address the letter properly
Address the letter to the Visa Officer or Consular Officer who evaluated your application. Remember, the tone of your letter should be respectful and professional.
Express your disappointment
Acknowledge the reason for the rejection of your visa application and express your disappointment over the same.
Understand and address the reason for rejection
Understand the reasons for the rejection of your application, analyse them, and address them directly in your cover letter. Provide ample evidence and clarification for the reasons mentioned.
Highlight the changes made in the application 
If you have made any changes in the document, do let the evaluating visa officer know them by mentioning the same in your cover letter after visa rejection.
Conclude with a positive note
Conclude your letter by expressing your gratitude for providing an opportunity to provide further information and rectify the mistakes made in the initial application.
Additional Tips For Writing Your Cover Letter for Visa Application
Keep these tips in mind to help you draft a unique and personalised visa cover letter:
What are the Types of Visa Cover Letters?
There are different types of visa categories and thus cover letters for each are unique to the same. Listed below are the various types of visa cover letters you will come across:
Visa Application Letters for Popular Countries
Every country has their unique set of requirements for the visa cover letters. We have listed below the most popular countries and the main elements to include in the same: 
Purpose of your visit in Schengen Area

Detailed itinerary of your trip 

Proof of financial sufficiency 

Intentions to return to home country 
Reason to visit Australia

Reason why the visit will align with your future goals

Itinerary of your trip

Ties to home country
Reason to visit Japan

Travel plan and itinerary 

Financial information

Intention to respect laws, culture and regulations of Japan
Purpose to visit the UK

Itinerary and planned activities 

Details of financial sufficiency 

Strong ties to home country
Reason for visiting the US with specific details 

Close connections in the US like friends, family, etc

Understanding of the US culture, regulations and customs

Previous visits to the US if any
Purpose of visiting Canada

Reason to choose Canada

Detailed travel plan 

Understanding of Canadian culture, tourist places, etc.
Purpose to visit New Zealand

Your research on the offerings of New Zealand

How the visit can contribute to your growth

Commitment to comply with New Zealand's biosecurity measures, immigration laws, etc. 
Purpose of visiting France with specific details 

Interest in French culture, history, etc. 

Proficiency in French and previous visit to any French-speaking regions

Any connections in France and how they plan to support your visit
Purpose to visit Turkey and detailed itinerary 

Knowledge and interest in Turkish culture, historical sites, etc.

Any prior experiences or connections in Turkey 

Any particular events or attractions in Turkey that piqued your interest
Purpose of visit and prepared itinerary 

Reason why Switzerland is the preferred choice

Knowledge of Swiss values, customs, etc. and respect for the same

Any connections in Switzerland and how they will contribute to your experience
Final Checklist For Writing a Visa Cover Letter
A checklist will help you keep better track of your progress and let us help you:
Have I clearly understood the specific requirements of the visa I am applying for?

Have I addressed the embassy or consulate in an appropriate manner?

Is my purpose of visit clearly stated in my

visa application letter

?

Have I furnished all the supporting documents to support my claims?

How many times have I proofread and revised the cover letter?
Frequently Asked Questions (FAQs)