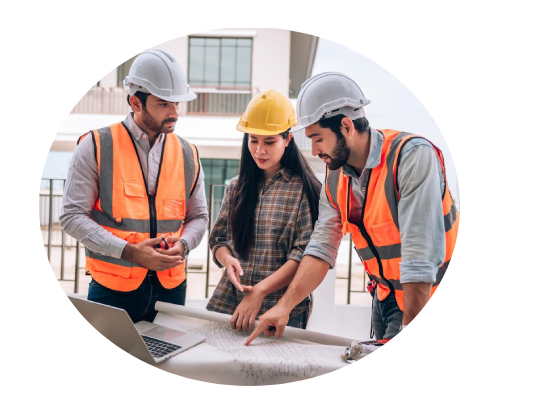 How to Write an SOP For Civil Engineering
Do you need assistance writing an sop for civil engineering or a master's in civil engineering?
Have you been looking for good tools to help you improve your SOP writing? 
Want to know where to find sop for civil engineering pdf, rules for layout, and helpful tips? 
You have made it to the right place. Here, you will find all the knowledge and tools you need to write an excellent sop for civil engineering independently. 
We have everything you need, from model SOPs to tips on how to style them. Let us start this trip together and create a strong SOP for MS in civil engineering, showing your unique skills and goals.
SOP Sample for MS in Civil Engineering PDF
An excellent example of a statement of purpose can help you figure out how to write your own. It tells you what a successful SOP needs regarding organisation, content, and tone. By looking at an example SOP for an MS in Civil Engineering, you can learn how to quickly and convincingly talk about your academic successes, study interests, and future goals. It gives you a plan for how to talk about your skills, experiences, and interest in the field in a way that makes you stand out from other candidates.
Sample SOP for MS in Civil Engineering
Name: [Your Name] 
I am writing to apply for a Master's degree in civil engineering at [UNIVERSITY NAME]. As a recent Civil Engineering bachelor's degree holder, I'm excited to keep learning and specialise in [SPECIALISATION NAME] engineering. I'm curious and have always been interested in how buildings are designed and put together. I have spent time studying and building a foundation in civil engineering.
During my college studies, I interned at [CONSTRUCTION NAME] to gain hands-on experience and build a solid foundation in civil engineering principles. These things made me interested in [SPECIALISATION NAME] engineering and made me more sure I want to work in this field. I am eager to learn about the degree, one of many specialisations.
In my second year of college, I entered a design competition for students and came in third. I also got good grades in civil engineering classes that were important. I volunteered with a group that works on projects related to infrastructure. I did my own study on a civil engineering topic and spoke at a meeting about what I found. Reading books, drawing, riding my bike, and making songs are things I like to do for fun.
After much study, I'm sure that [UNIVERSITY NAME] is the best place to start my civil engineering higher studies. The comprehensive programme, state-of-the-art buildings, and intense hands-on learning focus all fit my goals and hobbies. I'm excited to take advantage of the many chances at your esteemed university to get the information and skills I need to do well in this exciting and gratifying field. 
In addition to my strong school background and work experience, I am also a self-starter with excellent problem-solving skills. My strong work ethic, drive, and passion for engineering would make me a valuable addition to the programme.
I'm grateful for the chance to apply to your reputed university. Thank you for taking my application into account.
SOP for MS in Civil Engineering: Shaping a Path to Engineering Excellence
Statement of Purpose for Masters in Civil Engineering is a document that shows your academic past, study experience, job goals, and why you want to get a Master's degree in this area. It shows how much you care about civil engineering and how you might be able to help the field with new ideas and practices that are good for the environment.
For getting into a Master's programme, an sop for masters in civil engineering is essential. It tells the admissions committee about your academic and career goals, which helps them decide if you are a good fit for the programme. A well-written statement of purpose for masters in civil engineering can set you apart from other candidates by showing how committed and good you are at research and how well you understand the program's goals. It allows you to show off your unique skills and show the group you have what it takes to do well in civil engineering.
The Significance of an SOP for Civil Engineering in Shaping Your Academic and Professional Path
An SOP (Statement of Purpose) is crucial to applying for a Master's degree in Civil Engineering. It is a written record about your education, job goals, research hobbies, and why you want to study civil engineering further. 
Write a strong statement of purpose for civil engineering to show the applications committee that you are a skilled and driven candidate. Following are few importance of SOP in civil engineering: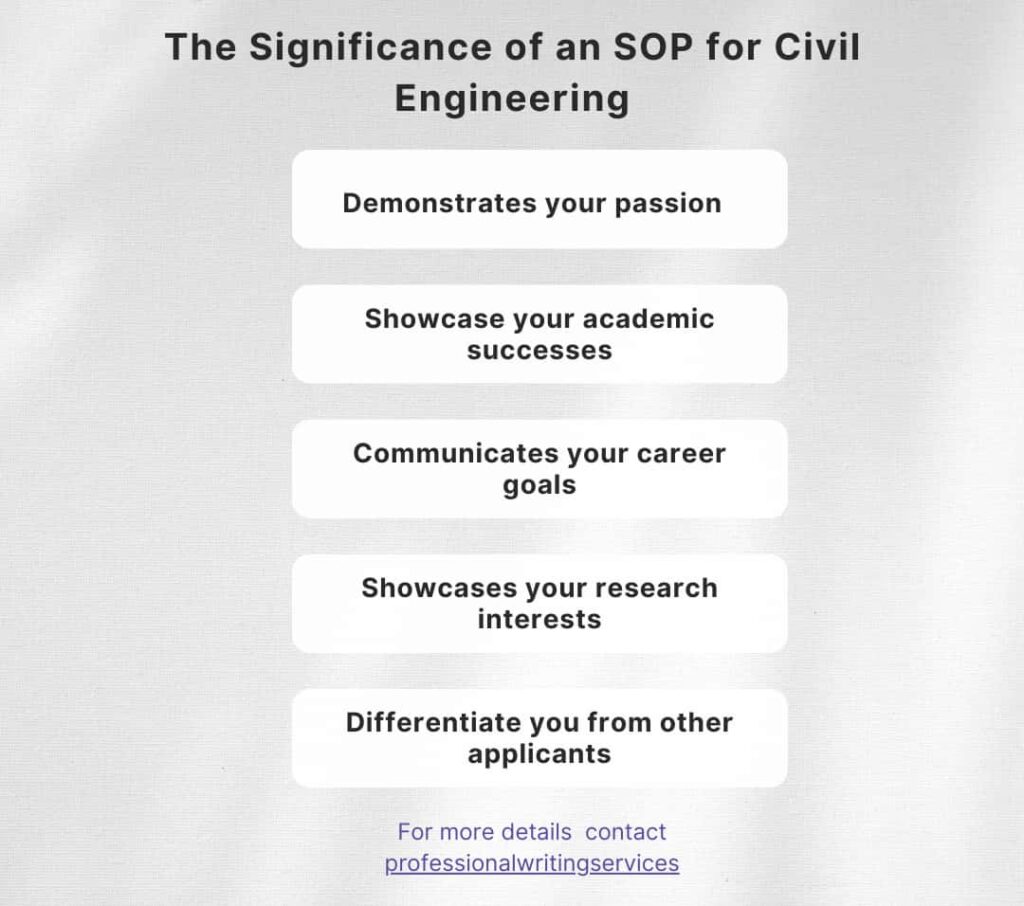 Crafting an Effective SOP for Civil Engineering: A Step-by-Step Guide
In this part of the blog, we'll look at how to write a strong sop for civil engineering step by step. We'll talk about the most essential parts, like how to show off your academic background, study experience, career goals, and passion for the field.
The blog contains detailed guidelines and expert tips will give you the confidence and skills to write an excellent SOP that shows your unique qualities and makes you stand out from other applications.
Crafting an Impressive SOP for Civil Engineering: Key Components to Include
To make a good SOP for Civil Engineering, you should include your academic history, study experience, professional skills, job goals, related projects, and a strong statement of purpose showing your passion and dedication to the field. Also, talk about your leadership skills, ability to work well with others, and any other certifications or accomplishments that show you know much about civil engineering. Here is a layout for your help:
Writing Effective Format for Your Civil Engineering SOP
We'll discuss how to write an SOP for Civil Engineering that gets people's attention. We will give you a step-by-step plan, including what to say in each line, to help you organise your SOP well and show off your skills and experience in civil engineering. Let us guide you towards your academic and professional success in civil engineering.
A standard SOP for civil engineering usually has the following sections:
Make a statement that grabs the reader's attention right away.

Tell people who you are and why you're interested in civil engineering.
Discuss your schooling in civil engineering in the Academic Background section.

Showcase any schoolwork, study projects, or academic successes that are important.
List your technical skills in civil engineering, like how well you know software, how to work in a lab, or what kind of specialised knowledge you have.
Tell us about any civil engineering research projects or jobs you have worked on.

Show what you did, how you did it, and what happened.
Explain your long-term and short-term job goals in civil engineering.

Talk about how getting a master's in civil engineering will help you reach your goals.
Projects and Practical Experience: 
Describe any critical civil engineering projects or real-world events.

Focus on your part, the problems you faced, and the lessons you learned.
Leadership and Teamwork Skills: 
Show off your leadership skills and how well you work with others.

Give examples showing how well you can work and plan with others.
Describe how much you care about civil engineering and your commitment to making a difference.

Explain exactly why you chose the programme and place you did.
Remember that each part should be short and concise, showing your unique civil engineering skills and experiences. Using this style, you can make a strong SOP that makes you stand out to admissions boards and improves your chances of getting in.
Guidelines for Writing an Impressive Civil Engineering SOP
These tips will help you write a strong SOP for Civil Engineering that shows off your skills and goals in the field.
Do's and Don'ts for Writing an Effective SOP for Civil Engineering Masters
Follow this checklist to complete your civil engineering Statement of Purpose (SOP). This checklist will help you write a captivating SOP that showcases your enthusiasm and potential in civil engineering by encapsulating your motivations, aspirations, academic accomplishments, and practical experience. 
Re-check your civil engineering sop content with the following list: 
Explain why you want to get a master's degree in civil engineering and what you want to do with it.

Highlight your academic accomplishments, such as pertinent classes, study projects, and prizes.

Showcase your real-world experience in the field through things like employment opportunities, co-op programmes, or projects for the business.

Discuss any skills or information you have that is important to civil engineering.

Focus on how much you want to grow personally and professionally and how a master's degree in civil engineering will help you reach your job goals.