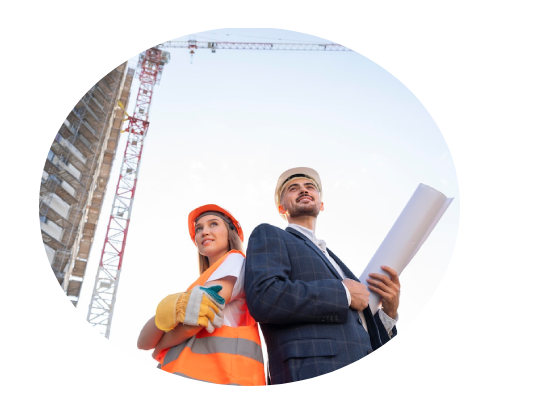 How to Write an SOP For Engineering Management
Guidelines | Format | Sample
What is an SOP for engineering management?
Why do we need it?
What is the format for it?
You might have these questions when applying for a Master's in Engineering Management. Therefore, you are at the right place as we will provide all the details required for you to write a compelling SOP.
What is SOP for Engineering Management? Why is it important?
A Statement of Purpose for Engineering Management is an essay that outlines your identity, interests and future aspirations as an individual for the university's selection committee
This is a formal document that is an integral part of the admission process. This makes it crucial for students to present themselves as an ideal candidate for the program
Requirements for an SOP for Engineering Management
The details are a key aspect, but placing the details properly in your SOP is even more important. This is why we have listed the requirements for writing an SOP for Engineering Management:
How to write an SOP for Engineering Management?
Writing an SOP is not an easy task to accomplish by yourself, but with the help of some points we have presented, you can have a greater impact. These are: 
Using an appropriate format

Writing with clarity

Using formal language

Presenting details in a concise manner.
Engineering Management SOP PDF Sample
Here we have provided an approved sample PDF for the writing reference. A good sample can help you understand what is required and how you can personalize it for yourself accordingly.
SOP Sample For Engineering Management
Innovation is key to scientific progress, and this makes management a vital part of it, as resources need to be allocated accordingly. As an engineer, I have observed this closely and this initiated my interest to gain an understanding of engineering management after the completion of my engineering degree. To accomplish my academic goals, I have chosen the (program name) at (institution name). 
I have been keen on obtaining a degree in management after my graduation in ————- engineering. I possess the right academic background for it, due to my natural inclination and aptitude for science and mathematics. This caused me to excel in my studies and then study —————- engineering at (institution name). My curriculum helped me to understand the nuances of the field and the processes that are part of it, through courses like (details to be mentioned about courses) I also developed my skills in problem-solving, leadership, teamwork, and communication, as I worked on several projects during my time at the college. These ensured that I completed my degree successfully with a result of (percentage), as well as an internship at (organization). My profile received a considerable advantage in the field through these and it also served as an inspiration to augment my technical knowledge through a postgraduate degree in engineering management. This would also increase my career prospects significantly. 
I am a competent individual who is not afraid of taking up challenges. My approach to solving issues is to view them from a practical perspective and find solutions based on current research and the right information. It is my belief that every day is a new experience and I am resolved to use the skills I have acquired to achieve my goals in life. 
After extensive research, I was sure that I was an ideal candidate for (institution's name). Its holistic courses, such as (details of courses) appealed to my academic inclinations. These aspects and the research conducted at the university will be fundamental to my purposes of understanding management processes and equipping me with the skills required for it.
I have envisioned a career that is fitting for an engineering management graduate. My immediate goal is working with leading companies in the field such as (specify the companies you wish to work at). In the long run, I would also like to utilize my knowledge in management to establish my own company and my professional reputation of being an entrepreneur and give back to the society to which I belong. This degree will be instrumental in fulfilling all of my plans and I will be obliged if my candidature is considered for this advanced program. 
Format of an SOP for Engineering Management:
We have provided a sample for an SOP for Engineering Management, and we are also emphasizing on the format in this section. 
Formats are an indispensable part of writing your SOP as it can help you present your thoughts clearly and give your essay a proper structure. You can devote a paragraph to each of the points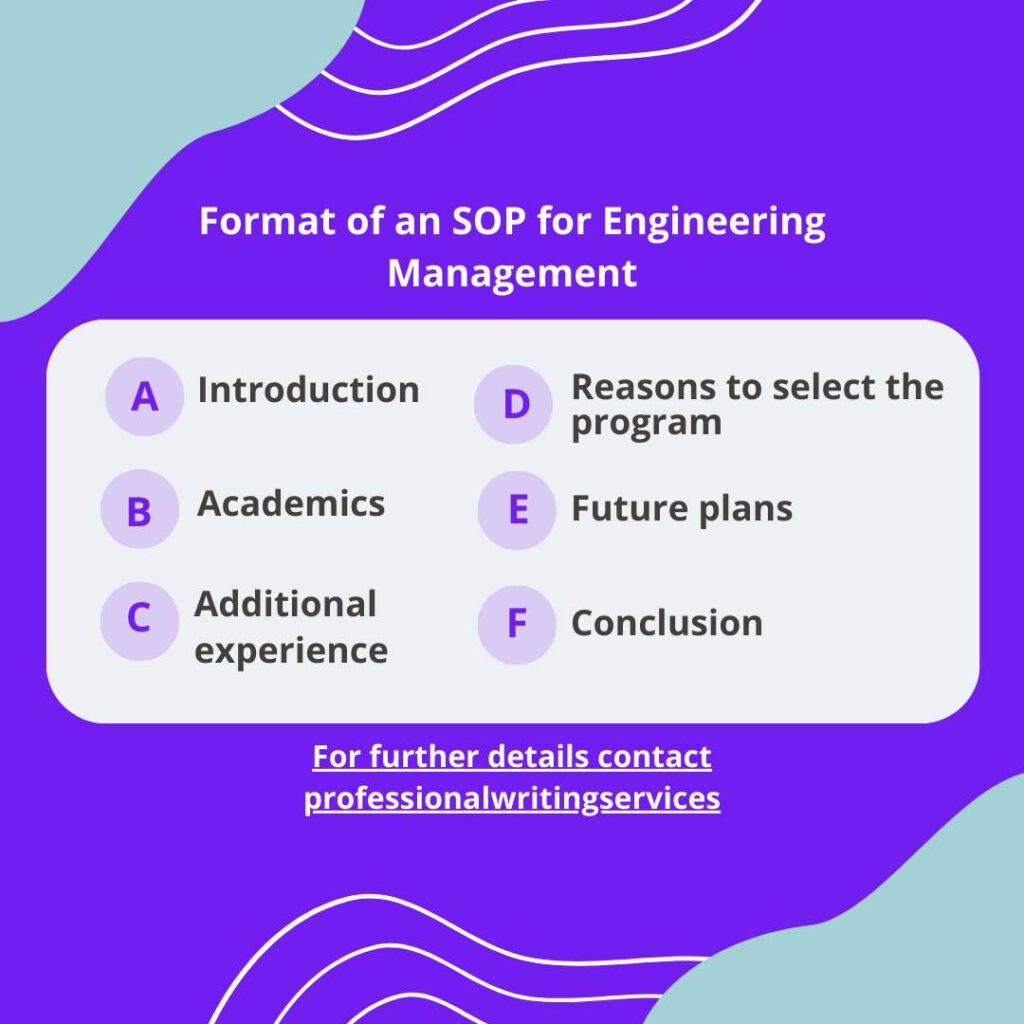 Guidelines to help you write a personalized SOP
The SOP that you write represents your unique aspects as a prospective student at the university you have chosen. The following guidelines will increase the readability of your SOP and increase your chances for admission: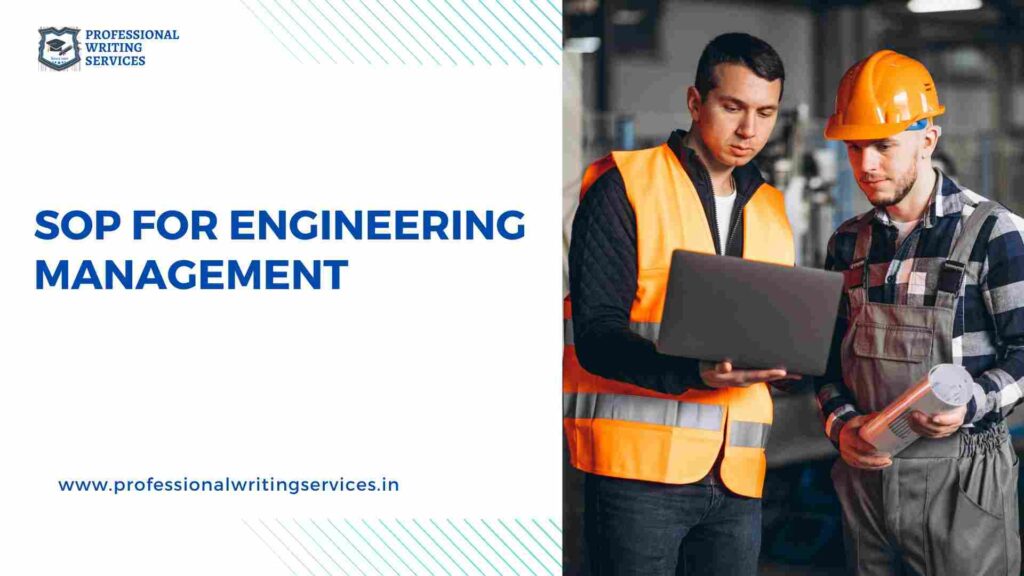 How to Write an SOP for Engineering Management?
We understand the frustration of producing a convincing cover letter for Schengen tourist Visa. But let us assure you that by referring to the below given inputs, your task can be completed with ease. As you read through, you will go past:
Writing guidelines

Ideal format

Strong sample

Formatting guidelines

Additional writing tips
Additional tips for writing your Statement of Purpose for Engineering Management
Maintain practical and realistic aspects in your SOP. Do not make unnecessary claims about yourself. It will not provide you with the advantage you want.  

Review multiple formats so that you are aware of what you need to write for the university and its requirements. 

Plan your SOP ahead so that you can maintain a sense of coherence in your SOP. 

Make a short outline of the details you want to put in your SOP. This way you can crosscheck if you left anything out. 

Follow standard font guidelines like Times New Roman in pt. 12 to make your document more presentable.

Proofread your SOP a couple of times by yourself and those close to you, so that you are assured that it is free of errors. 
Reasons by which your SOP for Engineering Management can be rejected:
University admissions can be stressful as you are one of many candidates who are applying for the same program. This can lead selection committees for these programs to be highly selective as they choose on the basis of merit. This often results in rejections as students may make gross errors in the SOP such as: 
Plagiarised content:

This is a major problem when it comes to writing an SOP. Any detection of plagiarism will result in immediate rejection. 

Writing with clichés:

By using generic expressions and clichés in your SOP, you can generate a disinterest in person reading and assessing your essay. 

Lack of coherence:

It is important to plan and capitalize on your strengths that are relevant to the program. By not doing so, your application can be rejected. 

Grammatical errors:

This is a common occurrence among prospective candidates that occurs due to a number of reasons. However, it can cause a rejection of your application. 

Flattery:

This can also cause disinterest among those assessing your application as they usually want to know more about your aspirations as a student. 
Different SOPs for Engineering Management Programs are offered​
The field of engineering is vast and varied, as courses are offered at undergraduate and postgraduate levels for competent students. These are available across different universities and you can choose a program according to your preference. These include: 
SOP for Bachelor of Technology in Engineering

SOP for Master of Technology in Engineering Management

SOP for MS in Engineering Management

SOP for PG Diploma in Engineering Management
Leading universities to study Engineering Management at:
There are a number of colleges and universities that provide excellent courses in Engineering Management. However, we have curated a list of top universities across the globe based on international academic rankings, research output, and other facilities present on their campuses:
Massachusetts Institute of Technology (MIT)

Stanford University

University of Cambridge

University College London

National University of Singapore (NUS)

The University of Edinburgh

EPFL Lausanne, Switzerland

Institut Polytechnique de Paris

The University of New South Wales (UNSW Sydney)

University of Windsor
Final Checklist of your SOP
We have covered all the aspects of writing an SOP of engineering management. To summarize all the details, we have presented a checklist:
Decide on your format. 

Plan your details on the basis of the format. 

Select your experiences as per your chosen program. 

Research your chosen program well. 

State your details and motivation to study the program with the utmost clarity. 

Maintain a formal font to give your document an orderly look. 

Ensure that there are no grammatical errors in the document.