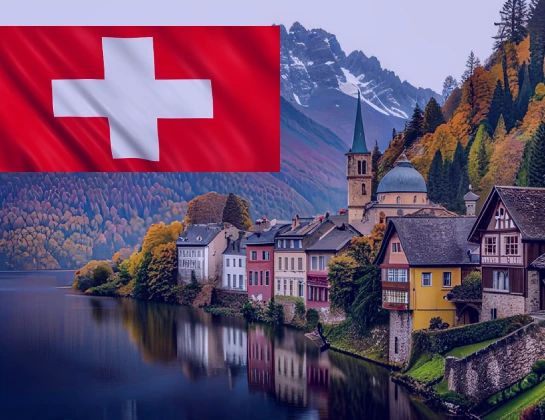 SOP for Switzerland Student Visa
Everything You Need to Know
Are you planning to study in Switzerland? Are you finding it hard to write a unique SOP for Switzerland student visa? Don't know what to do? Don't worry, we have got your back. Through this article, we will guide you on how to write a top-quality SOP for a Switzerland student visa, or else our professional writers will help you draft one.
What is the SOP for Switzerland?
An SOP for Switzerland is an official document, a self-portrait, that you submit to the embassy while applying for a student visa. It has to be written in an essay format and should reflect your personality as well as your academic and professional background. It should also showcase your future ambitions, and short- and long-term goals.
The statement of purpose for Switzerland will help you demonstrate your eligibility for getting your student visa approved by the Switzerland embassy. The reasons that you put forth for choosing the country, university, course, etc. will give the authorities a fair idea about yourself and your intentions of visiting the country. It plays a vital role in selecting the most focused and motivated applicants. If they find that you are worthy enough, only then will they approve your student visa.
What are the key factors that you should add to your Statement Of Purpose to make it stand out?
Drafting a competent and unique SOP is a tricky job, and one needs to have ample experience in writing one. Don't worry, our expert team with years of experience has listed out some key factors that you should include in your SOP to make it stand out from the crowd.
Make sure your statement of purpose is in the right format.

Ensure that your SOP abides by all the guidelines provided by the authority.

Highlight your unique skills and talents.

Talk about your passion to study in the country, the university, and the particular course.

Make sure your SOP is grammatically and factually error-free.

Write in a positive tone.
How to Write the SOP for Switzerland?
In this section, we will help you write a well-structured and unique SOP for a Switzerland student visa. Here we have provided the important points you need to keep in mind while writing an SOP, the dos and don'ts of writing an SOP, common mistakes to avoid while writing an SOP, etc. After reading this section, you will get an idea of how to draft a strong SOP for Switzerland student visa.
Winning Format to Write Your Personalised SOP for the Switzerland Visa
Make sure you follow the below-mentioned SOP format for drafting a personalised and strong SOP for a Switzerland student visa. Come, let's dig in.
Start your SOP with an eye-catching quote or an inspirational story.
 "Technology connects us, unites us, and amplifies our power". As a kid, I was awestruck by the changes that are made by technology, and I always get fascinated by thinking about what is in store for the future.
Academic and professional background
Elaborate on your academic and professional achievements, projects, and industrial training exposures.
Throughout my education, I was very passionate about my academics. My thirst to learn new things has helped me score higher marks. I completed my high school education at the XYZ School in 2014 with an 87%. I joined XYZ Junior College in 2016 for my higher secondary education and secured 92%. Moving on, I joined XYZ College for my under graduation majoring in X Y Z. I began working as a Design Engineer at XYZ firm after completing my Bachelor's degree.
Family and Sponsorship details
My X Y Z is sponsoring all my living and education expenses in Switzerland, and we have X Y Z worth of movable and immovable properties in India.
Why choose this course?
I am now determined to improve my career prospects in the domain of management so as to provide wings for my long-cherished dream of starting my own construction company. With my previous academic and professional background, I have gained a strong foundation in the construction sector. Now I need to improve my managerial skills.
Why Switzerland?
The quality of education, top-tier faculty, industry-related curricula, and advanced courses made me choose Switzerland over other countries. I understood that the programs in the country focus more on providing practical learning than theoretical learning.
Why did I choose XYZ college?
I understand the university provides real-world professional training that is in line with current business trends, and I believe this will mould me into a domain expert. Furthermore, I also realised that the university also provides other benefits, like accommodation, a bus ticket, health insurance, admission to a variety of groups and activities, etc.
Future Plans
Soon after the completion of the course, I am planning to return to India and work as an X Y Z. The international experience I have gained will definitely help me grab the spotlight.
Final appeal and conclusion
Here I submit my application for a student visa for your kind consideration.
Regards
XY Z
Guidelines to Craft the Visa SOP for Switzerland.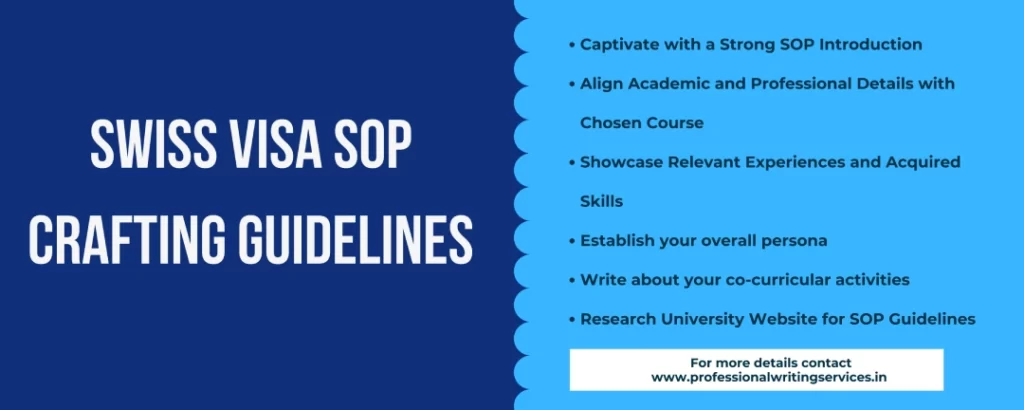 Dos and Don'ts in Your SOP
Verify the below mentioned checklist when you complete your SOP
As soon as you complete your SOP, make sure you go through the below mentioned list and keep your SOP competent.
Why do you need to hire a Professional Writer?
Here are the benefits you will gain if you hire a professional writer to draft your SOP.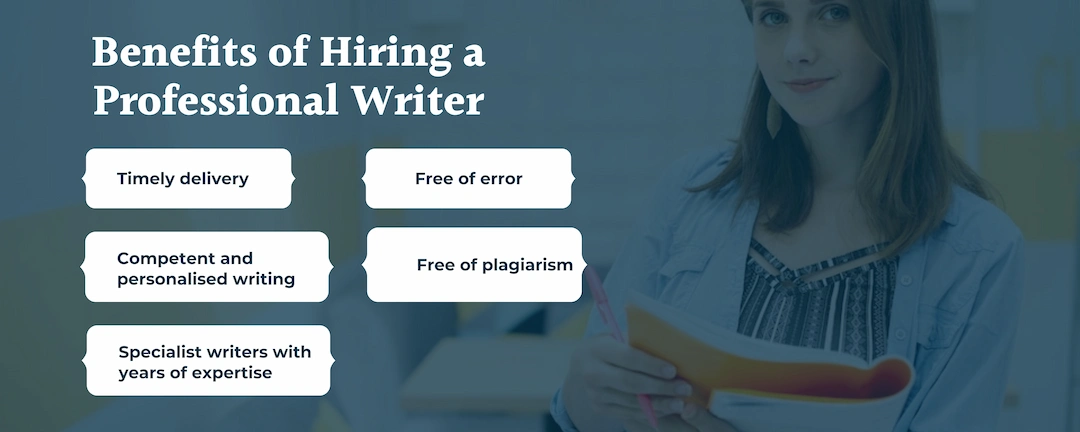 Timely delivery : Professional writers make sure your work is completed on time with a quick turnaround time.
Competent and personalised writing: As this is an official document, these professionals, who are experts in writing high quality SOPs, will make sure your SOP is unique.
Specialist writers with years of expertise: These professionals are proficient with the latest trends in writing and make them engaging.
Free of error: These professionals never miss the mark when writing high quality SOPs and do thorough research before writing one.
Free of plagiarism: They are experts in delivering plagiarism free content that is 100% personal and unique.
With more than X Y Z years of experience in the domain, we boast of providing well-structured and concise SOPs with timely delivery. Our entire team is proficient in working closely with the clients so as to create an engaging narrative that is in line with their career and academic aspirations. Besides, we also have a team of professional academic writers who are experts in delivering top notch academic writing as per the clients demands on a variety of subjects.
Why should you choose us?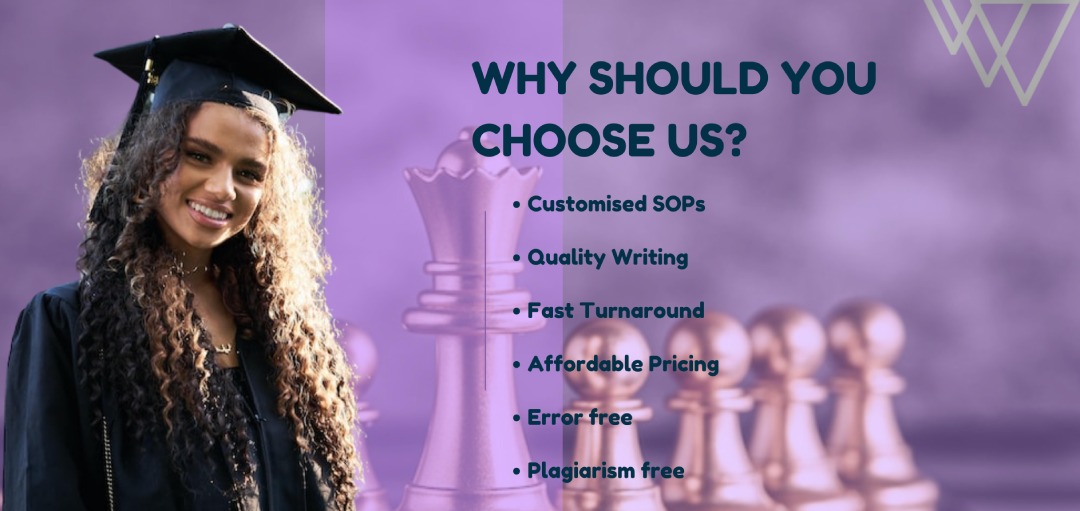 Being the best SOP writers in India, we, the X Y Z have been leading the industry with our professional writers who draft effective and strong SOPs. In a short span of time, we have become a ubiquitous presence all over India, and you can avail our premium services from anywhere.
Customised SOPs: We are maestros at delivering personalised SOPs in accordance with the demands of our clients.
Quality Writing: We make sure all our works are of high quality through our competent editors.
Fast Turnaround: We deliver every work in 1-2 business days and in the best possible way.
Affordable Pricing: We can guarantee that all our work is quoted at a reasonable price.
Error free: We double check every completed work and make sure it is error-free.
Plagiarism free: all our works are authentic and original and are 100 % plagiarism free.
Talk with us today and get a quote. We will help you reach your dream destination.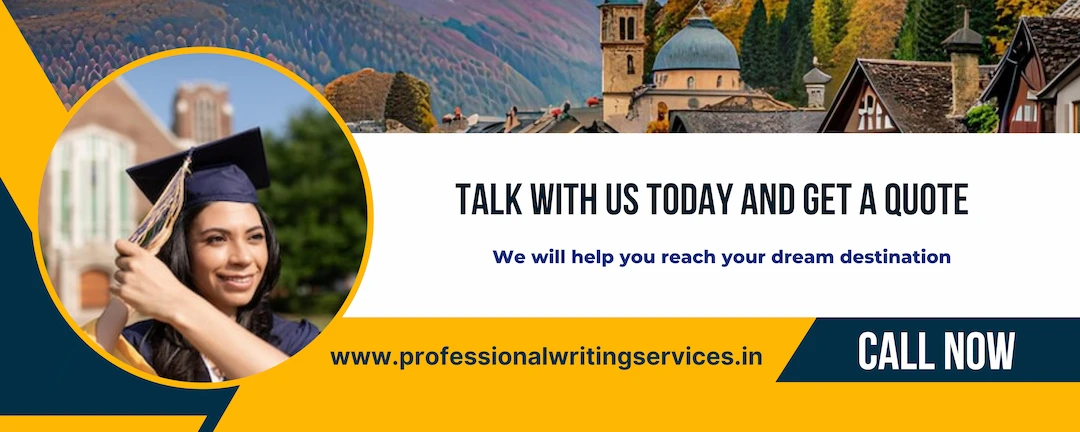 What kinds of SOPs do we draft for Switzerland?
Switzerland is known for providing world class education and is a leading hub for academic and research enthusiasts. Umpteen number of study programs are provided by the country in a wide range of fields like technical, health, management, logistics, etc., and we are connoisseurs in drafting the best SOPs.
SOP for Undergraduate Study Programs

Sop for Postgraduate Study Programs

Sop for Research or Ph.D.

SOP for Scholarship

Sop for Universities

SOP for Visa

Sop for Management Studies.

SOP for HealthCare Sector