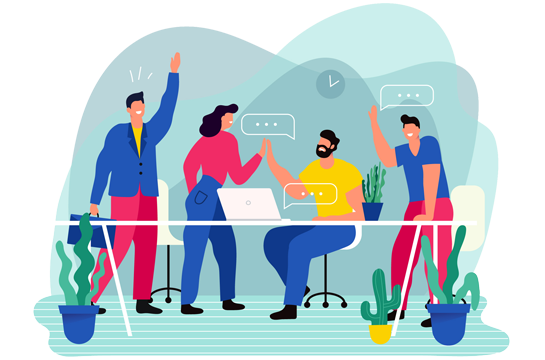 Case Study: How We Helped An MBA Holder Grab Her Dream Job?
Roshni, who possessed an MBA in HR degree under her belt and sought a lucrative job in any leading MNC.
She desired to get crafted a compelling resume that would highlight her key achievements and strengths in a manner that would align her professional traits with the hiring organization's business needs.
Roshni is a gifted personality who holds an excellent command over English vocabulary. However, the resumes forwarded by her to various companies weren't landing her a job that would measure up to her skills and aspirations. She wished to tweak her resume in a manner that would compel recruiters to weigh her talent above other candidates.
Our CV writers in India set down to examine her resume minutely. Upon interaction with Roshni, it was revealed that most of the resumes she had forwarded/ submitted in the past pertained to openings that were published online and responses had to be filled on job portals. It immediately occurred to us that such submissions are scrutinized by application tracking software and not humans. This means strictly complying with the keyword requirements of applications as the tracker would seek to shortlist candidates based on the skills mentioned in the job advertisement.
We immediately sought from her the list of openings that she has been planning to apply for in the near future. We scanned each requirement meticulously and listed down the key characteristics that the ads were looking for in potential candidates. Each of the keywords (like 'SAP HR', 'psychometric analysis' etc.) was incorporated in rational manner in each version of the resume tailored for particular openings.
Next, we focused on skills enlisted by her. It came to writer's attention that the skills were plainly written and the ways these skills would be relevant to the potential organization's needs weren't established. She has knowledge of contemporary skills like SAP etc. but the medium through which these analytical insights would prove drivers for enhancing organization's cost competitiveness weren't mentioned. After discussing with her, we focused on the particular skillset that when leveraged would spell optimum benefits from organization's HR point of view. This was given highlight as the standout feature of her resume.
Further, the clutter that characterized her resume was trimmed down and only germane points were left in the resume's body. Once this neat and refined resume was forwarded, she immediately started receiving interview calls. Eventually, she could secure her dream job.
How to Write SOP for MS in Computer Science A Comprehensive Guide For 2023 Want to write a powerful SOP for MS in Computer Science?
Read More »
How to Write SOP for France A Handbook for Everyone – 2023 Want to write a powerful SOP for France? This blog offers everything you
Read More »
How to Write SOP for Germany A Comprehensive Guide For 2023 Statement of purpose for Germany is inevitable to make your application for higher studies
Read More »
How to Write SOP for USA All You Should Know Before Writing It in 2023 Writing SOP for USA requires an entirely different approach from
Read More »
How to Write SOP for UK A Handbook for Every Student in 2023 A systematic and well-informed approach will help you find writing SOP for
Read More »
How to Write SOP for New Zealand A Useful Handbook for All Writing SOP for New Zealand can be confusing if you have got no
Read More »
HOW TO WRITE A SOP FOR CANADA Everything you need to know in 2023 This blog tries to address a lot of questions you have
Read More »