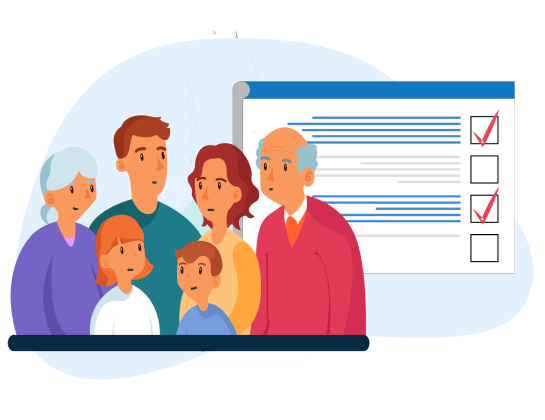 SOP for Dependent Visa UK-
Best Sample & Guidelines
What is SOP for Dependent Visa UK?
SOP for dependent visa UK is a document you will need to supply to the UK visa authority in order to enable a dependent of yours to accompany you to the UK while you study or work there.
Role of A Good Statement of Purpose for Dependent Visa UK
SOP is a crucial document when you apply for a dependent visa to the UK for the following reasons.
How Does UK Dependent Visa Differ from Other Countries?
If you want to take someone to the UK along with you as a dependent, you must meet the specific criteria stipulated by the UK immigration system. This must be proved in the Statement Of Purpose for the dependent visa as well.  
How to Write a Winning SOP for Dependent Visa UK?
Since the UK follows strict immigration rules, producing a flawless application for your dependent visa is necessary. Given the volume of weight that SOP carries, writing a winning SOP should be second to nothing. 

Sample SOP For Dependent Visa UK
I, Mr Joseph Kurian, aged 34 years, would like to introduce myself as the spouse of Mrs Merlin Augustin (Passport No.——). Through this statement of purpose, I would like to substantiate my reasons for accompanying my spouse to the UK and therefore applying for the issuance of a dependent visa with a work permit. My wife relocated to the UK six months ago and has been pursuing her postgraduate program, MSc, in Computer Science at the University of Manchester, Manchester, UK since. It is my genuine interest and concern to support her through her time in the UK. 
Merlin and I have been married since 2020. I met her five years prior to that, in 2015, in Kochi, Kerala. I was pursuing my graduation back then at XXXX college in Kochi. She was doing her senior secondary school at a college nearby. We both used to attend the same church for Sunday worship services. Our frequent meetings and interactions at the Sunday services paved the way for developing a close friendship and then into a serious relationship. Although both of our families were in full support of our relationship, we decided to wait for a while before tying the knot since both of us wanted to focus on our education and academic research back then. Moreover, we wanted to test how our relationship matured over time.
Our decision to wait until 2020 for the marriage proved to be helpful for both of us to know each other better. It helped us mature to a stage where we could show respect for each other despite our different backgrounds. Moreover, it helped us complete our education successfully. Since our marriage in 2020, we had been living together in Kochi until she moved to the UK five months ago. We both realized now how much we loved each other and missed each other's presence since she departed for the UK. The emotional support that we had been enjoying for the past few years seems non-existent all of a sudden now. We realize now that we can't be apart for long.
At the core of my decision to accompany my wife to the UK as a dependant is to be with her as emotional support and also to avail myself of her presence. She frequently shares her concerns about being in a new country all alone. Although she has managed to make a few friends at work as well as the college where she studies, she values my presence more than anything else and so do I. By being there with her, we both can share concerns, happiness and household chores. This will help her become more independent and stress-free in her studies. 
I am also hoping to utilize my time in the UK productively. I have completed my postgraduation in Social Work and have gained more than three years of experience in the field from authorized NGOs in India. During my stay in the UK, I would like to see if I could intern at any of the reputed social care facilities there. I have carefully gone through the requirements and criteria to obtain a dependent visa to the UK and hereby would like to establish that my profile matches all. I have obtained the required Language Proficiency score to be qualified for doing an internship in the UK. 
Doing an internship in the domain of Social Work will be very valuable for me. The UK has one of the best social care systems in the world. Interning at a recognised social care facility will help me grow fully as a dedicated social worker. I strongly believe that my past work experiences and postgraduation in social work will complement me during my internship in the UK. It will help me know the depth and range of my knowledge, skill and aptitude and see which areas I need to focus more to excel in the profession. 
We both intend to return to our home country, India, upon the completion of her studies in the UK. We have huge family responsibilities and professional commitments. With regard to the familial aspect, we both have ageing parents to look after. They sacrificed their entire life to provide for us. It is our responsibility and duty now to look after them during their ailing time. Moreover, we both want to build our careers in our hometown. While I dream of being part of bringing about innovative changes to the social care system in my country, my wife aspires to launch a tech start-up in Kochi. She has been part of developing employee management software for small and medium-sized businesses during the Covid19 crisis. She intends to work on a similar project. The advanced education that she is pursuing in the UK now will equip her for the same.
I am looking forward to reuniting with my wife in the UK and am grateful to you for taking the time to review my application and go through my statement of intent. 
Thank you. 
Draft Your Dependent Visa SOP for UK in Five Simple Steps
Are you not experienced in writing SOP yet? Don't worry. The following five steps will help you compose your write-up from scratch in a very personalized fashion. 
As a first step, it is recommended to read an SOP sample to learn about the type of points, writing tone, format, structure, etc.
You must write only the most convincing and strong points in your SOP for a dependent visa. So, have a clear picture as to what point you want to include. 
Write an outline first. Design it with an introduction, body paragraphs and conclusion. Know where to place each piece of information. 
Go to the introduction first. Make it catchy and state the purpose. Then, move to the body paragraphs and conclusion and improve them step by step. 
After you are done with the initial round of writing, go through the document line by line and correct the mistakes. Submit a 100 percent perfect SOP. 
SOP Format for Dependent Visa UK
SOP is not a place to write anything in any manner. It must consist of relevant points presented in logical order. Use the following format and structure to redefine your SOP.
Tips for Writing SOP for Dependent Visa UK
Read these tips and try to incorporate what it asks while composing your SOP for a dependent visa to the UK.
Eliminate These Mistakes from Your UK Dependant Visa SOP
Even if you have written an impressive SOP, a few mistakes in it could tarnish it and cause it to get thrown to the back burner.  Hence, beware of these mistakes while writing your SOP.
Don't copy or modify any SOP samples. This may cause it to be detected as plagiarism. Present a hundred percent original narrative of your case.
Too much use of passive voice may make your narrative look too detached from you and weak. Use active voice to make it look personal and strong. 
Have a precise idea of what you are intending to write. Don't attempt to fill your essay with irrelevant points. 
Start working on your SOP a bit earlier. This will give you enough buffer time to proofread and correct mistakes. 
A dull introduction/conclusion may make the reader feel there is nothing worth taking from the essay and misjudge your document. 
Which Are the Countries That Permit Dependants to Work?
According to a recent report, there are about thirty-five countries where the dependents accompanying the main applicant can work full-time or part-time jobs. The top ten countries are listed below.
USA

: If you are on an L1 visa, your spouse is permitted to work. However, you will have to get special permission from the authorities. 

Australia

: If you hold a highly skilled work permit in Australia, the dependents who are accompanying you can get a work permit as well. 

Canada

: Dependents of highly skilled work permit holders can apply for and get a work permit in Canada. 

UK

: If you hold a student visa that lasts more than 12 months or a highly skilled work permit, you can take your spouse or partner to the UK. The latter is permitted to find full-time or part-time jobs. 

Denmark

: Student visa holders or work visa holders are allowed to take their partners or spouses along with them. The latter can find work there without any restrictions. 

Germany

: Germany follows quite a similar rule as other European countries regarding dependants' employability. However, knowledge of German will be an added merit when you look for jobs. 

France

: Spouses of primary applicants who accompany them as dependents to France can find employers and work without any legal restrictions. 

New Zealand:

If you want to work while accompanying your partner in New Zealand, you need to get a partnership-based work visa. 

Singapore

: Dependents of highly skilled work permit holders are legally permitted to apply for jobs once they are in Singapore. 

Hong Kong

: If the primary applicant holds an employment visa, the spouses who accompany him or her as dependents can find jobs in Hong Kong.
SOP for Dependent Visa for Other Countries
SOP is an important document in the application for a dependent visa to most countries. Your SOP must show that you are aware of the requirements to accompany your partner as a dependent. Here is a list of the dependent visa SOPs for the top ten countries.
SOP for dependent visa UK

SOP for dependent visa USA 

SOP for dependent visa Germany 

SOP for dependent visa France 

SOP for dependent visa Australia 

SOP for dependent visa Canada 

SOP for dependent visa Denmark 

SOP for dependent visa Singapore 

SOP for dependent visa Hong Kong 

SOP for dependent visa New Zealand
We hope that you have got some useful insights about writing an SOP for dependent visa UK. If you plan to go to the UK as a dependent, it's the right time to. Write your SOP following the information we have supplied in this blog. 
Do you still have any doubts regarding any of the topics we covered in this blog? 
Don't hesitate to let us know in the comments section below.